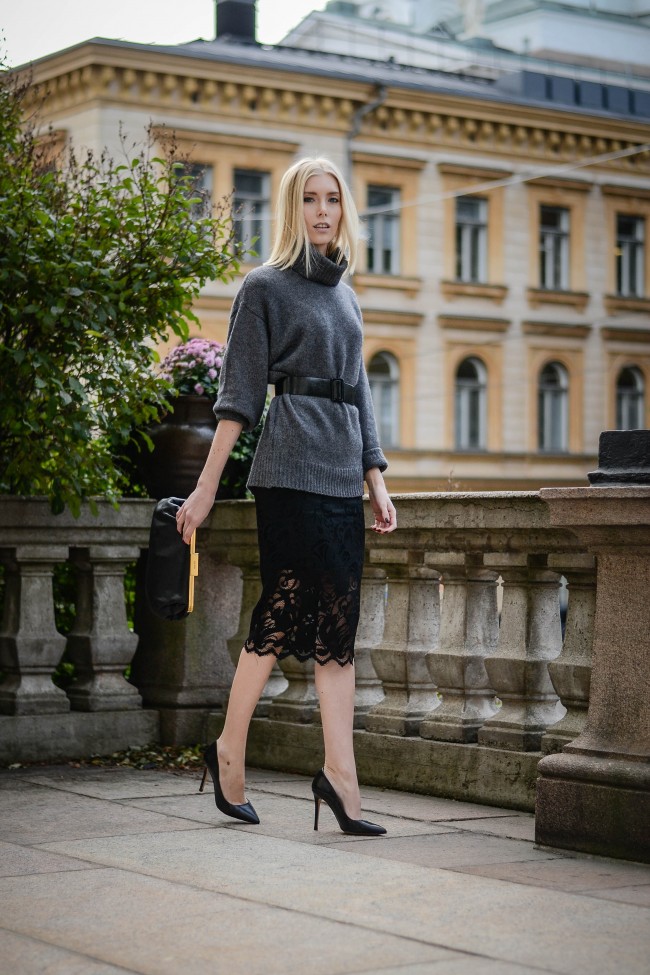 [dropcap custom_class="normal"]Neule ja kynähame on mun mielestä ihana yhdistelmä, joka tekee virallisesta kynähameestakin paljon rennomman. Moni teistä tietääkin, että mun tyyli on todella rento enkä tunne oloani kotoisaksi esimerkiksi tiukassa cocktail mekossa. Vielä vähemmän erittäin lyhyessä sellaisessa. Mun juhlatyylikin on siis erittäin casual, mutta tottakai tilaisuutta kunnioittava. Onneksi nykyään naisillekin on paljon valinnanvaraa ja upea housupuku on oiva ratkaisu mekon rinnalla. Mun unelmien uniformu olisikin Yves Saint Laurentin klassinen Le Smoking housupuku.[/dropcap]
Mitä mieltä te olette tästä asusta ja ylipäätänsä rennon neuleen ja kynähameen yhdistelmästä?
//
I'm sure you've figured out by now that grey is my favorite color? This cashmere knit from Joseph is one of the most precious items in my closet. It is just so comfy and cozy that I couldn't do without it anymore. I wanted to pair it up with a pencil skirt (I love contrast) to make the outfit way more casual. As I've told you before, I'm not one of those girls who's crazy over cocktail dresses and amazing hairdos. I think it's something I picked from Paris, because parisian women are never too put together. There is always a casual aspect to them, which I love. Actually my ultimate evening outfit would be Yves Saint Laurent's classic Le Smoking uniform. It's just pure perfection!
So what do you think of this look and me combining a cozy knit with a pencil skirt?
 Knit / Joseph (similar here)
Skirt / H&M (here)
Heels / Zara (similar here)
Belt / Zara
Bag / Miu Miu
*Mainoslinkkejä.