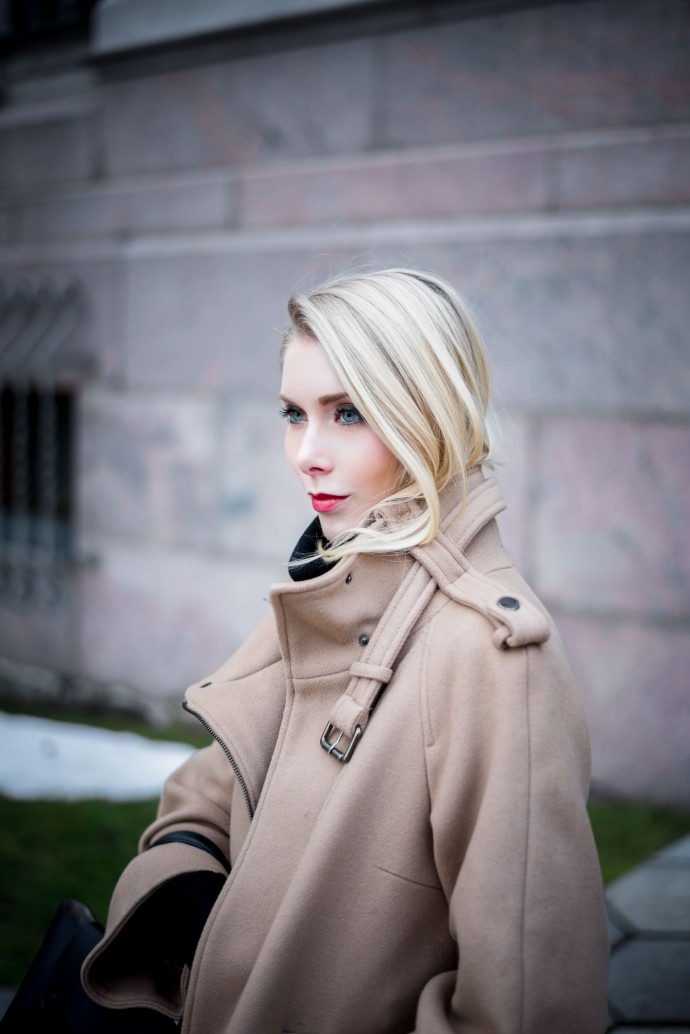 [dropcap custom_class="normal"]Sain huippu työharjoittelupaikan opiskeluaikoina Pariisista ja kysyin pomoltani jälkikäteen miksi hän valitsi juuri minut. Hän sanoi, että valinta oli lopussa minun ja yhden toisen hakijan välillä. Toisen esitelmä oli kuulemma hitusen parempi, hän mutta koki, että ensivaikutelman perusteella minun kanssani olisi mukavampi tehdä töitä. Se tuntui hyvältä. Siitä myös opin sen, että ei aina tarvitse olla se "paras" saadakseen upeita mahdollisuuksia ja menestyäkseen elämässä.[/dropcap]
Tein mallin töitä todella lyhyen ajan ennen ulkomaille muuttoa. En kyllä ollut tehty siihen hommaan ja muistan, että yhdissä kuvauksissa jopa pyörryin kun jännitin niin paljon, heh. Se olikin ensimmäinen ja ainut kerta kun olen ikinä pyörtynyt. Sen jälkeen kyllä hävetti, mutta nyt naurattaa sitäkin enemmän.
Olen aikamoinen kontrollifriikki mitä tulee kotiin ja siisteyteen. Inhoan jos ympärilläni on sekaista. Muistan kun menin ensimmäisen kerran poikaystäväni asuntoon niin loppuillasta ennen kotiin lähtöä siivosin ja hoidin tiskit. Heh, mies ajatteli varmaan siinä vaiheessa, että on joko tavannut todella oudon naisen tai, että tämä on winner. Varmaan jälkimäisesti ottaen huomioon, että yhteiseloa siitä hetkestä on jo yli viisi vuotta.
The Outnet on yksi lempi nettikaupoistani ja olenkin tehnyt sieltä hyviä löytöjä hyvillä hinnoilla. Parasta on kun sieltä löytää jotain mitä on kuolannut jo aikaisemmin suurella alennuksella. Valikoima myös vaihtuu tiuhaan ja siksi käynkin kurkkimassa sielä säännöllisesti.
Tarvitsen vähintään 8 tuntia unta yössä tai muuten päivä ei lähde hyvin käyntiin. Oma sänky on muutenkin tärkeä paikka ja yksi ihanimmista asioista on pujahtaa illan päätteeksi vastavaihdettujen lakanoiden väliin. Sijauspatjaan kannattaa muuten investoida koska se ainakin omalla kohdallani tekee unesta entistä parempaa ja takaa sen, että kroppa todella lepää yön aikana.
P.S. Tänään lennän Pariisiin, joten kuullaan sieltä. Ihanaa viikonloppua kaikille!
I've learned that in life you don't always have to be the "best" to succeed and get amazing chances. It's a mixture of character, motivation, skills and luck. This is always good to remember when you're doubting yourself. Also I've learned never to compare myself to other people.
I used to model for a very short time years ago, but I was not cut out for that job. In one particular shoot, I was so nervous that I actually fainted! It was my first time ever fainting and it hasn't happened since. I was so ashamed after, but now it just makes me laugh!
I'm a control freak when it comes to cleanliness and order around the house. I get stressed if my surroundings are a mess. I remember the first time I went to my boyfriends place and after leaving home, I did the dishes and cleaned. Heh, for me it was very natural. My boyfriend either thought that "what the hell" or then "she's a keeper". Probably the latter considering we have been together more than five years since.
The Outnet is one of my favorite online stores. It's such a great feeling to find something there that I've been drooling previously, but haven't bought because of an expensive price. My latest purchase was a pair of amazing Chloé flats, which I'll soon show you guys.
I need at least eight hours of sleep per night to function properly. My own bed is one of my favorite places as I love sleeping and I'm very good at it, heh. I also love to change the sheets often, because there's nothing better than sleeping between fresh sheets. I also think everyone should invest in a great mattress, because that can really make a huge difference in the quality of sleep.
P.S. Today I'm flying to Paris so I'll talk to you guys later. Enjoy your weekend!