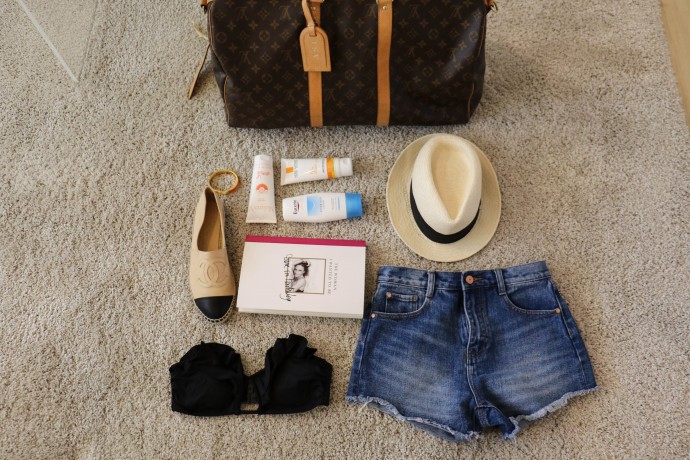 Kuten jo sanoin aikaisemmassa postauksessa, tälle reissulle pakkasin todella vähän mukaani. Siis toki enemmän kun mitä tässä kuvassa on heh, mutta kuitenkin mahdollisimman niukasti. Olen niin monta kertaa huomannut, että lämpimässä kohteessa pärjää ihan muutamalla vaatteella. Hotellien pesupalvelut palvelee silloin jos alkaa olla pulaa puhtaista vaatteista.
Niiden muutamien vaatteiden lisäksi muut tärkeimmät matkatavarat on aurinkovoiteet, panama hattu ja ja pokkarit. Sain ystävältäni joululahjaksi Diane von Furstenbergin The Woman I Wanted To Be – kirjan. Ehdin jo aloittaa sen eikä sitä ole helppo jättää kesken. Se tulee varmaan viimeisteltyä parissa tunnissa aurinkotuolissa loikoillessa. Mukaani lähti sen lisäksi pari muutakin pokkaria, jotka bongasin Akateemisen ale-laarista.
Rakastan lukea, mutta tuntuu, että nykyään ei aika siihen riitä. Koneella tulee vietettyä niin paljon aikaa (liiankin paljon), että välillä olisi hyvä laskea kone alas ja tarttua kirjaan ihan kotonakin eikä ainoastaan silloin kun on lomalla tai illalla muutama minuutti ennen nukkumaanmenoa. Täytyykin alkaa varaamaan kirjoille enemmän aikaa! Hyviä kirjavinkkejä otetaan muuten vastaan.
P.S. Näiden lisäksi reissulle lähti mukaani Canonin 7D Mark II. Iso kiitos Canonille laina kamerasta!
My holiday essentials! As I told you guys previously, I wanted to pack very lightly for this trip. Okay, I packed a little more than this obviously, heh, but only took the very essentials with me. Luckily in a beach destination you actually only need a few outfits since a bikini is the most worn item. Besides the clothes I packed, the most important items in my bag are sunscreens (the highest protection for me, please), a panama hat and books. I don't think there's a better time to catch up on reading then when lying on a sun-lounger. For Christmas, my friend gave me Diane von Furstenberg's newest book called "The Woman I Wanted To Be". I find the book very interesting and it's the perfect beach read!
Save