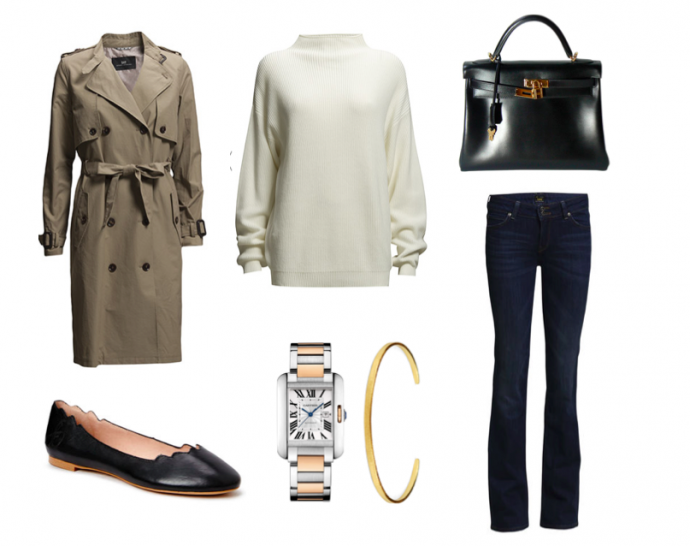 Trench coat / Day Birger et Mikkelsen     Knit / Won Hundred     Bag / Hermès Kelly
Ballerinas / Sam Edelman     Watch / Cartier Tank     Bracelet / Pernille Corydon     Jeans / Lee
[dropcap custom_class="normal"]Tässä asussa voisin elää koko kevään! Todella klassisia ja ajattomia vaatteita ja asusteita. Unohdan täysin nyt tuon ulkona olevan ilman ja keskityn sinnikkäästi niihin kevät päiviin, jotka pian taas koittavat.[/dropcap]
Pohdin nyt kovasti tuota neuletta. Se näyttää vaan niin kauniilta, että olisi kyllä tervetullut lisä omaan kaappiini. Merkki on itselleni ennestään tuntematon, mutta neule on ainakin 100% puuvillaa, eli sen puolesta se täyttää kyllä kaikki kriteerit. Onneksi Boozt:illa on myös helpot ja vaivattomat palautusmahdollisuudet jos se olisikaan niin kiva kun mitä kuvan kautta voisi olettaa.
Nämä suuret elämän mietteet, heh. Hyvää vastapainoa niille elämän oikeille vaikeille päätöksille tosin!
[spacer]
I would like to wear this outfit right now (I'm not even going to discuss the terrible weather we've had for the couple last days and just pretend all is good)! Super timeless and classic items. I mostly fell for the white knit. It looks perfect! Should I order it…perhaps?
Have a great day everyone and I'm hoping you are experiencing a bit more pleasant weather than us here in Finland!
[spacer]
*Mainoslinkkejä/Commercial links.