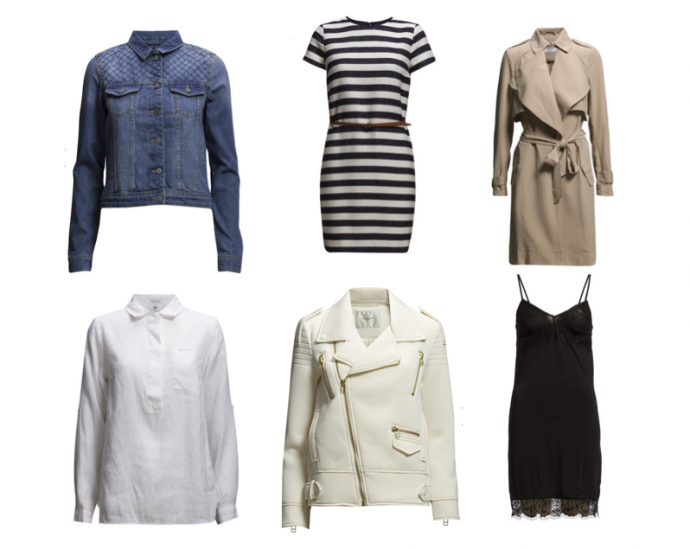 [spacer]
Denim jacket / Esprit     Dress / Esprit     Trench / Vero Moda
Linen shirt / Part Two     Jacket / Selected Femme     Slip / Ganni
[dropcap custom_class="normal"]Tämän viikon tärpeiksi valitsin vielä Booztin Spring Salen aletuotteita, sillä koodilla GPR10D saatte -10% extra-alennusta* näistä ja monista muista tuotteista kassalla tämän päivän. Kaikki ale-tuotteet löydätte täältä! Tästä edellisestä postauksesta löydätte myös muutamia muita lemppareitani.[/dropcap]
Pellava on sellainen materiaali mikä on ihan unelma etenkin kuumassa ilmastossa. Aurinkolomille se paras mahdollinen materiaali! Löysin oman pellavapaitani Pariisista Uniqlon valikoimasta, mutta muuten olisin varmasti laittanut tämän Part Twon pellavapaidan tilaukseen. Se löytyy myös sinisenä, joten täytyy miettiä tulisiko sille käyttöä. Vanhempani on lähdössä pian Malediiveille (kateellinen tytär täällä hei!) jossa lämpötila on lähemmäs 30 astetta, joten täytyy vinkata äidillenikin tästä paidasta. Voisi olla aika ihana reissuvaate!
Rentouttavaa sunnuntaita kaikille!
*Tilauksen kokonaisarvon on oltava yli 85€.
[spacer]
Boozt.com Spring Sale is still going on and today you'll get an extra 10% off  the sales products that you can find here. Just use the code GPR10D at checkout* to to get the benefit.
If I hadn't find found the perfect linen shirt from Uniqlo, I would for sure order this linen shirt from Part Two. Linen is the best material for summer and a great pick for sunny holiday destinations. Now I just have to book a vacation and voila, heh!
Have a relaxing Sunday everyone!
*The order needs to be more than 85€ to benefit from this additional -10%.