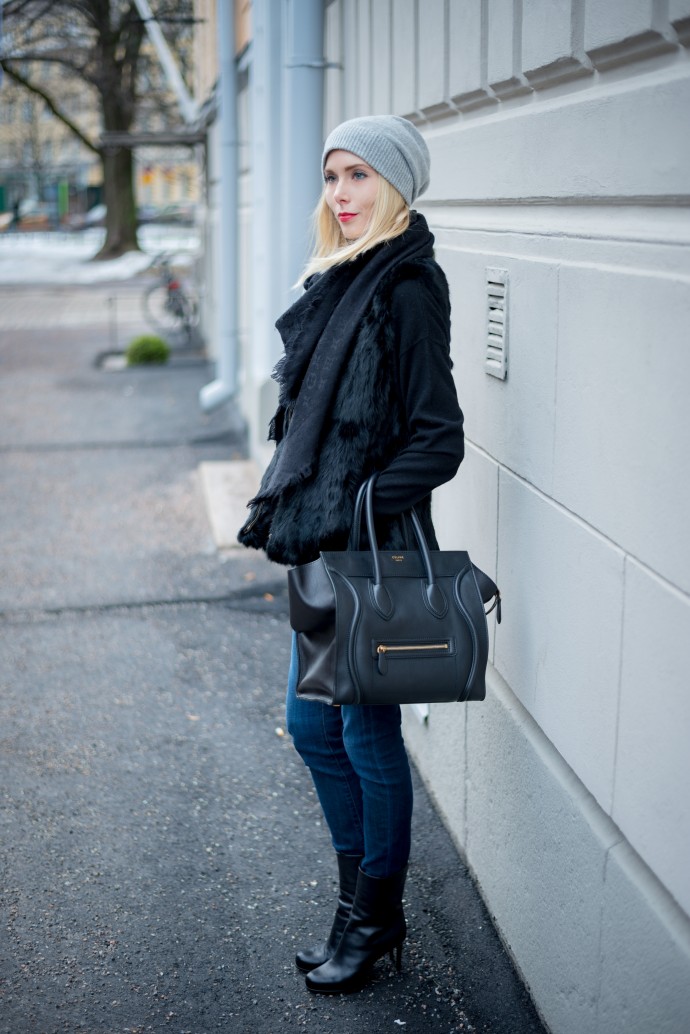 [dropcap custom_class="normal"]Huomenna alkaa ihana pidennetty viikonlopppu pääsiäisen merkeissä! Nämä ilmat täällä Suomessa ei kyllä voisi olla pajon huonommat (koputan puuta), mutta ainakaan ei ole mitään paukkupakkasia. Se vasta kamalaa olisikin jos näyttäisi siltä, että lumi jäisi maahan pidemmäksi aikaa. Toivoin, että olisin päässyt nyt viikonlopun aikana korkkaamaan mökkikauden, mutta saa nähdä viitsinkö lähteä sinne ollenkaan. Lande sijaitsee tunnin ajomatkan pääsää Helsingistä ja jos täällä sataa räntää niin siellä se yleensä tulee lumena. Voi siis olla, että landereissu jää toiseen kertaan. Ollaan kylläkin suunniteltu tyttöjen kanssa reissua sinne ensi viikon loppupuolelle, joten ehkä silloin se jo onnistuisi?[/dropcap]
Koneella on vielä paljon materiaalia Ranskan matkalta, mutta ne asut on sen verran keväisiä, että tuntuu ihan hölmöltä julkaista niitä kun täällä saataa loskaa niskaan. Toisaalta ne voisi piristääkin, mutta tässä nyt yksi näistä tummanpuhuvista asuista täältä Helsingistä. Peruskauraa niin kuin aina!
Onko teillä suunnitelmia tälle tulevalle pitkälle viikonlopulle? Tulen vielä huomenna toivottelemaan hyvää pääsiäistä, joten kuullaan silloin!
Tomorrow it's Easter and those of us who celebrate it will have a long nice weekend. On a bad note, the weather in Finland could not be worse. It's just grey and rainy. I was hoping to visit the summerhouse for the first time this year, but I might have to postpone it. If it's raining in Helsinki, it might be snowing there and I've had enough of snow for this Spring.  We did start planning a girls trip there for the end of next week so I'm hoping the weather improves by then so we can actually go…
Here's one of my dark and gloomy outfits (fits my current mood perfectly). What do you think? You've had enough of black and grey?
Cashmere knit / & Other Stories
Vest / MJM (similar here*)
Jeans / Joie
Boots / Louis Vuitton
Cashmere beanie / Uniqlo
Scarf / Louis Vuitton
Bag / Céline
Bracelet / Saint Laurent
*Mainoslinkki.