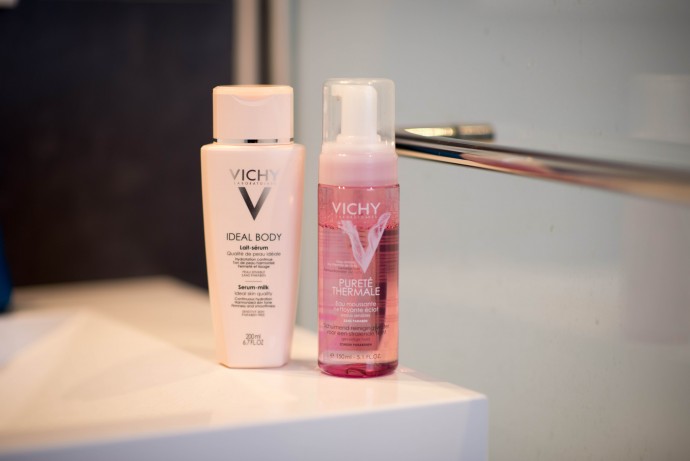 Vichyn tuotteet on sellaisia mitä itse käytän arjessa säännöllisesti ja joilla on mielestäni ihan loistava hinta-laatusuhde. Ne ketkä on missanut aikaisemman vinkkini Easyparapharmacie.comista niin suosittelen lukemaan sen tästä. Vichyn tuotteita ei siis kannata ostaa täältä kotimaasta, sillä hinnasta saa silloin pulittaa lähes puolet enemmän. Onneksi niitä saa nykyään tilattua tuon loistavan verkkokaupan kautta suoraan kotiovelle huomattavasti edullisemmin!
Viime kerralla kun olin Ranskassa sain poikaystäväni siskolta suosituksen tästä Vichyn vartalovoiteesta. Sen ihana tuoksu sai jo pääni kääntymään, joten päätin ostaa sen kokeiluun. Voide on kevyt ja imeytyy hetkessä jättäen ihon värin tasaisemmaksi. Sen lisäksi sen tärkein ominaisuus on tietenkin kosteutus missä tämä tuote pärjää mainiosti. Omat kuivat sääreni Seychellien auringon jäljiltä tämä tuote sai taas kosteutetuksi ja veikkaan, että kesällä tämä tulee olemaan päivittäisessä käytössä kiitos sen, että se tasoittaa ihon sävyä. Paljaille säärille siis ihan loistava tuote! Tuotteen voitte tilata tästä hintaan 14€.
Oma suosikkini puhdistukseen on edelleen Madaran puhdistusvaahto, mutta koska unohdin sen tänne Suomeen niin hankin Ranskassa sille tuuraajan ja valitsin tämän Vichyn puhdistusvaahdon. Hintaa sillä on reilut 10€ ja se kyllä toimii Madaran tuotteen tavoin loistavasti. Tätäkin voin siis suositella teille jos hakusessa on laadukas ja kohtuuhintainen putsari!
I love Vichy and I use their skincare products on a daily basis. If you missed my previous post about this great French online store called Easyparaphramacie.com that delivers French cosmetics to Europe for great prices, check it out here. Vichy is so much more expensive here in Finland, that by ordering from this site, I can save up to 40% on the prices.
Last time I was in France, my boyfriends sister recommended me this Ideal Body-lotion from Vichy. I already loved the light scent and I decided to try it out. The cream is very light and is absored quickly. The lotion does not only moisture the skin effectively, but it also evens out the skin tone.  This cream has become a new favorite of mine and it will be perfect especially during summer! You can find it here for 14€.
My favorite cleaning product for the face is still Madara's cleaning foam, but a great alternative is this one from Vichy. The price is a bit over 10€ and it cleans the skin without drying it. So if you're looking for a cleaning product for the face, this is a great option!
Save