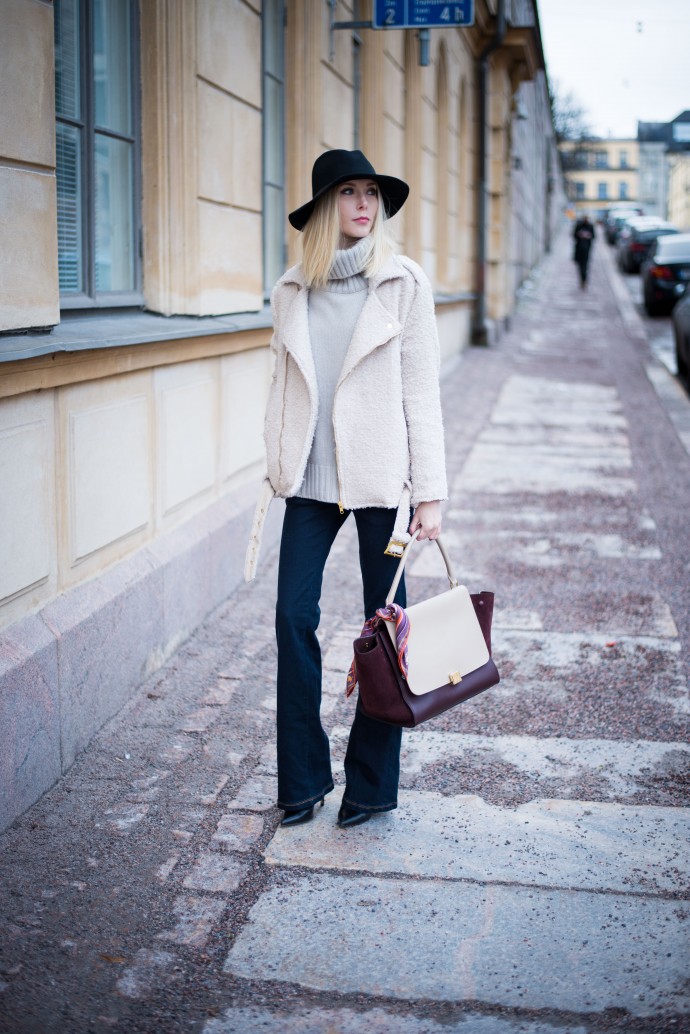 [dropcap custom_class="normal"]Terveisiä Firenzestä! Täällä on niin kaunista ja ilmojen puolesta todella kesäistä. Täydellinen ajankohta ottaa siis pieni varaslähtö tulevaan kesään. Me lähdetään nyt tutustumaan kaupunkiin, syömään hyvin ja nauttimaan elämästä italialaiseen tapaan. Ei hullumpi startti tälle viikolle![/dropcap]
Tässä asua vielä sieltä koti Suomesta. Jalassa leveälahkeiset farkut (yllätys, yllätys) ja takin alla tämä Max Maran neule, joka tuli ostettua talven alennusmyynneistä. Tätä neuletta olen käyttänyt ihan luvattoman paljon, eli se oli kyllä hyvä ostos. Yhtä hyvä kuin se Josephin harmaa neule silloin aikoinaan! Laatuun kannattaa siis satsata ja miten se sanonta nyt menikään?  "Köyhän ei kannata ostaa halpaa"? Tämä lause pitää kyllä paikkansa. Mielummin kaapissa on ne pari laadukasta neuletta, jotka kestää käytössä vuosia!
Palaillaan täältä Firenzestä ja reissua voi seurata parhaiten Instagramin välityksellä (@styleplaza)! Voi olla, että Italia postauksia tulee ulos vasta ensi viikolla koska en raaski tuhlata liikaa aikaa koneella olemiseen. Reissu menee siis puoliksi loman kannalta, eli älkää ihmetelkö jos Firenze postauksia ei kuulu ihan heti.
Hello from Florence! This city is just breathtaking and the weather is as good as if it was summer. Perfect timing for this little getaway as I get a sneak peek to summer as well. Now we are off to wander around the city, eat delicious food and enjoy life the "Italian way". Not a bad start to this week!
This is an older outfit from Helsinki. I'm wearing flared jeans (surprise, surprise) and this knit from Max Mara that I have been wearing all the time. When I find something perfect, I wear it almost non-stop. This is one of those pieces. It just works with anything!
I might not post anything about Florence before next week as I'll try to spend as little time on the computer as possible. So latest next week you'll get some Italy posts. Ciao!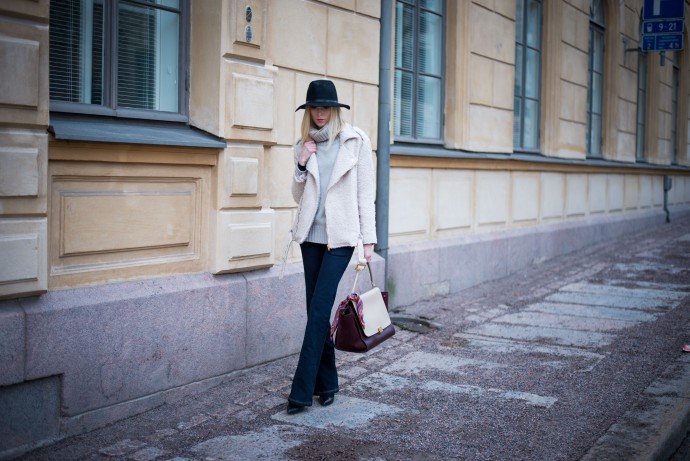 Jacket / Bik Bok
Knit / Max Mara
Jeans / Mango
Heels / Zara
Bag / Céline
Scarf / Hermès
Hat / Lindex