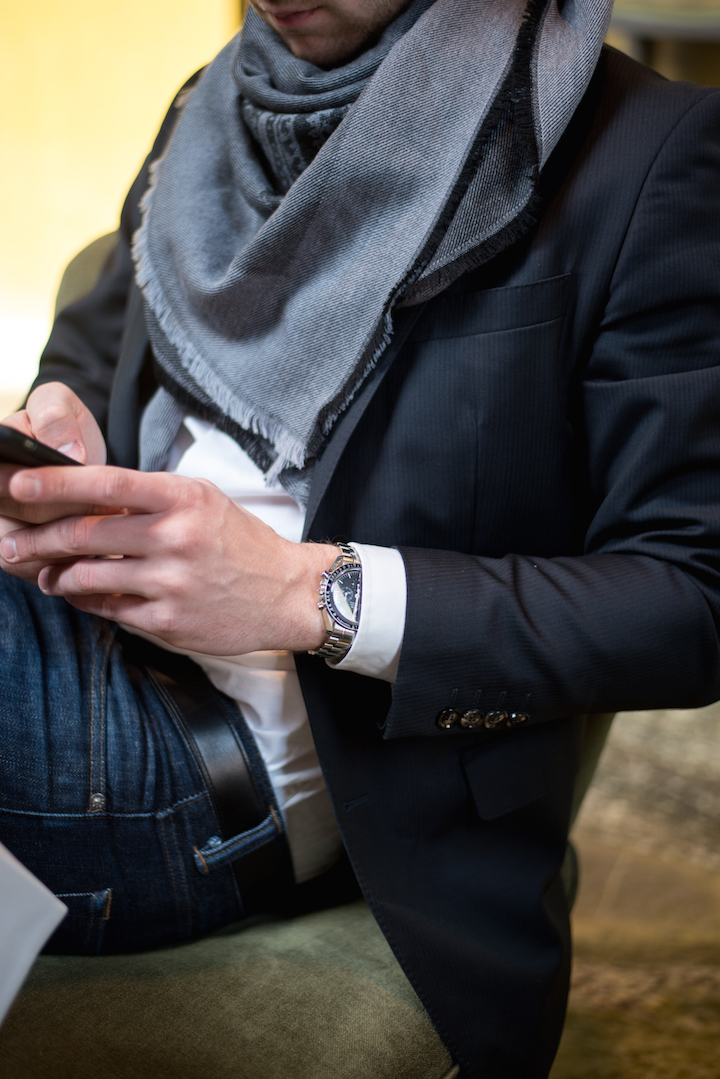 Poikaystäväni ei viihdy kameran edessä, mutta nappasin hänestä tämän kuvan samalla kun odotimme pöytään pääsyä Monsieur Bleu ravintolassa. Tiedän, ettei hän suostu kunnolla kuvattavaksi tänne blogiin (enkä häntä täällä halua liikaa esitellä), mutta tässä kuitenkin pieni näyte herran tyylistä.
Poikaystäväni on siis ranskalainen ja tyylistään todella varma. Jos olemme kaupoilla ja ehdotan hänelle jotain, niin sekuntissa tulee vastaus onko se hänen juttunsa vai ei. Hänellä on todella klassinen tyyli, mutta arkena rennot farkut ja neuleet ovat kovassa käytössä – samoin kuin täällä. Aina silloin tällöin kun olemme lähdössä ulos huomaamme, että olemme lähes identtisesti pukeutuneet. Siitä sitten arpomaan kumpi vaihtaa asunsa, heh.
Hänen kaappinsa on myös täynnä kauluspaitoja (lähinnä sinisiä, valkoisia, ja siniraidallisia) ja ne sopivatkin hänelle hyvin. Etenkin siniset kauluspaidat toimivat hänen piirteidensä kanssa (tummat hiukset ja siniset silmät). Arkena hän käyttää tennareita ja puvunkenkiä, mutta nykyisin tennarit eksyvät meidän molempien jalkaan yhtä usein.
Viikonlopun ratoksi siis pieni sneak peek poikaystäväni tyyliin. Rentoa lauantaita kaikille!
My boyfriend prefers to stay behind the camera, but I snapped this picture of him last weekend in Paris. He has a great style, which is very classic, but yet casual. He knows exactly what works on him and what doesn't and half of the time he doesn't even hear my suggestions when we are shopping, heh. I would say the base of his style are jeans, knits, blazers and collar shirts.

So here was a little sneak peek into his style. Enjoy your Saturday everyone!
Blazer / Zara  Shirt / Hugo Boss  Scarf / Balmuir  Watch / Omega  Belt / Hermès