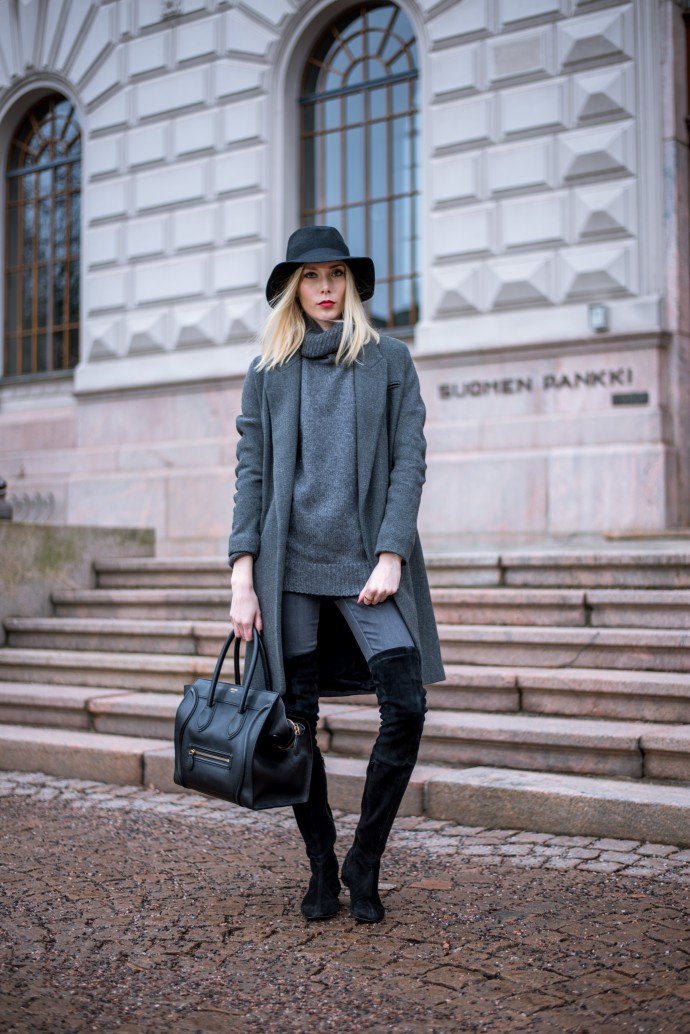 Te tiedättekin, että harmaa on suosikkivärini mitä tulee pukeutumiseen. Musta tulee perässä kovana kakkosena. Harmaassa viehättää eniten se, että siitä väristä löytyy niin monia eri sävyjä (ei ehkä kuitenkaan niin monia kuin herra Greyssä). Kesällä voi käyttää vaaleampaa sävyä ja syksyllä taas tummempaa. Harmaa toimii siis aina! Tähän väriin on myös helppo yhdistää kirkkaampia värejä. Viininpunainen, oranssi ja sininen sopii ihan loistavasti harmaan pariksi! Tähänkin asuun olisi voinut lisätä vielä esimerkiksi sen värikkään Hermèsin silkkihuivin joka vilahti edellisessä asupostauksessa. Tykkään kiinnittää huivin laukkuun koska silloin se on jotenkin helpompi ja huolettomampi yhdistää asuun.
Nautin Firenzestä vielä muutaman päivän ennen Suomeen paluuta. On tämä kyllä aivan upea kaupunki ja miten paljon energiaa täältä onkaan saanut omaan arkeen! Kyllä sitä on välillä hyvä päästä niistä omista tutuista ympyröistä jonnekin ihan muualle. Matkustaminen rikastuttaa elämää suuresti. Me eurooppalaiset ollaan vielä onnekkaita kun niin erilaisia ja historiallisesti vaikuttavia kaupunkeja löytyy lyhyen lentomatkan päästä. Pelkästään Euroopan sisällä on vielä niin monia kaupunkeja, jotka on omalla toivelistallani. Nyt voin kuitenkin ruksata Firenzen sieltä yli!
As you know, I'm addicted to the color grey. And yes, I was addicted before "Fifty Shades of Grey" came out (I still need to see the movie!). What I love most about the color is that there are so many tones or "shades" to it. Maybe not as many as to Mr.Grey, but almost heh. During summer I wear lighter tones and during Fall darker tones. Grey is also a great base color if you want to add brighter colors to the look. As I've said before, I love burgundy with grey and I also think orange matches perfectly with this color. This look of mine could have actually used a bit more color than just the red lips, but oh well.
I'm still in Florence for a few days before heading back to Helsinki. I'm in love with this city and I almost forgot how much energy traveling gives you. Getting to know a new city is so exciting and of course doing it with a friend is even better. Life is good!
Coat / Zara
Knit / Joseph
Jeans / Mango
Boots / Zara
Bag / Céline
Hat / Pimkie
Ring / Cartier