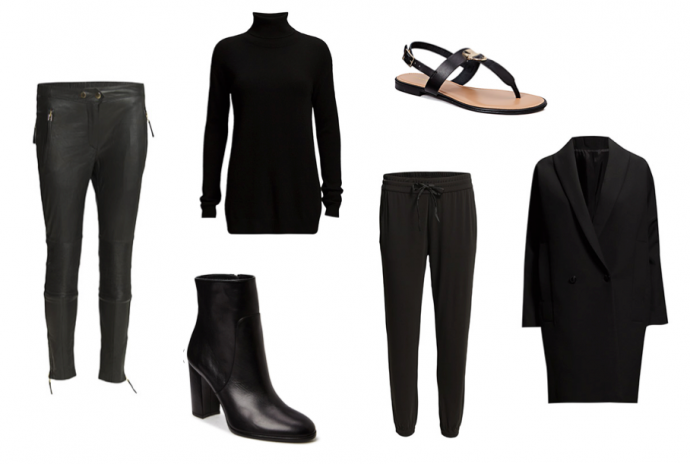 [spacer]
Leather pants / Day Birger et Mikkelsen    Cashmere knit / Day Birger et Mikkelsen     Sandals / Nome
Boots / Polo Ralph Lauren     Pants / Polo Ralph Lauren     Coat / Samsoe & Samsoe
[dropcap custom_class="normal"]Ulkona paistaa aurinko ja ilma on helteinen, mutta silti päässäni pyörii kokomustat asut. Mielestäni kesäisin voi hyvin pukeutua mustaan vaikka auringossa ja korkeissa lämpötiloissa tämä väri ole se viilein vaihtoehto. Musta näyttää myös hyvältä päivetystä vastaan (tai no, mikä väri nyt ei näyttäisi?), joten tästäkin syystä kesällä kannattaa kokeilla rohkeasti tummempiakin värejä.[/dropcap]
Rusketuksesta puheenollen – itseltäni ei löydy väriä edes sen päivetyksen verran. Otan aurinkoa oikeastaan ainoastaan rantalomilla, mutta muualla todella harvoin. Täällä suojaan ihoni hyvin jo pelkästään kauppareissua varten ja olen löytänyt täältä muutaman uuden aurinkovoiteen, jotka suojaavat hyvin ja sopivat myös koostumuksensa puolesta meikinalusvoiteiksi. Vinkkiä näistä pian!
Rauhallista sunnuntaita kaikille!
I know it's summer and I should be craving for colors and light materials, but I don't. I think this Finnish darkness is too deep in me, heh. I do think though that all black outfits work well during summer. For example black leather shorts with a linen t-shirt looks very sharp and elegant. My mind is already in Fall fashion so I'm not really getting inspired by summer outfits anymore (hence this collage). I'm craving for chunky knits and great coats (well, when aren't I craving for these things?).
Enjoy your Sunday everyone!
*Commercial links / Mainoslinkkejä.