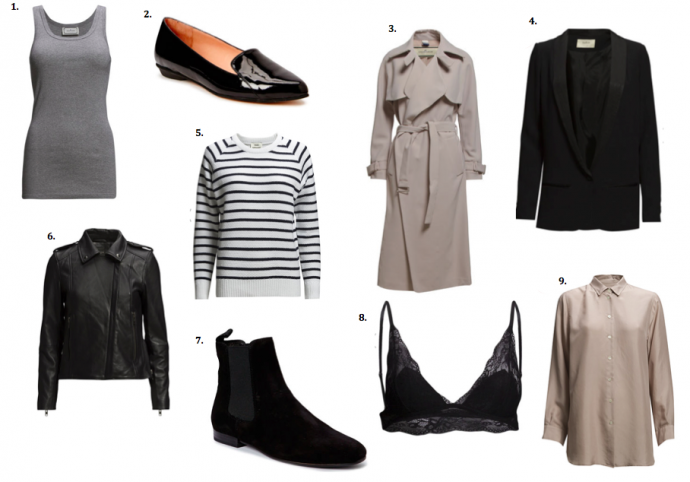 [spacer]
1. Tank top / By Malene Birger (-25%)    2. Loafers / Wonders (-25%)     3. Trench / By Malene Birger (-48%)
4. Blazer / Ba&sh (-40%)     5. Knit / Mads Noorgard (-25%)     6. Leather jacket / Selected Femme (-20%)
7. Suede boots / Vagabond (-25%)     8. Bra / Black Lily (-20%)     9. Silk blouse / Filippa K (-20%)
[dropcap custom_class="normal"]Nyt kun alennusmyynnit ovat alkaneet (tai alkavat lähipäivinä) niin on hyvä miettiä niitä omia todelllisia tarpeita ennen kaupoille lähtöä. Ennen ostopäätöstä on hyvä kysyä itseltään jos olisi ostanut tuotteen myös täyteen hintaan (jos vastaus on ei, niin silloin se kannattaa jättää kaupan hyllylle.)[/dropcap]
Itse etsin alennusmyynneistä lähinnä peruvaatteita laadukkaista materiaaleista. Jos esim. löytää se kauan etsimänsä nahkatakin puoleen hintaan niin go for it! Laadukkaat neuleet, farkut ja trenssit ovat myös niitä vaatekappaleita mitä kannattaa alennusmyynneistä kuikuilla. Yksi vaihtoehto on myös skipata alennusmyynnit kokonaan ja panostaa syksyllä siihen täydelliseen kashmir neuleeseen. Sekään ei ole yhtään hullumpi vaihtoehto, heh!
Rentouttavaa sunnuntaita kaikille!
Now that the summer sales are slowly starting, it's good to take a minute to think about what you might need (if anything) before heading out to the stores. I think sales can be a bit dangerous, because it's easier to buy things you don't actually need. My advice is to always ask yourself if you would have bought the same item for full price. If the answer is no, then leave it and run out.
I usually look for quality basics during sales. Knits, jeans, leather jackets and trench coats are items, which will last time. One idea is also to skip the sales completely and then invest in that perfect cashmere knit when Fall clothes arrive. That's not a bad idea at all, heh!
Enjoy your Sunday everyone!
*Commercial links / Mainoslinkkejä.