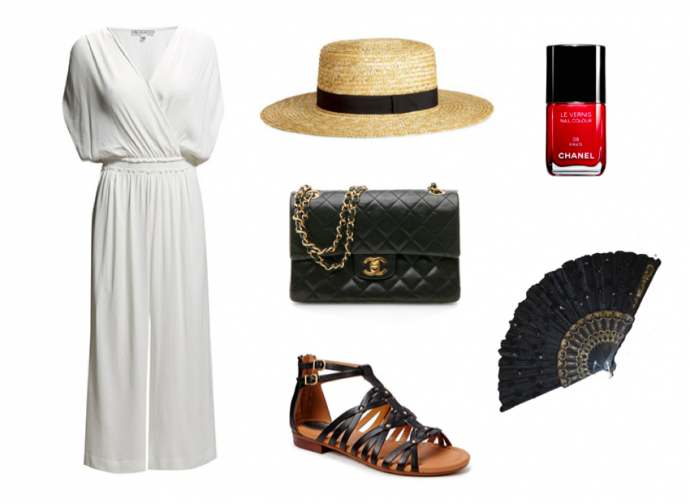 [spacer]
Jumpsuit / Dagmar*     Hat / H&M     Nailpolish / Chanel
Bag / Chanel     Sandals / Clarks*     Fan / Punanaamio
[dropcap custom_class="normal"]Tällä hetkellä pukeutumisinspiraationi on pyöreä nolla. Nämä tuskaisen kuumat päivät takaavat sen, että oli päällä sitten mitä tahansa niin olo ei ole kovin kauan hehkeä – kiitos jatkuvan virtaavan hien. Hellevaatteita en montaa omista, joten farkkushortsit ja pellavapaita ovat olleet yksi tämän viikon uniformuistani.[/dropcap]
Tämä jumpsuit olisi kevyt, mutta pukeva vaihtoehto kapunkiin näillä helteillä. Mustat sandaalit olisivat myös enemmän kuin tervetulleet! Luulen kuitenkin, että näistä kaikista valitsisin ensimmäisenä tuon viuhkan, heh. Meillä on kotona niin kuuma, että sille olisi käyttöä.
Nukkuminen on tosiaan hieman vaikeaa, mutta ehkä viuhka auttaisi asiaa…ainakin siihen asti kun nukahtaisi. Olen myös pakastanut vesipulloja ja ottanut ne kainaloon juuri ennen nukkumaanmenoa. Helpottaa kummasti ja unenpäästä saa paremmin kiinni! Onneksi me poikaystäväni kanssa olemme vielä nuoria, mutta on vähän hirvittänyt vanhusten puolesta nämä helteet. Huomaan itsekin, että kokoajan saa olla juomassa vettä, joten toivottavasti iäkkäämmät pitävät myös huolta omasta juomisestaan.
Ja ihanaa, että myös sinne Suomeen on saatu vihdoin lämpöä ja vielä sellaista, josta oikeasti pystyy nauttimaan. Rentouttavaa sunnuntaita siis kaikille!
This last week the temperatures have been crazy hot and because of this, I've had zero inspiration when it comes to dressing up. I'm really not into this super warm weather at all and trying to figure out what to wear when you're already sweating even thinking about it, is just not that great. However, I've taken it easy and just worn my jean shorts and linen shirts as that's the best I can do in these conditions. I wish stepping out in a bikini would be an option, but obviously it's not, heh.
This jumpsuit would be a great option as it looks light yet appropriate for the city. Those black sandals are also on my wish list. But to be honest, the fan would be my choice at the moment. Our apartment is like a sauna, so maybe that would help. Sleeping especially is a bit tricky, so a fan would be great…
Even in Finland the weather got warmer and luckily the temperatures are not too high to actually enjoy the weather outdoors. Lucky Finns!
Enjoy your Sunday everyone!
*Mainoslinkkejä/Commercial links.