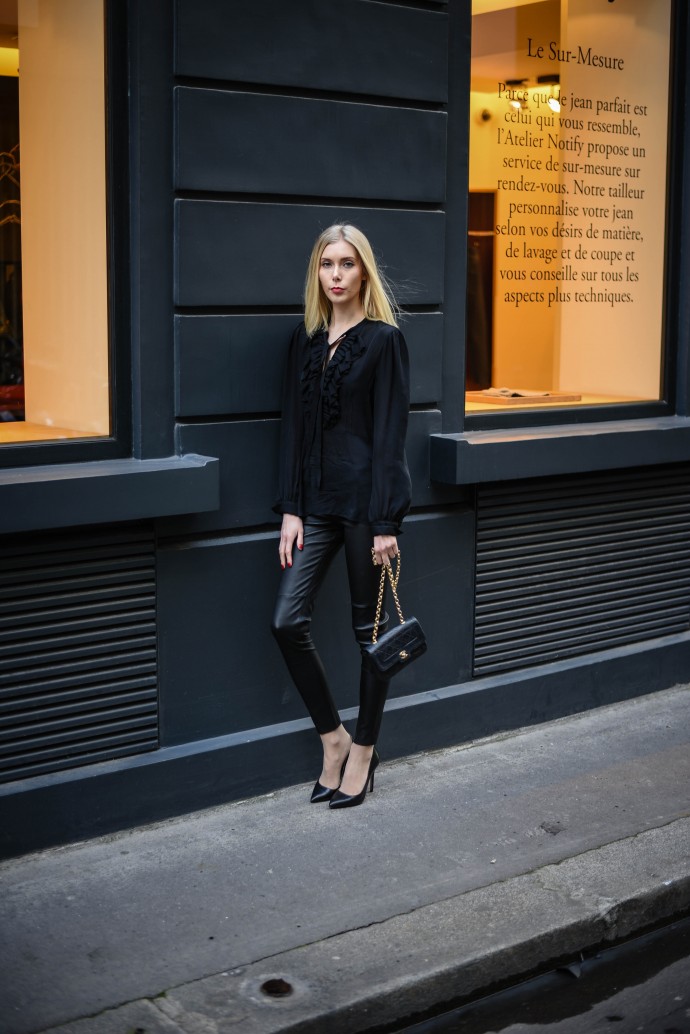 Poikaystäväni syntymäpäiville valitsin kokomustan asun. Nahka ja silkki toimii keskenään loistavasti ja kokonaisuus säilyy kevyenä tummasta väristä huolimatta! Kuvattiin asu jälkikäteen ja hitto miten kylmä ulkona olikaan. Pariisissa oli samat lämpöasteet kuin täällä Helsingissä, eli vain muutama aste plussaa. Siihen kun lisäsi vielä kosteuden ja kylmän tuulen niin tuntui kyllä ihan jäätävältä!
Tämä silkkipaita on muuten uudehko ostos Zarasta ja tykkään siitä kovin. Se on malliltaan hieman pidempi ja näyttää pukevalta vaikka ihan farkkujenkin kanssa. Hyvä ostos ja toivottavasti pitkäikäinen hankinta (fingers crossed)!
Hyvää viikonloppua kaikille!
This is the look I wore to my boyfriends birthday party. Silk and leather go so well together, don't you think? We shot this outfit in Paris afterwards and don't let the pictures and outfit fool you…the weather was freezing cold! I guess my expression shows it; "Let's get this done so I can put my coat back on!" haha. But what do you think of this simple look?
Have a great weekend lovelies!
Silk shirt / Zara
Leather pants / Zara
Bag / Chanel
Heels / Zara