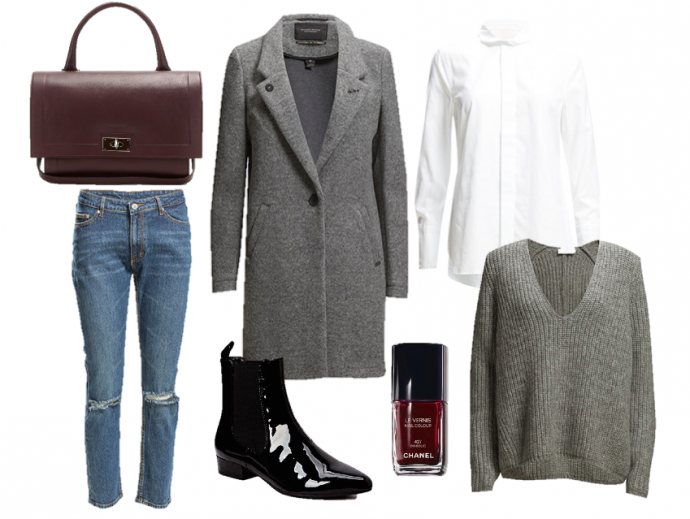 Bag / Givenchy     Coat / Maison Scotch     Shirt / By Malene Birger
Jeans / Cheap Monday     Boots / Vagabond     Knit / Closed
Laitoin tilaukseen nämä Cheap Mondayn farkut ja toivon, että ne istuvat hyvin, sillä tämä malli näyttää todella kivalta. Farkkuja on hankala ostaa sovittamatta, mutta onneksi Boozt.com on tehnyt palauttamisesta niin helppoa! Vaatteita voi rauhassa sovitella kotona ja sitten palauttaa ne mitkä eivät sopineetkaan. Orléansin muotitarjonta ei ole mikään päätähuimaava, joten tilaan suurimmanosan ostoksistani verkosta.
Pariisi on onneksi niin lähellä, että sinne on helppo mennä kun on tarvis. Uskon, että suurin syy siihen miksi monella merkillä ei ole edustusta täällä on juurikin se, että Pariisi on turhankin lähellä. Orléans on kuitenkin pieni kaupunki ja Pariisi tunnin junamatkan päässä, joten merkit eivät koe tarpeelliseksi olla edustettuna täällä. Taitaa myös olla parempi niin, että Chanel ei löydy alakerrasta, koska se voisi olla aika petollista pankkitililleni, heh.
Hyvää sunnuntaita sinne!
I ordered these Cheap Monday jeans last week and they should arrive soon. The cut looks really good, so I'm hoping they fit me well! Jeans are quite tricky to buy online without trying them on, but luckily Boozt.com has made returns super easy (as have many other stores). I prefer trying things at home as it's much more convenient. Orléans is not exactly a mecca of fashion so I buy most of my items online.
Paris is also very close so when I want to try things in store I go there. I think the reason why the fashion offer in Orléans is not that good is just for that reason; Paris is so close. But in all honesty, maybe it's for the best. I think I would go bankrupt pretty quickly if there was a Chanel store next to my apartment, heh.
Enjoy your Sunday everyone!
*Commercial links/Mainoslinkkejä.
Save