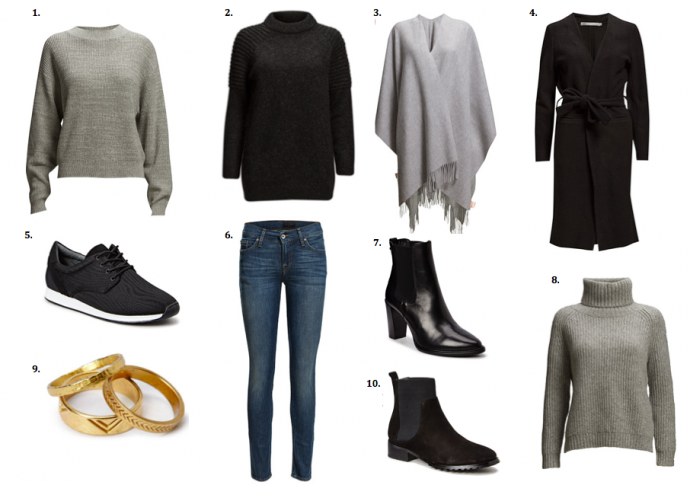 [spacer]
1. Filippa K     2. Tiger of Sweden     3. Becksöndergaard     4. Tiger of Sweden
5. Vagabond     6. Tiger of Sweden     7. Billi Bi     8. Gant     9. Maison Scotch     10. Stylesnob
[dropcap custom_class="normal"]Eurooppaan näyttää rantautuneen Jenkeistä tuttu Black Friday, joka tunnetaan rapakon takana joulumyynnin käynnistävänä päivänä. Joulumyynti starttaa komeasti alennusmyynneillä, joten Jenkeissä tämän viikon perjantai on tunnetusti vuosittain erittäin hyvä kauppapäivä. Ihmisiä on kuulemma joskus kuollutkin kun väkijoukko on rynninyt sisään liikkeisiin tarjousten perässä. Onneksi nykyään alennukset ulottuvat nettikauppoihin saakka, joten ostoksia voi tehdä kätevästi kotisohvalta käsin. Huomasin, että Booztilla on vielä tänään menossa ale-kampis, eli jos missasitte Black Fridayn, niin ehditte vielä. Tässä muutamia suosikkejani.[/dropcap]
Me juhlimme eilen poikaystäväni syntymäpäiviä ja tänään lounastamme hänen perheensä kanssa. Kivaa vaihtelua "normaalille" sunnuntaille, joka yleensä menee maanantain verbikokeeseen opiskellessa. Nyt voi hyvällä omallatunnolla höllätä ja nauttia ihan kunnon vapaasta sunnuntaista. Ensi viikolla on sitten viimeiset tunnit ja sen jälkeen alkaa koeviikot. Ja sitten tämä lukukausi on ohi, mikä tuntuu todella hullulta, sillä juurihan minä aloitin nämä opinnot? Huh, miten se aika vaan rientää!
Rentouttavaa sunnuntaita kaikille!
Did you make any sales finds on Friday? Many stores in Europe have taken example from the U.S. by starting the Christmas sales with discounts.  Luckily some stores have discounts longer than just one day, so if you missed Black Friday, you still have a change to do some shopping for discounted prices. Above are my favorites from Boozt.com!
Yesterday we celebrated my boyfriends birthday and today we continue the celebration with his family. It's a nice change to my "normal Sunday", which normally consists of studying for my weekly verb exam. Today I have a good reason to take it easy and celebrate! I have only one week of normal classes left and then it's exam weeks. After that, it's time for a Christmas holiday. I can't believe how fast this Fall went by…
Have a relaxing Sunday everyone!
*Commercial links/Mainoslinkkejä.