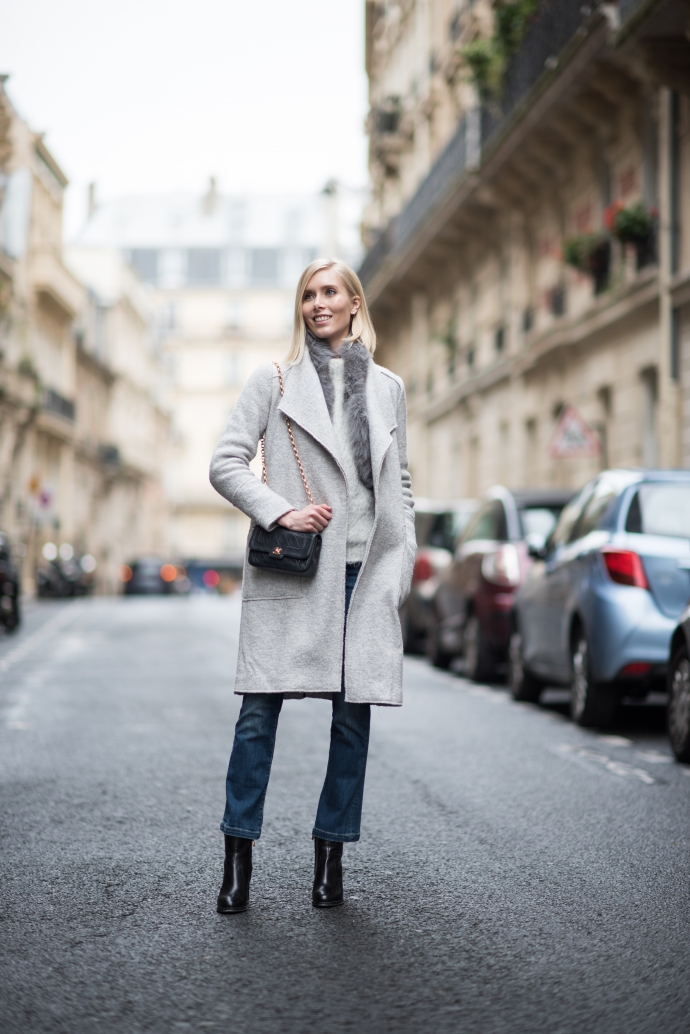 Tämä ympäristö on ollut lukuisten asukuvieni taustana, sillä kyseessä on meidän vanha kotikatu Pariisissa. Kuinka moni teistä muistaa tämän kadunpätkän? Pariisi aikoina suurin osa kuvistani oli tältä kadulta napsittu ja muistan kuinka helppoa oli ottaa kuvat kätevästi omalla kotikadulla. Nykyään on kivempi, että tausta on aina vähän erilainen (vaikka samoja kuvauskohteita näkyy usein) ja uskon, että se on myös teille mielenkiintoisempaa?
En voinut poistua Pariisista ennen kuin kävimme ottamassa asukuvat tuolla ja vaikka kumpikaan ei ikävöi tuota asuntoa, niin oli hauska palata tuttuihin maisemiin. Kyllä tämä Orléansin 80 neliön kämppä tuntuu kodikkaammalta, kuin tuo Pariisin 35 neliön luukku, heh, mutta täytyy kyllä sanoa, että Pariisin pieneen asuntoon mahtui kyllä ihania muistoja!
Tämä asu on värimaailmaltaan hyvin neutraali, mutta mielestäni eri materiaalien yhdistäminen tekee siitä mielenkiintoisen. Neule on mohairvillaa, takki villasekoitetta ja liivi turkista, joten samasta väristä huolimatta jokainen vaate erottuu toisistaan. Jos taas kaikki tekstruurit olisivat eri värisiä, niin lopputulos voisi olla liian sekava. Siksi rakastankin yhdistää saman värisiä, mutta eri tekstuurin omaavia vaatteita keskenään!
Some of you might recognize this street? It used to be our home street in Paris and many of my outfits were shot there back then. I remember how convenient it was to just step out and take the pics, but nowadays it would be a too repetitive. We like to shoot in different places to mix it up a bit!
The colors of this outfit are very neutral, but I love adding different textures in the same color together. Here the knit is mohair, the coat is a wool-mix and the vest is fur. Different textures make any outfit more interesting even if the color is the same. Would you agree?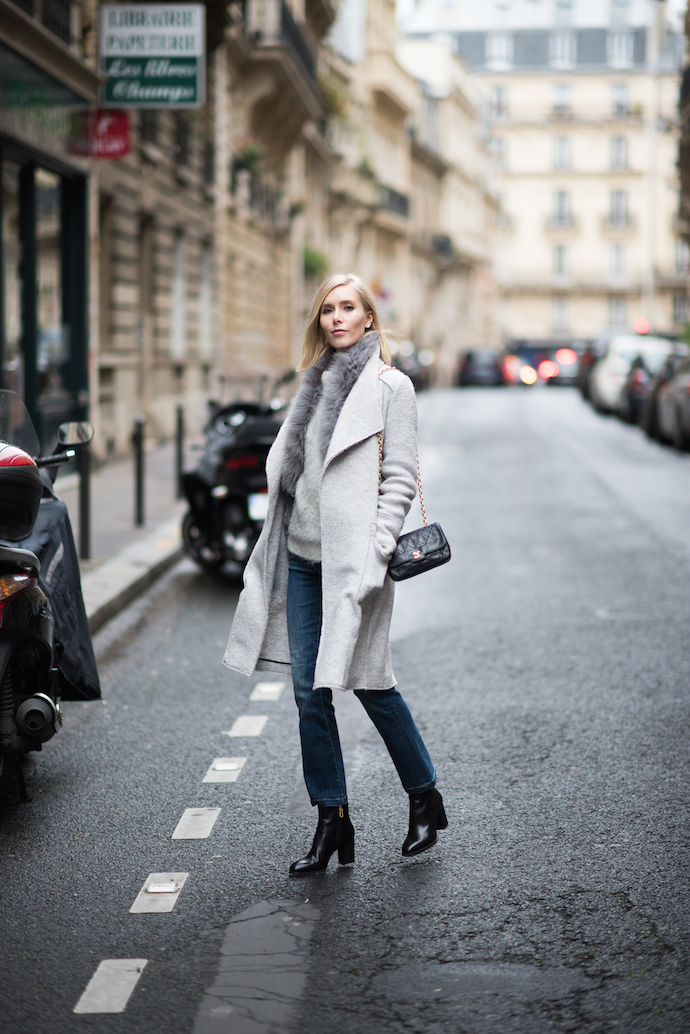 Coat / Zara (similar here*)

Knit / COS (similar here*)

Jeans / Zara
Vest / Ebay
Boots / Tod's
Bag / Chanel
*Mainoslinkkejä.