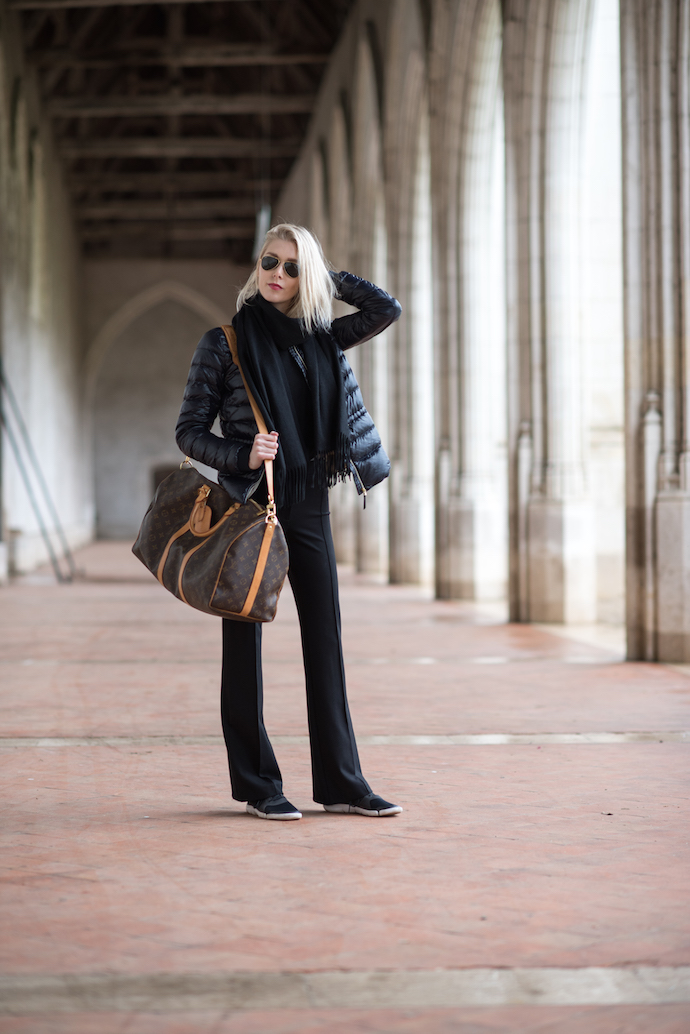 Myönnän rehellisesti, että itsestäni ei saa kovinkaan tyylikästä matkustajaa vaikka kuinka yrittäisi. Itselleni mukavuus tulee nimittäin ykkösenä ennen tyylikkyyttä, etenkin jos puhutaan kaukolennoista. Yölennoilla käperryn penkille silmälaput päässäni ja jos hyvin käy, niin voin "nukkua" 9 tuntia putkeen. Sen takia en voi kuvitella pukeutuvani mihinkään muihin kuin joustaviin ja pehmeisiin vaatteisiin. Yritän myös aina pukeutua osittain sellaisiin juttuihin, mitä voin sitten käyttää itse kohteessa, jotta saan mahdollisimman vähän vaatteita mukaan.
Mukavien vaatteiden lisäksi, mitä muuta suosittelen ottamaan mukaan pitkälle lennolle?
Kevyt untuvatakki, joka lämmittää koneessa ja jonka saa pieneen tilaan määränpäässä.
Huivi, joka toimii peittona lennoilla ja joka on helppo heittää olalle jos kohteessa sattuu olemaan viileämpiä päiviä.
Tennarit. Lentokentillä täytyy usein kävellä pitkiä matkoja ja etenkin vaihtojen kanssa voi tulla kiire. Tennarit palvelevat sitten myös määränpäässä.
"Beauty kit" (hammasharja, kosteusvoide, huulirasva, mahdolliset lääkkeet…)
Niskatyyny ja silmälaput.
Välipalaa.
Kirja/lehti – viihdyttämään pitkälle lennolle.
Lentotukisukat.
Listani ei siis ole mikään maailman hohdokkain, mutta sitä ei kyllä matkustaminenkaan enää ole (ellei sitten lennä yksityisesti). Pitkät odotukset kentällä, laukkujen raahaamista, jonottamista….you name it. Voi kun osaisinkin nauttia jo siitä itse matkustamisesta, mutta itselläni varsinainen loma alkaa vasta sitten kun lentokone laskeutuu määränpäähän!
How to look chic when traveling? Well I have no idea, as this has never happened to me, heh. I would say I'm the least glamorous when I'm at the airport, as for me comfort goes before looking elegant (especially if I'm taking a longer flight). When you're in the plane for more than ten hours, you want to be wearing something soft and elastic, even if it's not the most flattering outfit. I also try to choose always something that I can re-use at the destination (thank god for hotels laundry services), so I don't take too many unnecessary clothes with me. 
Besides comfy clothes, what else do I take with me for long flights?
A big scarf that works as a blanket in the plane.
Sneakers – I do not want to be running around airports in high heels.
Beauty kit with a toothbrush, moisturizer, any medicine I might have….
Neck pillow and a sleep mask.
Some snacks and water.
A magazine/book.
Flight socks.
What are your "long flight essentials"?
Coat / Zara (similar here*)

Pants / Andiata* (similar here*)

Knit / Andiata*
Bag / Louis Vuitton
Scarf / Balmuir
Sneakers / Adidas (similar here*)

Sunnies / Ray Ban
*Mainoslinkkejä/Gifted.