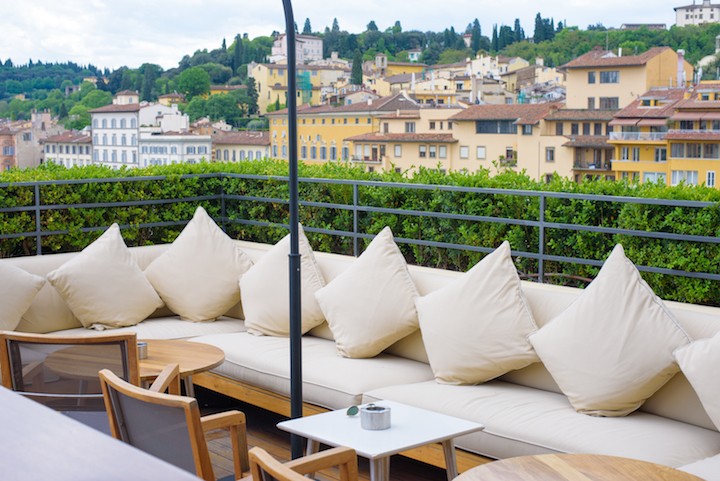 Sunnuntain kunniaksi halusin vielä kertoa hieman enemmän tästä Continentale-hotellin kattoterassista Firenzessä. Tämä pieni, mutta erityisen viihtyisä terassi oli yksi meidän viikonlopun kohokohdista, sillä paikka on juuri sellainen missä me molemmat viihtyisimme vaikka koko kesän. Upea sijainti, kaunis sisustus, hyvä musiikki ja mukava palvelu. Mikäs tuolla oli päivää paistattelemassa? Mielelläni teleportaisin meidät sinne takaisin…
Terassi löytyy siis Continentalen ylimmästä kerroksessa ja se on avoinna kaikille. Se aukeaa vasta 14.30 (tai ainakin lauantaina oli näin) ja kannattaa mennä sinne alkuillasta jos tahtoo saada istumapaikan. Terassi on kuulemma hyvinkin suosittu ja pienestä koosta johtuen sinne ei mahdu kovinkaan montaa ihmistä.
Hinnat ovat paremmissa hotelleissa Firenzen normaalihintatasoa korkeammat (drinkit 15-20€), mutta kokemus on kyllä sen arvoinen. Ehdoton suosikkiterassini tuossa upeassa kaupungissa. Rentouttavaa sunnuntain jatkoa sinne!
On a Sunday it's good to take a look at my favorite rooftop bar in Florence. It's located on the top of the Continentale hotel and it's open for everyone (not only hotel guests). On Saturday it opened at 14.30 and I recommend to go quite early, as it's very small and seats are limited. Apparently is very busy during evenings. The terrace is nicely decorated, the music is good and service efficient. What's not to love? The prices are higher than elsewhere in Florence (drinks 15-20€), but that's the deal in all the better hotels and rooftops bars. But it's definitely worth it, so this is a must-stop when visiting this beautiful city!