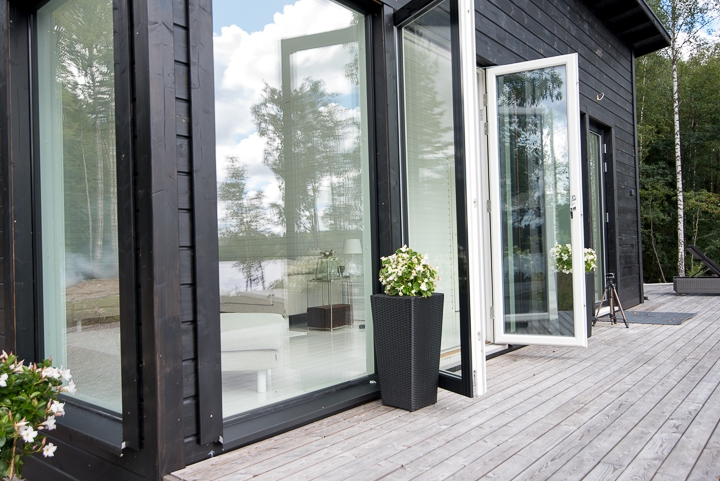 Me olemme viettäneet aikaa landella ja nyt kun ilmatkin ovat parantuneet, niin viihdymme täällä kaupunkia paremmin. Miten tuntuukaan, että aika täällä menee niin nopeasti eteenpäin ja tekeminen ei kyllä lopu kesken. Olen jatkanut maalaushommiani ja muutama halkopino odottaa siirtämistä. Sen lisäksi on tullut rentouduttua, saunottua, uitua ja hieman kalastettua. Löysin myös ison kasan kantarelleja meidän tontilta, joten niitä tuli nautittua lounaalla. Varsinaista lähiruokaa, heh.
Sain myös vihdoin otettua kuvia uudesta vierasmökistä ja huomenna esittelen makuuhuonetta tarkemmin. Olohuoneen sisustus ei ole juurikaan mennyt eteenpäin, mutta ainakin täältä löytyy sohva ja sivupöytä. Telkku on vieläkin lattiantasolla, mutta siellä se pysyy siihen asti kunnes löydämme täydellisen tv-kaapin. Päädyimme muuten samaan sohvaan, kuin mikä meiltä löytyy tuolta päätalosta ja kyseessähän on Furninovan Blues Night, jota voin lämmöllä suositella. Todella mukava, tyylikäs ja ennen kaikkea laadukas!
Kuullaan siis huomenna sisustuspostauksen kanssa ja hyvää alkanutta viikkoa kaikille!
We spent all weekend at the countryside and we both just love it here. There is an endless list of things to do and see and times certainly flies here. Sauna, swimming in the lake, fishing, walking in the forest – are some of the things we did this weekend. We also found chanterelles in the forest and included then in our lunch. Talking about local food!
I also snapped some shots from our new guesthouse bedroom and you'll see them tomorrow. I'm getting it decorated slowly, but surely and at least it's getting along faster than the living room. In there we only have a couch and a side table. The couch is Furninova's Blues Night and it's beautiful and so comfy. Definitely something I can recommend if you're looking for a long lasting sofa!
But tomorrow you'll see the bedroom, so stay tuned. Wishing you all a great new week!