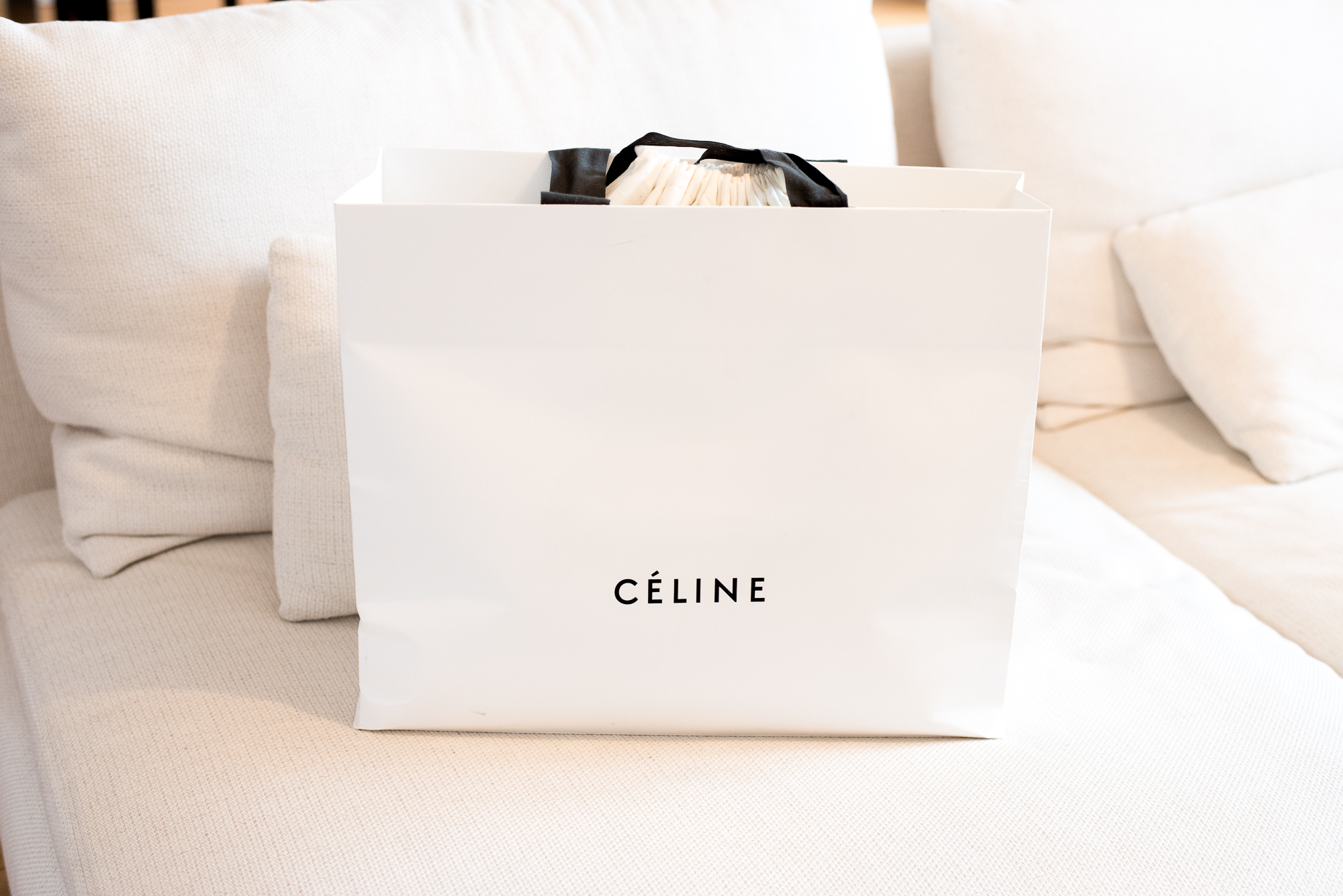 Kuten jo tämänpäiväisestä asupostauksesta näitte, niin tämä Célinen belt bag tässä pienemmässä koossa on kotiutunut kaappiini. Ostin laukun viime viikolla Pariisista ja nyt kun olen käyttänyt tätä muutaman päivän, niin tiedän tehneeni oikean päätöksen vaihtaessani vanhan versioni tähän pienempään kokoon.
As you already saw from today's outfit post, this new Céline's belt bag has moved in. I bought it last week from Paris and now that I've used it for a few days, I know I made the right descission by selling my old one and changing into this smaller one.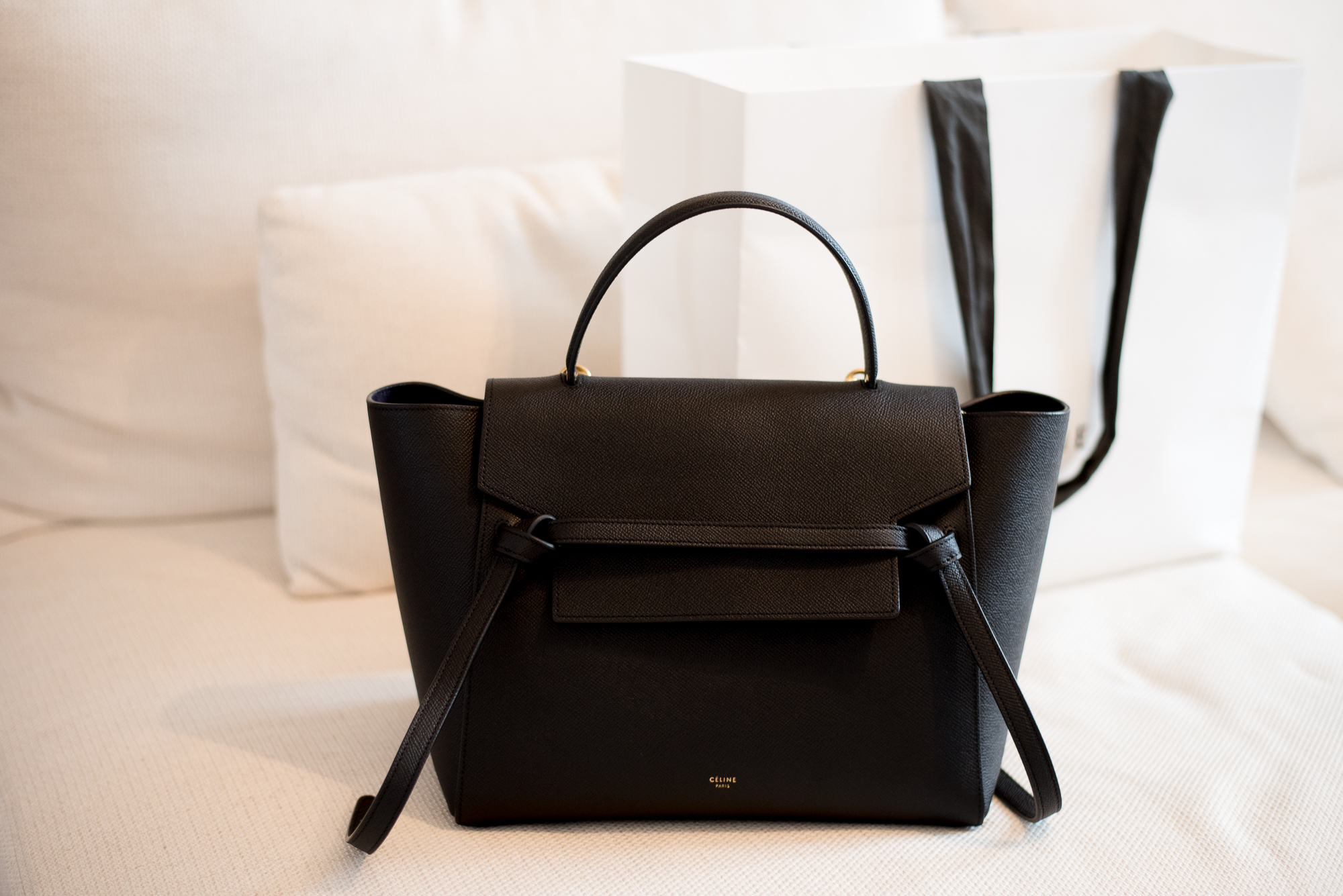 Yksi suurimpia eroja siihen vanhaan malliin on tämä irrotettava olkahihna. Mikä apu onkaan kun voi heittää laukun olalle ja saada kädet vapaaksi. Monessa tilanteessa olen jo huomannut, että tämä olkahihna on vain niin kätevä. Tämä koko on myös omiin tarpeisiini tarpeeksi tilava ja kun en kanna tietokonetta mukanani, niin tänne mahtuu kaikki oleellinen (ja silti jää vielä hyvin tilaa).
The biggest difference between this new bag and my old one is the shoulder strap. My old model was the larger size and it didn't have as shoulder strap at all. It actually makes a huge difference when you can just throw your bag on your shoulder when you need to free your hands. So much more convenient! This size is also enough for me, as it fits all the necessities and more.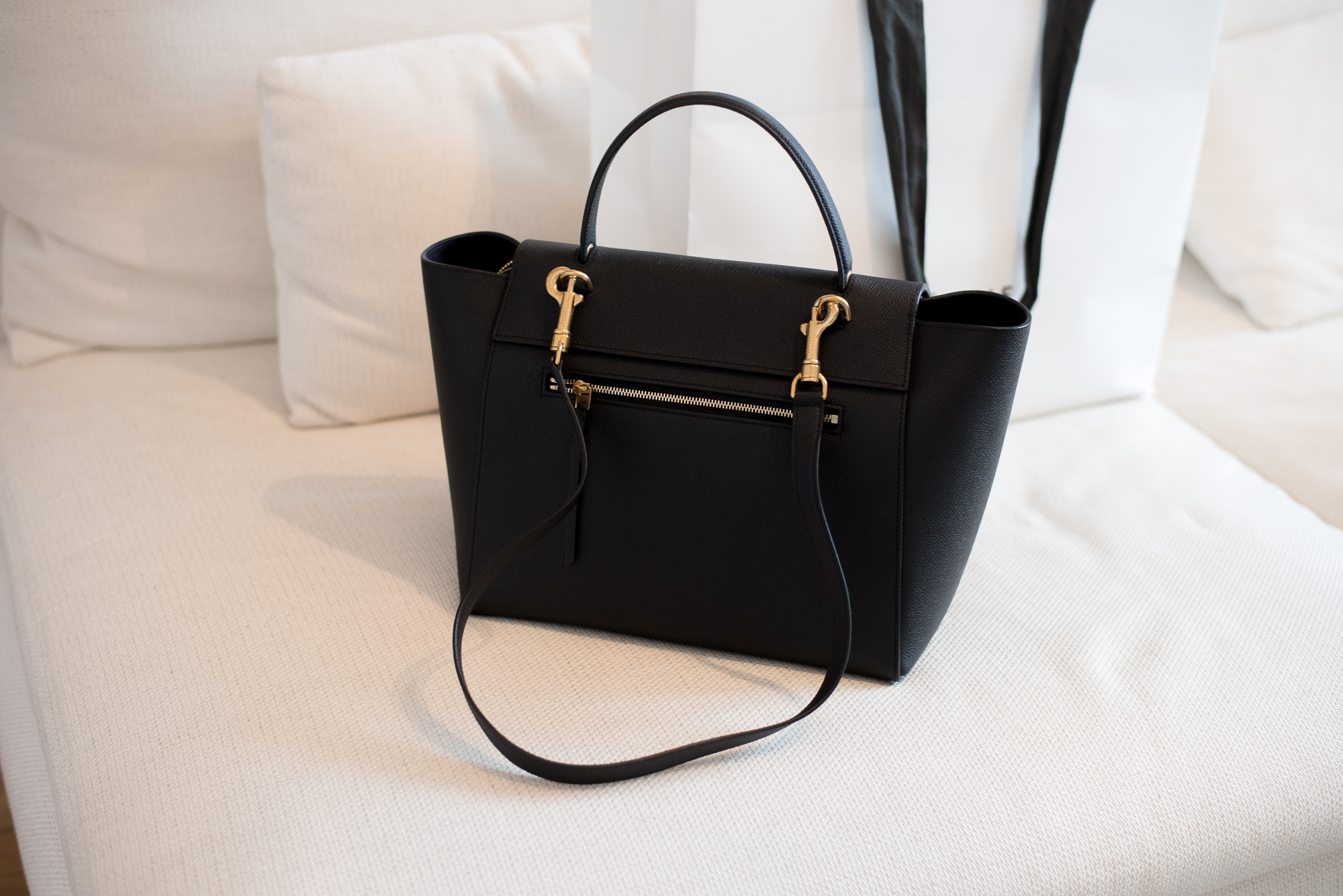 Sisäosa on sinistä mokkanahkaa ja se on mielestäni kaunis tuon mustan värin rinnalla. Sisältä löytyy yksi tasku ja kiinnitys tapahtuu vetoketjulla, sekä sulkemalla tuon läpän tuosta edestä. Laukun avaaminen ja sulkeminen on helppoa (etenkin nyt kun laukku pysyy olalla), mutta itse laitan normaalisti puhelimeni aina tuonne laukun tapapuolen taskuun, josta se on helppo kaivaa ulos ja läppää ei tarvitse olla koko ajan avaamassa.
The interior is made from blue suede and I love the color next to the black outside. Inside you can find one pocket and you close the bag with the zipper and then by closing the flap with the metal system. Opening and closing the flap is easy (especially now that I can put the bag on my shoulder while opening), but normally I just put my phone and wallet in the pocket on the backside of the bag. It's easy to open and close quickly!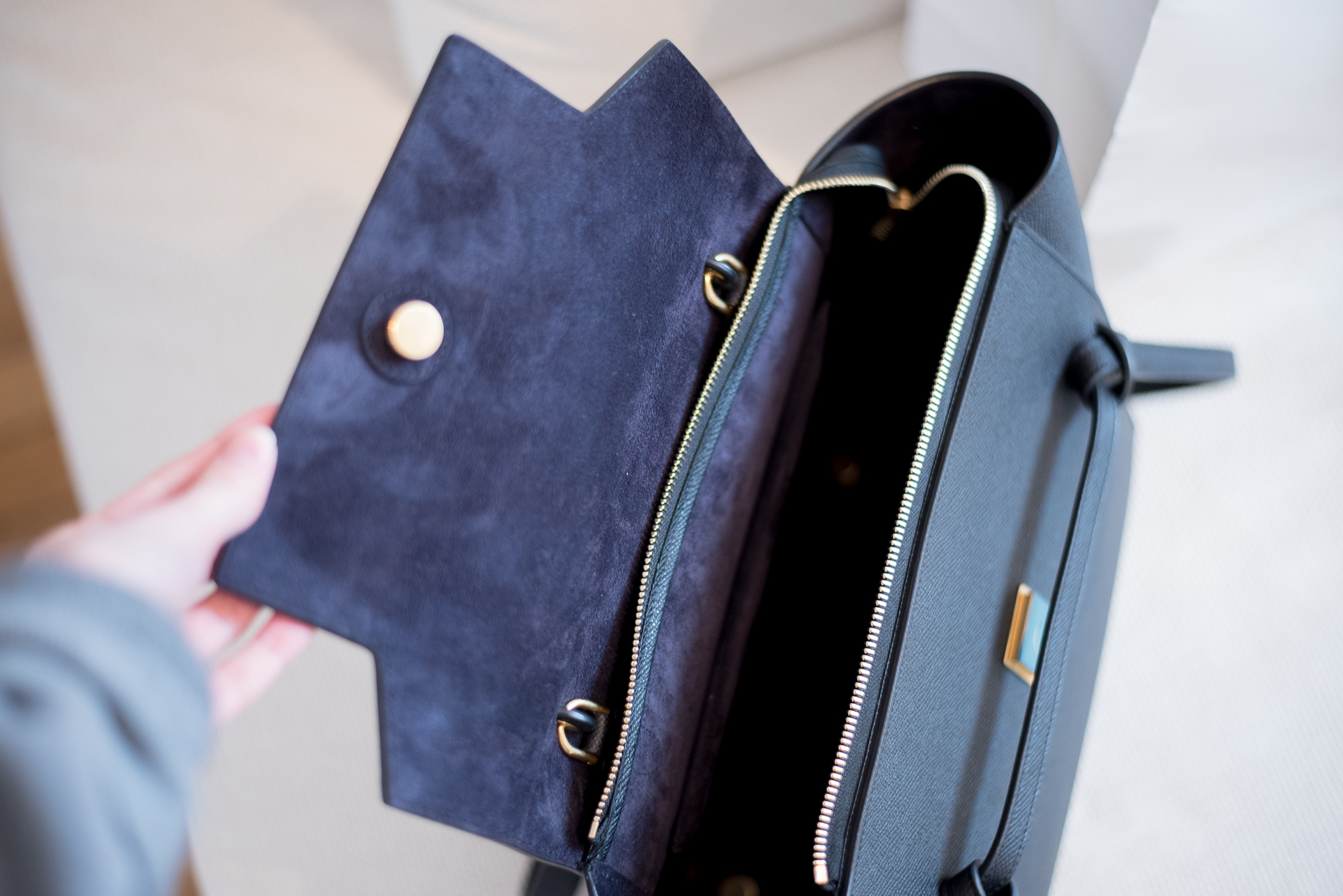 Tässä näkyy tuo pinta paremmin ja mielestäni tässä uudemmassa versiossa tuo nahka vaikuttaa jotenkin paksummalta. Voi olla, että olen täysin sen suhteen väärässä, mutta ainakin uskon, että malli pysyy hyvin kuosissaan kiitos tämän "kovan" nahan. Toki säilytän laukkua aina suojapussissa ja laitan paperit sisälle pitämään muotoa yllä, mutta uskon, että laukku pitää mallinsa. Vanhankaan kanssa ei kyllä ollut mitään ongelmia sen suhteen, joten toivotaan, että sama jatkuu tämän laukun kanssa! Löytyykö keneltäkään teistä tätä kaunotarta? Mitä olette tykänneet? Rauhallista illanjatkoa kaikille!
In the last picture you can see the texture better. For some reason I think the leather is a bit thicker in this compared to my old one, but I could remember wrong. In any case I think the bag will keep it's shape well, as the leather is so structured. I didn't have problems with my old bag and I hope the same will continue with this! So does any of you have the same bag? Enjoy the rest of the evening everyone!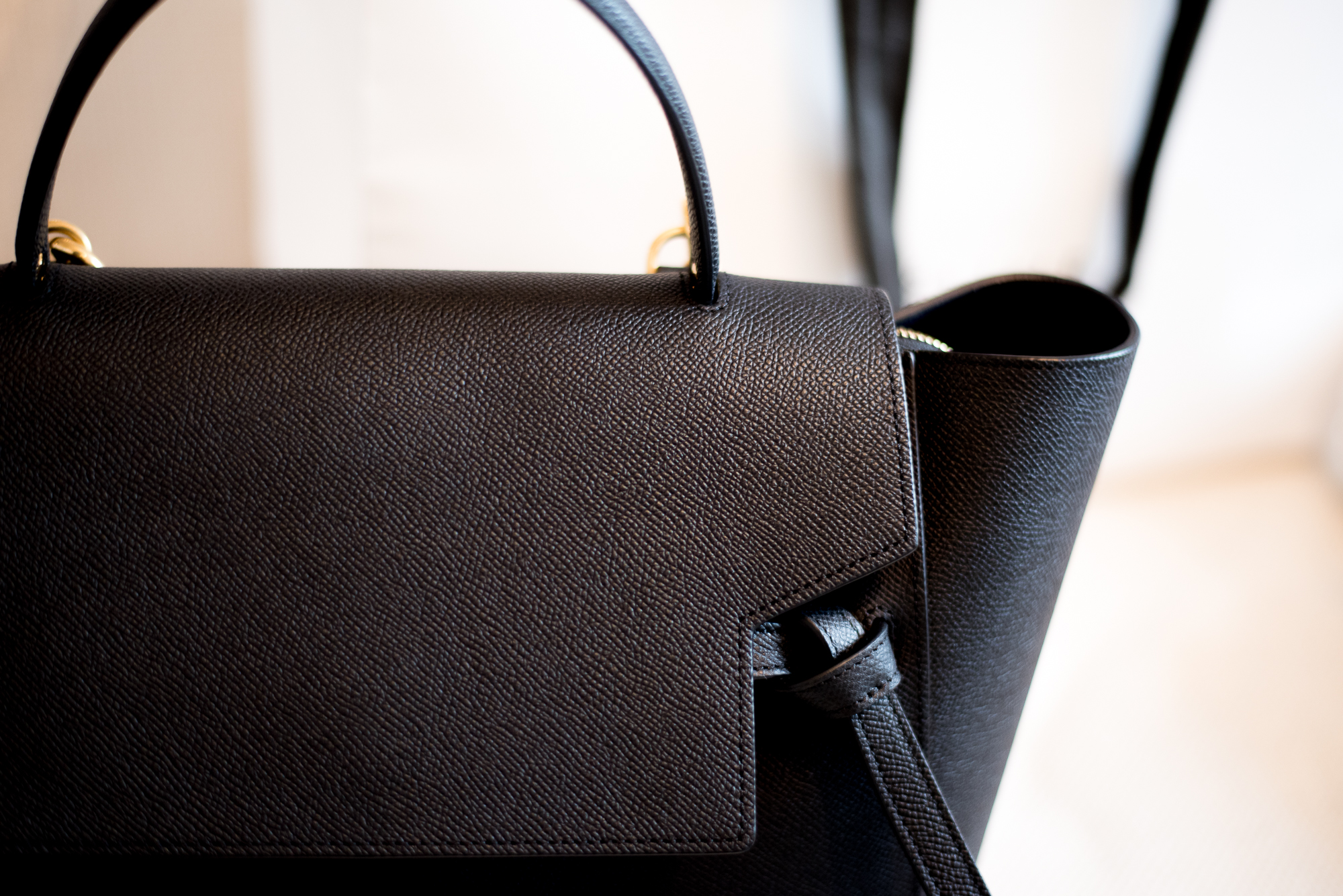 Save
Save
Save
Save
Save
Save
Save
Save