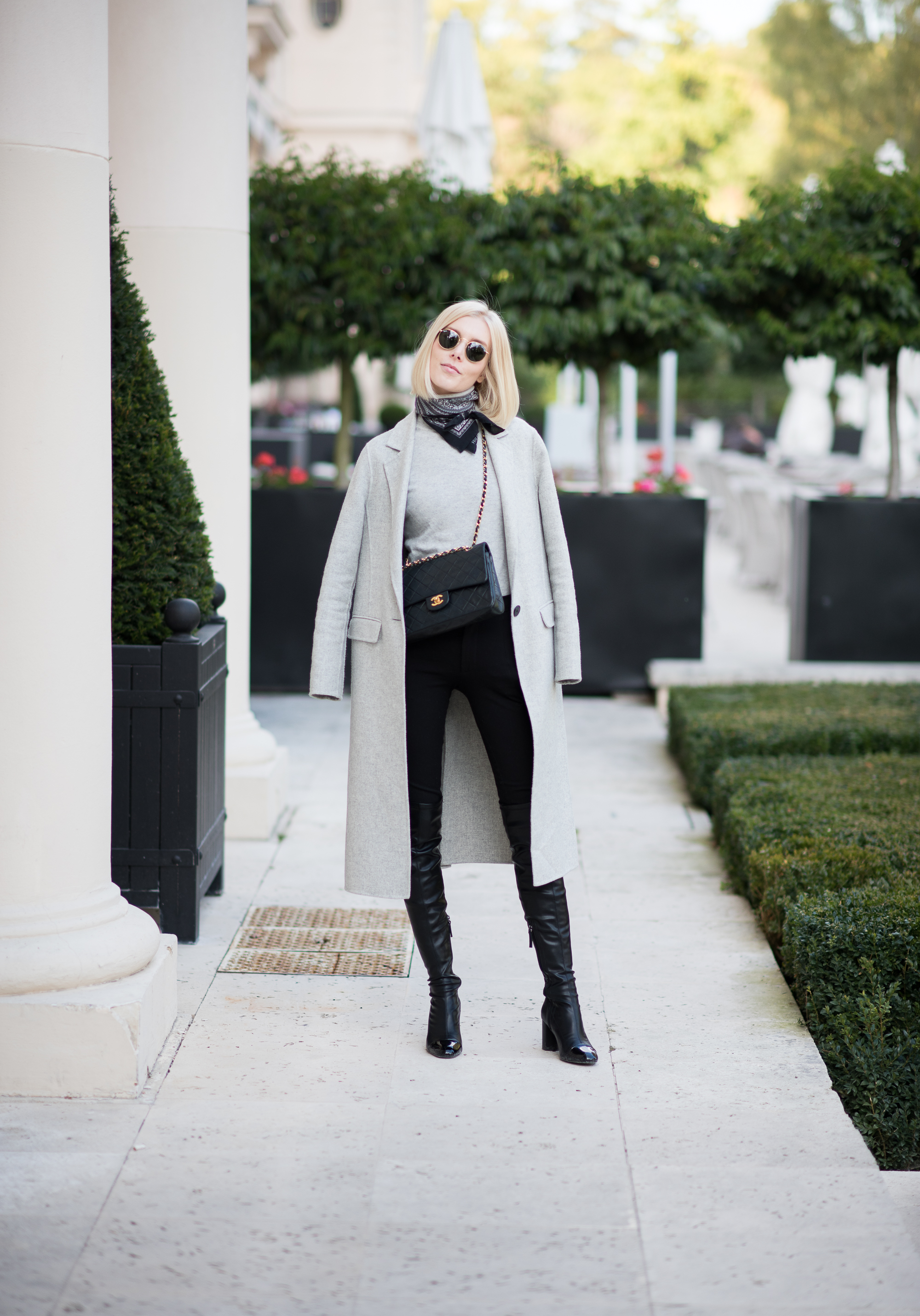 Rakastan asusteita juuri sen takia, että niillä saa vaivattomasti lisättyä mielenkiintoa näihin yksinkertaisiin asuihin (ja niitähän tässä blogissa riittää). Alkuun mietin, että käyttäisinkö tätä klassista silkkihuivia kovinkaan paljon, mutta niin se vain on löytänyt tiensä moneen asuuni viime aikoina. Tykkään kun tuo väritys on kuitenkin hillitty, joten se menee minkä kanssa tahansa ilman ongelmia. Kutsun itseäni usein laiskaksi pukeutujaksi ja sitä todella olen. Haluan, että vaatekaappini palaset toimivat sujuvasti keskenään, koska se helpottaa pukeutumista niin paljon. Valitsen sitten mitä vain, niin kaikki toimii yhdessä. Yritän muuten tässä lähiaikoina toteuttaa yhden teidän postaustoiveistanne, eli avaisin vaatekaappini sisältöä enemmän. Olen vain kokenut kuvaamisen haasteelliseksi (hemmetin ruskeat vaatekaapit…), joten mietin miten voisin toteuttaa tämän postauksen, niin, että saisin kuvista selkeitä. No, enköhän keksi jotain!
Olen muuten sitä mieltä, että kerran kun alkaa karsimaan vaatekaapin sisältöä, niin huomaa miten vähällä sitä pärjääkään ja se synnyttää vielä suuremman karsimishimon. Huomaan edelleen lähes viikoittain käyväni vaatekaappiani läpi tarkalla silmällä ja joka kerta löydän jotain mistä haluan luopua. Siihen "puhdistamiseen" jää melkeinpä koukkuun! Tosin tuleehan uutta ostettua aina tasaisin väliajoin, mutta silloin se uusi ostoskin tuntuu niin paljon paremmalta, kun sille on tehty tilaa kaapissa jo ennakkoon.
I love accessories, because they're an easy way to add an edge to any simple outfit (and my blog is full of those simple outfits, heh). At first I was worried if I would use this little silk scarf enough, but in fact it's been a fixture in many of my daily looks. I like that the colors are neutral, so it's easy combine with all of my outfits.  I call myself a "lazy dresser", because I love having simple pieces in my closet that work together. No matter what I chose, it always works (at least tone wise). I'll try to do a post about my closet (and exactly what's in there). A reader of mine requested it, so I'll get it done soon!
I've been reducing the size of my closet for a while now and I love how I only have my favorite pieces in there. I think it's quite therapeutic getting rid of everything "unnecessary" and only keeping in the "real treasures". It also makes me consider buying new things so much more, because I don't want anything extra in there. So I can highly recommend you to go through your closets as well – trust me, it makes life simpler when you choose quality over quantity. In this case (and many others in life), less is definitely more!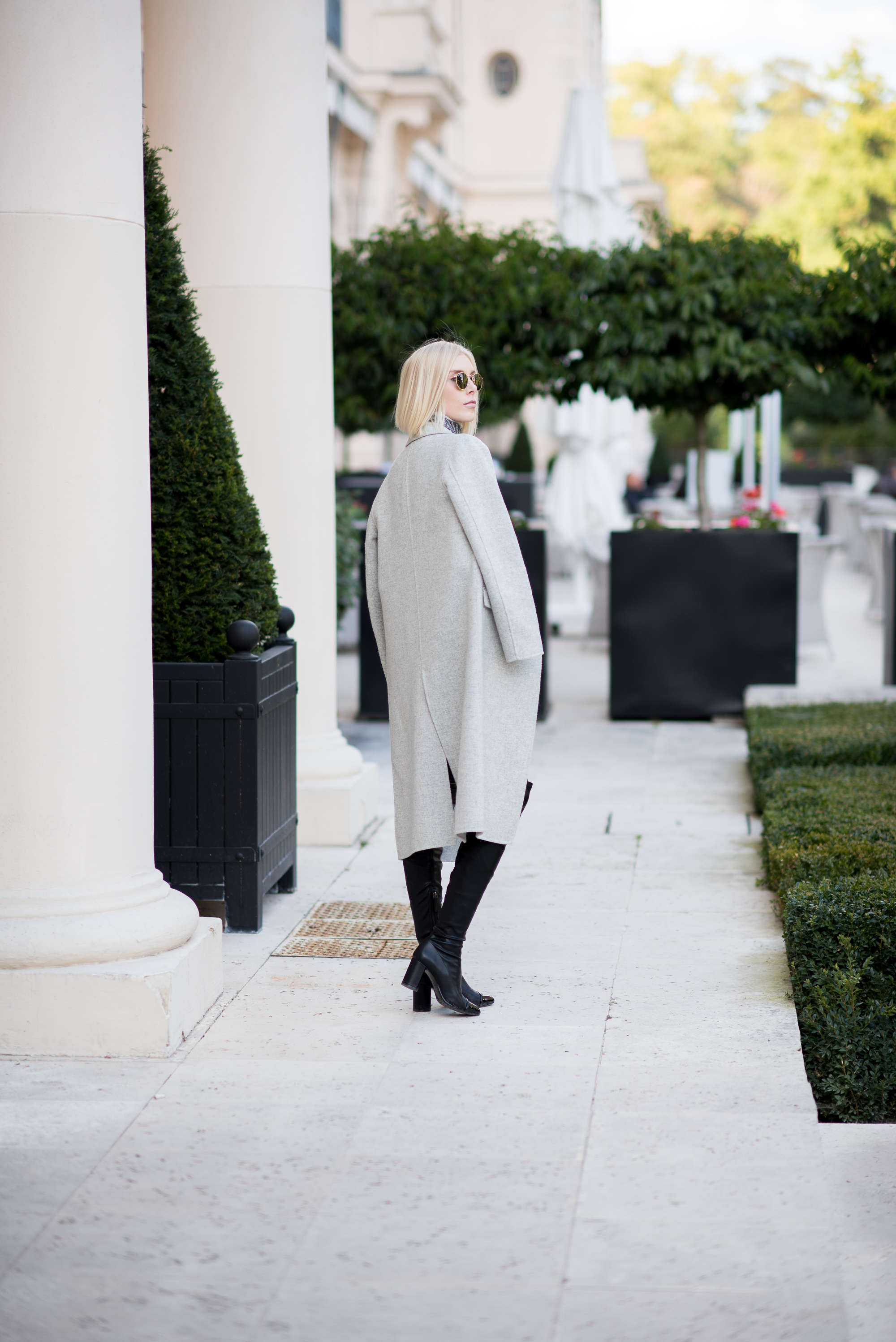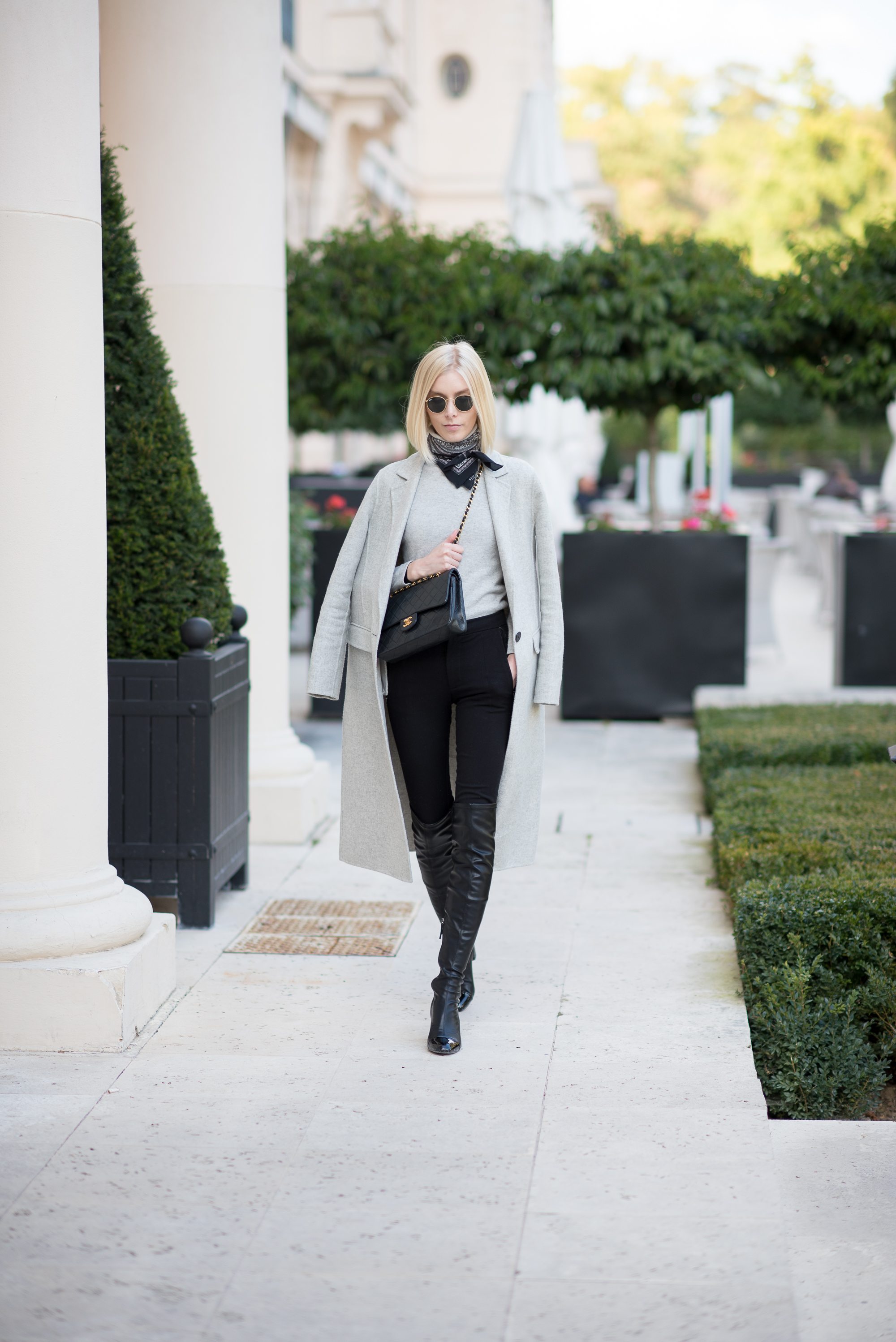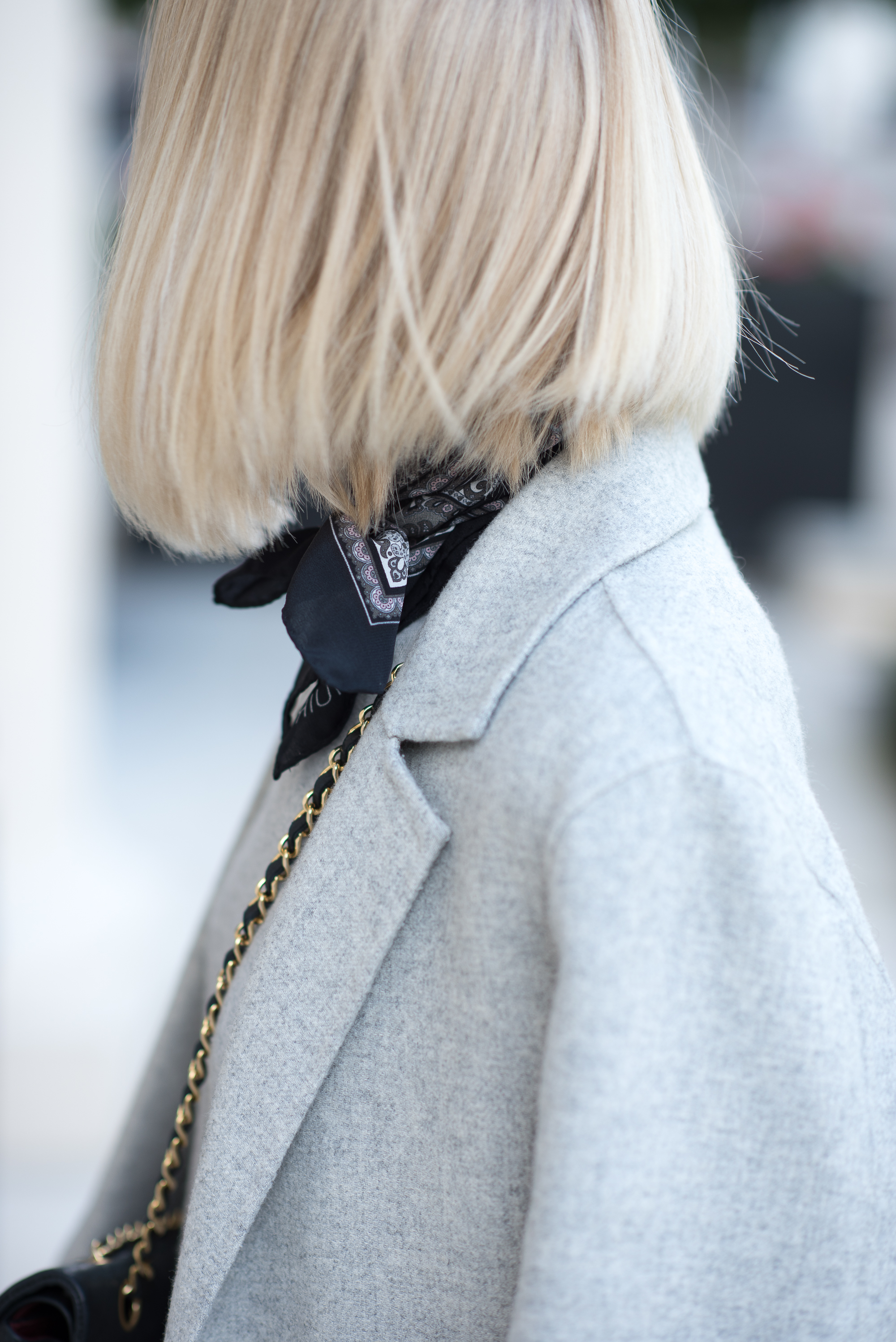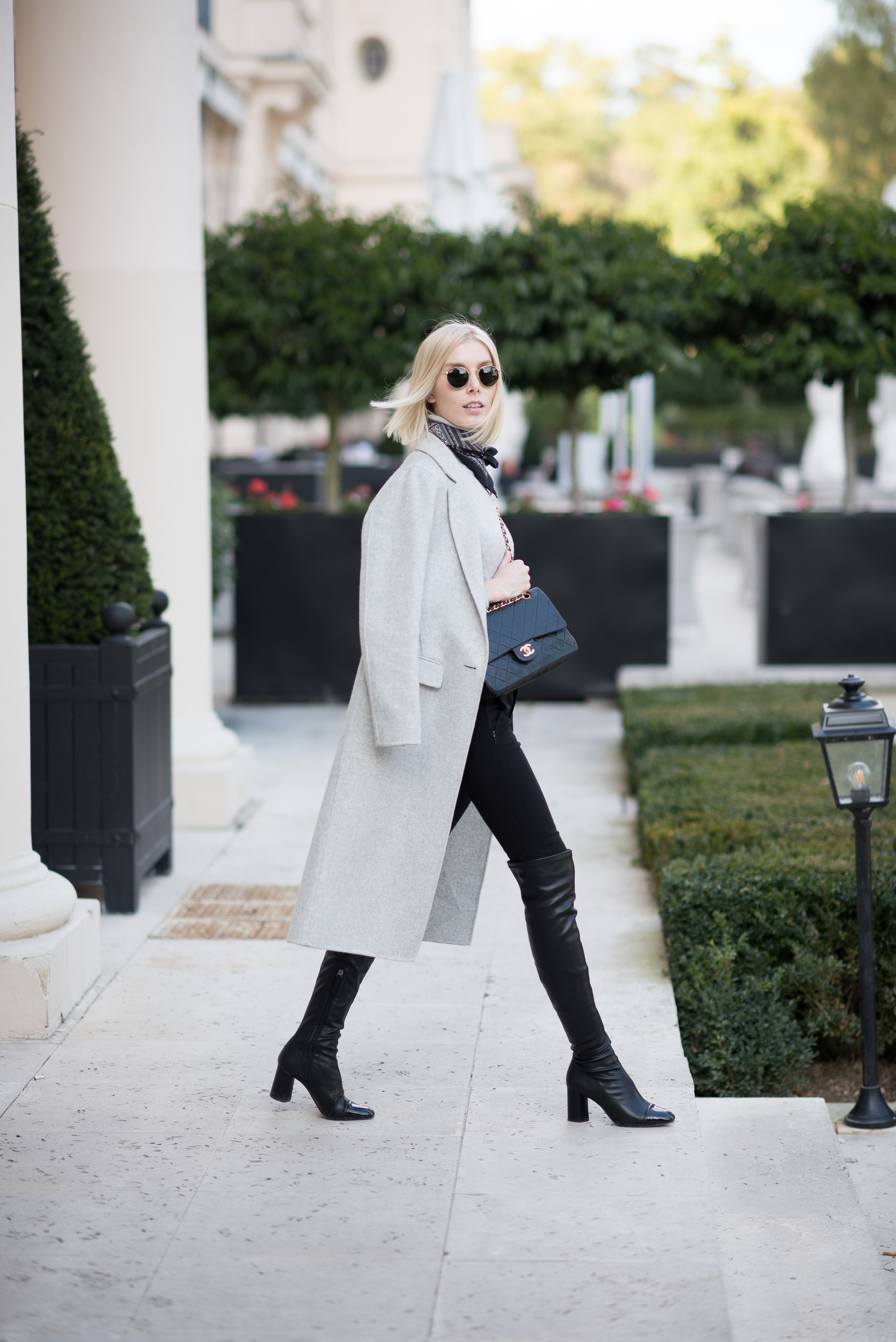 Photos: Thomas D.
Coat / Zara (similar here*, here*, here*)
Knit / Andiata* (similar here*, here*, here*)
Pants / Zara (similar here*, here*, here*)
Boots / Zara (similar here*)
Scarf / Balmuir*
Sunnies / Ray Ban*
Bag / Chanel
*Commercial links/Gifted.
Save
Save
Save
Save
Save
Save
Save
Save
Save
Save
Save