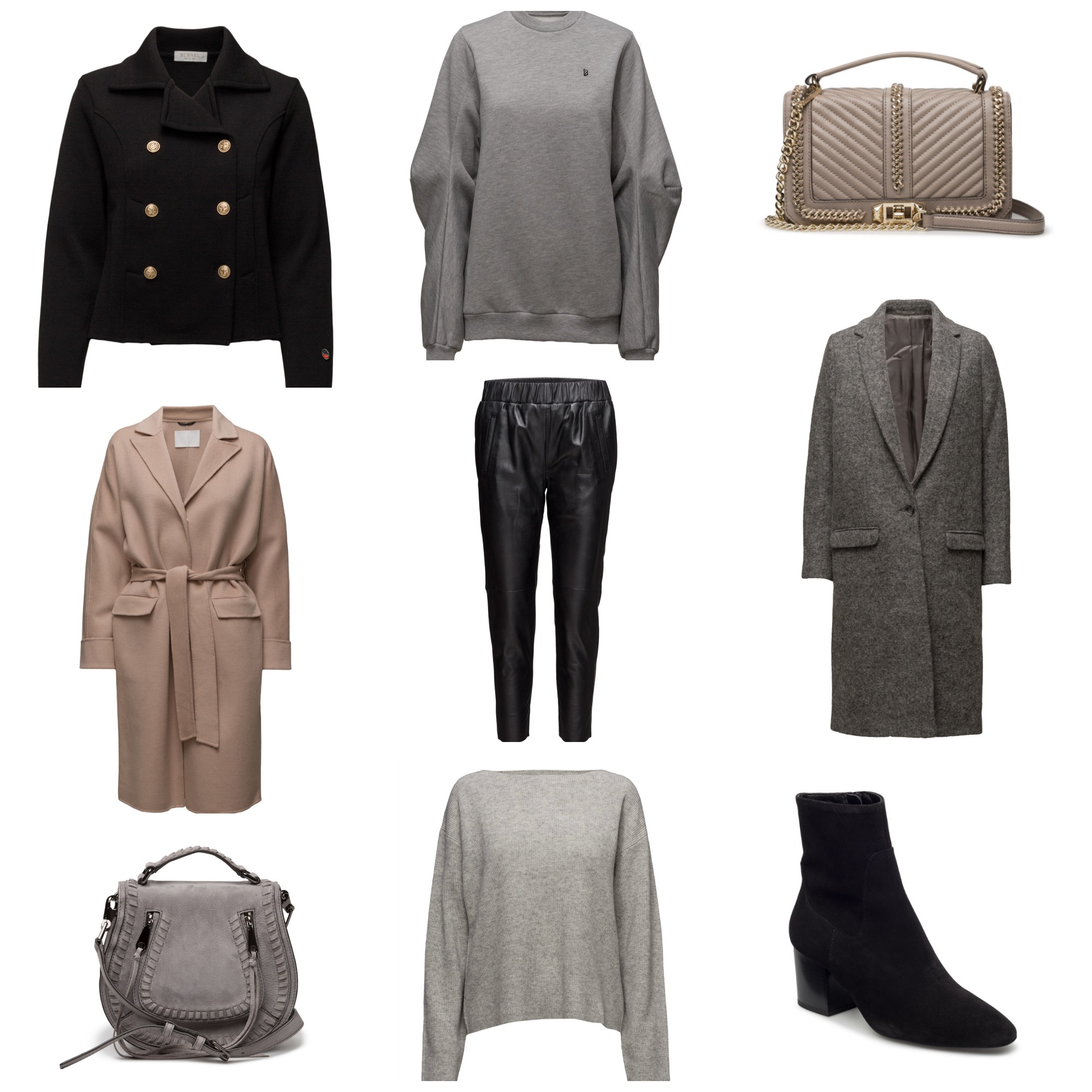 Blazer / Busnel   Sweatshirt / Back   Bag / Rebecca Minkoff
Coat / Day Birger et Mikkelsen   Pants / Stand   Coat / Samsoe & Samsoe
Bag / Rebecca Minkoff   Knit / 2ndDay   Boots / Mango
Viikonlopun paukkupakkasten jälkeen nämä leudommat ilmat tuntuvat oikein hyvältä. Toisaalta se luonnon kauneus perjantaina oli jotain mykistävää – höyryävä meri ja upea auringonlasku. Kova pakkanenkaan ei enää siinä vaiheessa haitannut, kun sai ihailla talvisen Suomen parasta antia. Kauniista pakkassäästä huolimatta omat ajatukseni ovat jo keväässä. Talvi on vielä edessä, mutta silti tuntuu, että kevät on jo ihan kulman takana.
Tämä vuosi on meille todellinen muutosten vuosi ja toivomme, että kevääseen mennessä kaikki asiat ovat loksahtaneet paikoilleen. Nyt elämme viikko kerrallaan ja yritämme olla stressaamatta asioista liikaa, mutta voitte kuvitella, että ihan helppoa se ei ole. Etenkään tällaiselle ihmiselle, joka on tottunut pitämään kaikki langat käsissään. Toisaalta on tässäkin tilanteessa paljon hyvää ja uskon, että tämä on erittäin opettavainen kokemus tällaiselle kontrollifriikille.
Täällä valmistaudutaan ensimmäiseen kokonaiseen työviikkoon ja saa nähdä kuinka kauan kestää, että saan uudesta rytmistä kiinni. Sen ainakin tiedän, että seuraavat viikot tulen luultavasti olemaan todella uupunut kaiken uuden keskellä, mutta ei voisi olla parempaa uupumuksen aihetta, kuin uudet haasteet. Rentoa sunnuntaita sinne!
It was freezing this weekend, but the scenery in Helsinki was just stunning. Even if I'm not a fan of winter or -19 degree temperatures, I have to admit that nature shows it's best sides then. As my boyfriend said, when it's beautiful in Finland it's truly amazing and when it's not…well let's just say it can get quite depressing. Even if winter is just getting started, I'm still looking forward to Spring. I almost feel that it's just around the corner….
This year is definitely a year of change for us and I hope everything will be sorted out in few months. Now we're living one week at a time and I try not to stress too much, but that's easier said than done. However I think this is a good time for me to practice some patience and let life work it's magic. It's got us this far, so why give up now.
So next week is a complete work week for me and I wonder how long it will take for me to get in the rhythm of having a fixed schedule. All I know is that I'll probably be exhausted for the next few weeks, but there's no better exhaustion, than that of new challenges.
*Commercial links/Mainoslinkkejä.