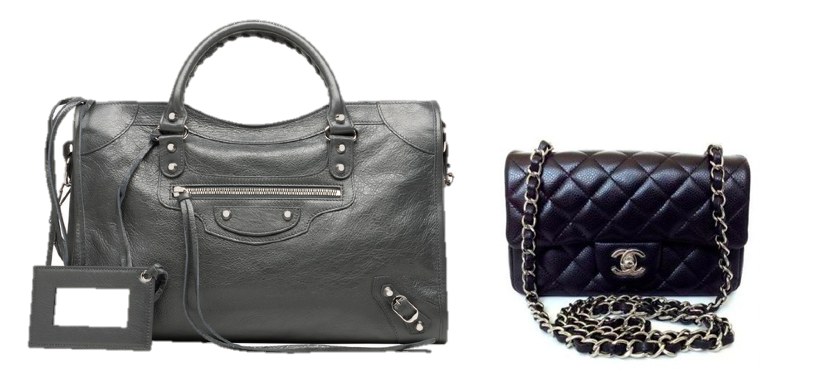 Nyt ei todellakaan ole oikea aika ostaa uutta laukkua, mutta saahan sitä aina haaveilla? Tällä hetkellä ajatuksissani ovat tämä harmaa Balenciagan City-laukku ja Chanelin Mini Flag bag hopeisilla metalliosille. Balenciagan laukkua voisi käyttää töissä (siinä on myös olkahihna) ja tätä Chanelia voisi taas käyttää crossbodyna arkena tai sitten juhlalaukkuna iltatilaisuuksissa. Ostan normaalisti vain mustia laukkuja (how boring, I know), mutta nyt tämä harmaa Balenciaga ihastutti. Onko teillä kenelläkään merkin laukkuja? Mitä mieltä olette laadusta? Chanelin laatuun ja palveluun olen ollut super tyytyväinen, mutta tämän merkin hinnat ovat sitä luokkaa, että laadun on oltava aivan priimaa.
Ystäväni oli muuten käynyt Célinellä ja hän oli jättämässä laukkuaan korjaukseen. Sieltä sanottiin, että Céline ei enää huolla yli kolme vuotta vanhoja laukkuja ollenkaan. Voitteko uskoa? Jos monen tuhannen euron laukku hajoaa kolmen vuoden jälkeen, niin Céline ei ilmeisesti korjaa sitä millään tavalla. Aika erikoista…
Täällä odotellaan jo viikonloppuna malttamattomana. Koko viikon olen kamppaillut flunssani kanssa ja nyt alkaa helpottamaan, mutta viikonlopun lepoa odotellessa. Energistä loppuviikkoa kaikille!
Now is definitely not the right time to buy a new bag, but a girl can always dreams right? At the moment I've fallen for the City-bag from Balenciaga and Chanel's Mini Flap in SHW. The City-tote could be worn to work and the small Chanel for a night out and parties. It would also work as a cross-body when traveling…See, I have all the reasons ready for why I should buy these bags, heh (my boyfriend is rolling his eyes). Do you have one of these bags? Have you been happy with the quality?
I've been waiting for the weekend all week (I've been super tired) and we are almost there! Two more days…
Save
Save
Save
Save
Save
Save
Save
Save
Save
Save
Save
Save
Save