Nyt on kyllä pakko myöntää, että ystävieni ja poikaystäväni perheen terveiset kesäisestä Ranskasta hieman kirpaisevat. Eilen siellä otettiin aurinkoa +25 asteen lämpötiloissa, kun me poikaystäväni kanssa käveltiin kohti Stockaa talvitakit päällä ja huput visusti vedetty päätä suojaamaan kylmältä tuulelta. Ihan oikeasti…Tiedän kyllä, että se lämpö vielä tännekin ennättää, mutta kun tietää, että se vaihe tulee olemaan niin lyhyt (jos ei siis käy niin, että koko kesä sataa vettä ja on +15 astetta), niin olisi ihanaa, että kevät tulisi tänne samaan aikaan kuin Keski-Eurooppaan. Taitaa olla niin, että seitsemän vuoden aikana ehdin jo tottua siihen lempeämpään ilmastoon ja nyt ottaa hieman koville kärvistellä täällä. No mutta, valituskaan ei auta tilannetta, joten ei muuta kuin käpertymään sitten siihen talvitakkiin!
Onneksi keväisiä päivä on jo kuitenkin nähty täälläkin ja reilu viikko sitten taisi olla sen verran lämmintä, että tällaisella kombolla pärjäsi ulkona (ainakin autoileva ihminen). Nyt kun asumme keskustassa ja auto jää Espooseen, niin täytyy tosiaan miettiä tätä pukeutumistakin hieman pidemmälle ja mennä lämpötilojen mukaan. Sporaa ei ole kiva odotella kylmissään, joten voi olla, että liikun toppatakissa vielä toukokuun loppuun saakka, heh (hope not).
Tästä valitusvirrestäni huolimatta toivon kaikille oikein ihanaa uutta viikkoa!
I apologize for bringing up the weather all the time, but it's tough being back here and remembering how different the climate is compared to France. For seven years I was living in a place where Spring starts when it should start and now I'm back in Finland where it's still so cold in April that you need your winter gear. Yesterday my boyfriends family were tanning in their yard in +25 degree heat, while we were walking to Stockmann in our warmest winter coats. Life is not fair, heh. And my poor boyfriend who I dragged into this mess with me, heh!
I'm being a little dramatic here, as we've had some warmer days already. For example this outfit was shot a bit over a week ago, so it couldn't have been that cold, right? Or maybe it's something I wore, because I moved around in the car all day. Anyways, the warmer air must reach this part of the planet at some point, so we are all waiting for it! I hope it's here by August, since my American bestie is coming to visit me. She might cancel her flight if it isn't, heh. Might be tough for a "Floridan turned Californian" to come here expecting heat and summer weather, if that's not the case, heh. So fingers crossed we'll have a beautiful summer this year!
Despite me complaining about the weather, I wish you all a great (and hopefully warm) new week wherever you are!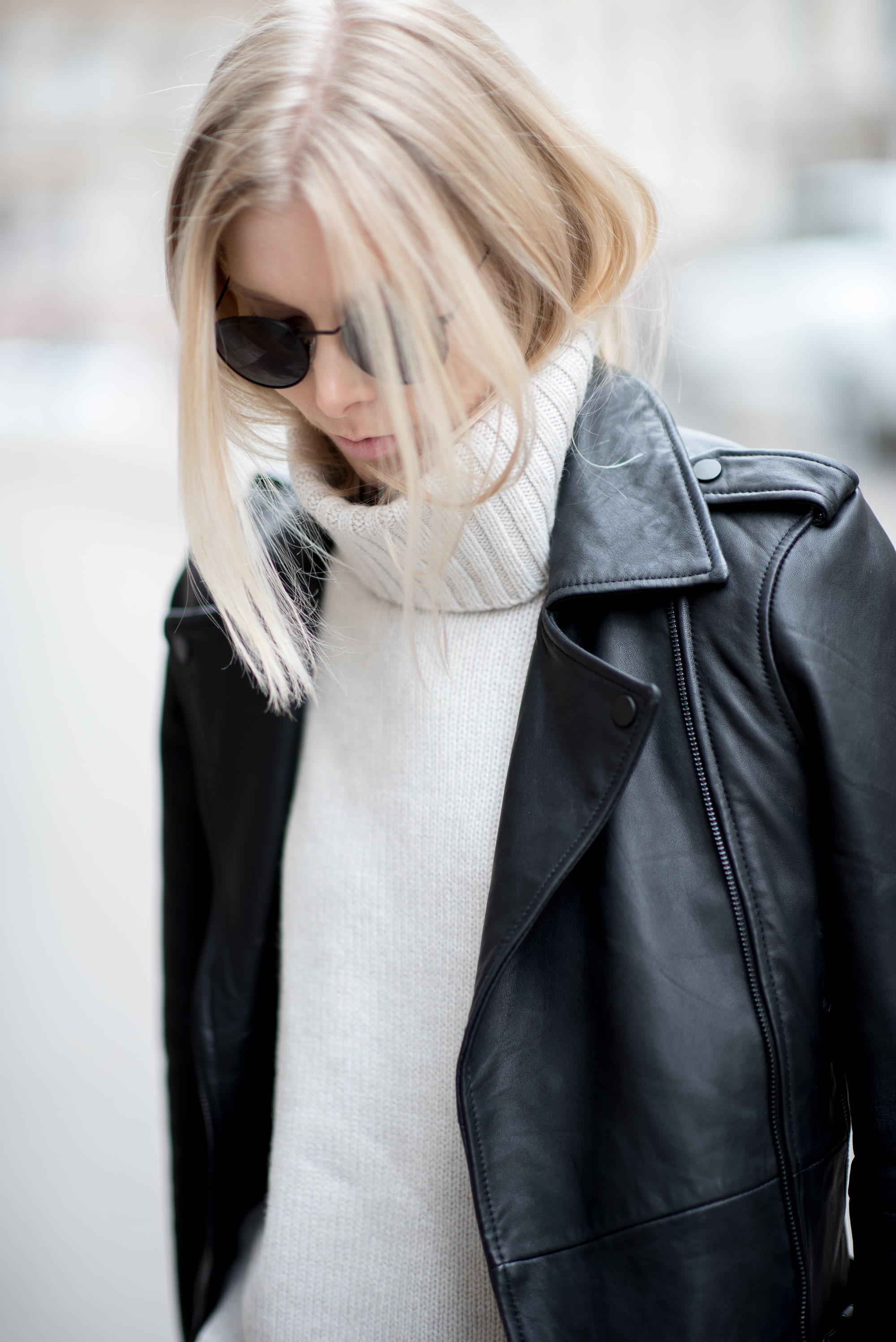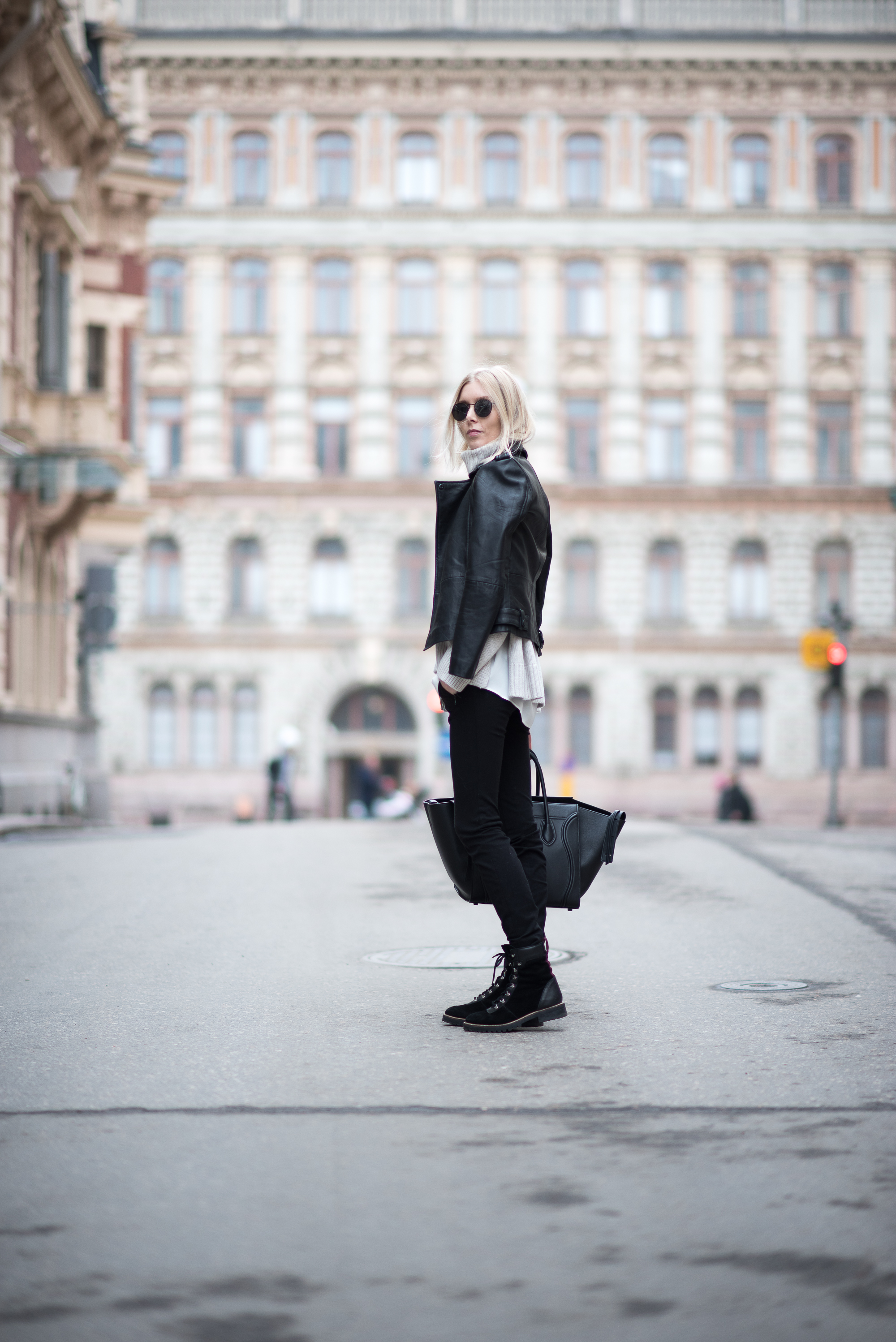 Photos / Thomas D.
Leather jacket / Selected Femme (similar here*)
Knit / All Saints (similar here*)
Silk shirt / Andiata* (similar here*)
Pants / Zara (similar here*)
Boots / H&M (similar here*)
Bag / Céline
*Commercial links/Gifted.
Save
Save
Save
Save
Save
Save
Save
Save
Save
Save
Save
Save
Save
Save
Save
Save
Save
Save