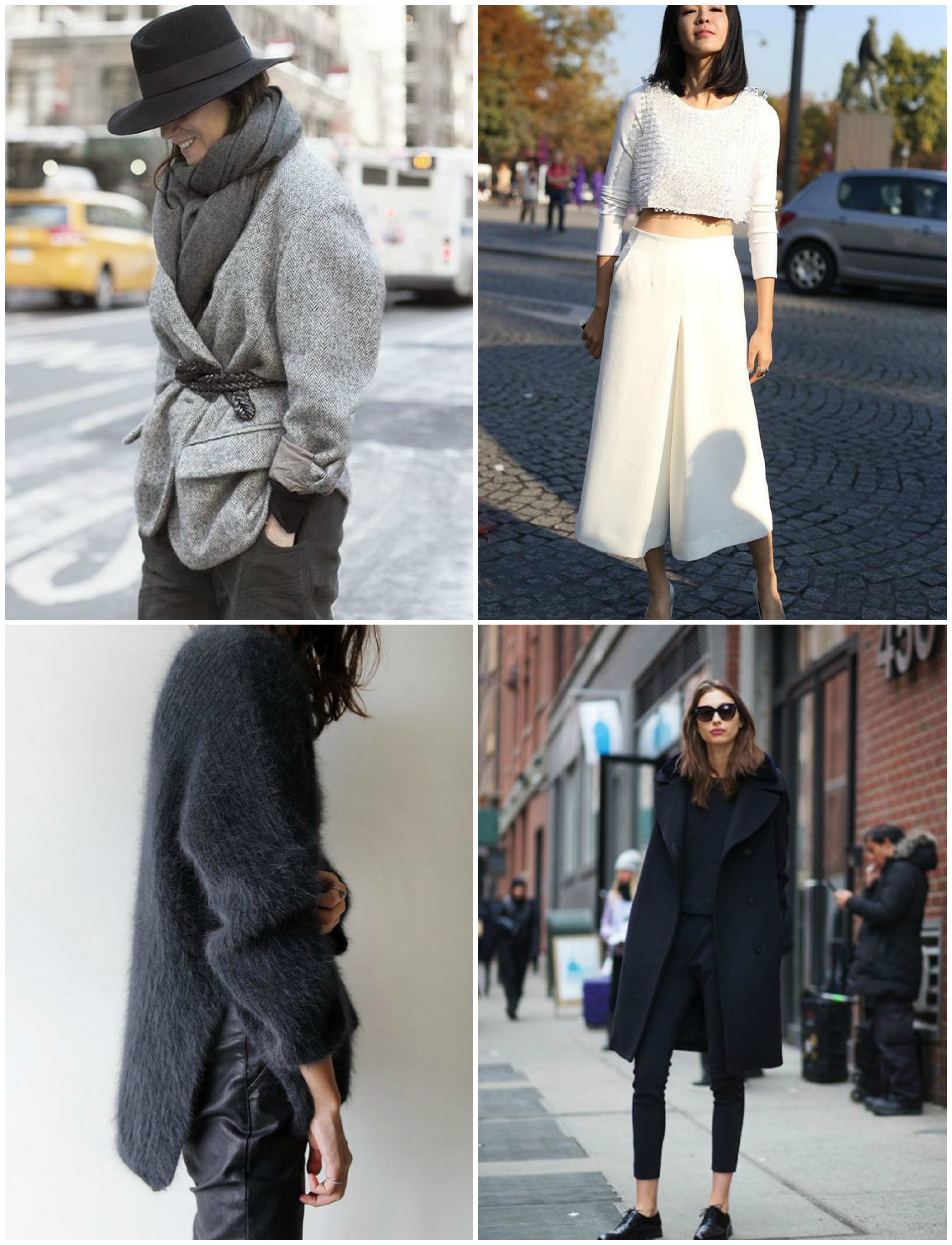 Lämpenen hitaasti (jos ollenkaan) trendeille, jotka ovat valloillaan hetken ja sitten hiipuvat. Tyylini on hyvin varma ja ehkä ajoittain liiankin, mutta toisaalta miksi hullutella tyylillä vain hetkellisesti aina sesongin vaihtuessa? Itseäni  häiritsisi myös se, että kaapissani olisi jotain minkä tietäisin jo nyt olevan vain "tämän kauden juttu". Pelkkä ajatuskin siitä tuntuu todella vieraalta. Ehkä siksi syksy on lempivuodenaikana pukeutumisen kannalta, sillä mielestäni syksyllä kaupoista saa aina kaikista ajattomampia juttuja. Laadukas neule, hyvin istuva villakangastakki, täydelliset nahkahousut, silkkipaita…niitä vaatekaapin kulmakiviä, joita on aina saatavilla tähän aikaan vuodesta.
Nyt kun olen Andiatalla päivätöissä ja muodin kanssa tekemisissä päivittäin, niin mietin varmasti vielä tarkemmin sitä mitä kaappiini tulee, koska kiusauksia on paljon. Haluan pitää vaatekaappini sisällön suppeana, mutta nyt syksyllä Andiatalla on liiankin paljon kaikkea ihanaa ja ajatonta (kuten olette huomannut bloginkin kautta), joten se on hankalaa. Toisaalta koen, että osa työtäni on edustaa Andiataa myös vapaa-ajalla ja koska pukeutuisin merkin vaatteisiin kuitenkin (olin siellä töissä tai en), niin ei sitä vaatekaapin pientä paisumista kannata stressata. Olen varmasti vähän liiankin neuroottinen vaatekaappini ja minimalismin tavoittelun suhteen, joten ihan hyvä vähän sekoittaa pakkaa. Ja tilaahan siellä vieläkin on, että kyllä sinne mahtuu…se ei ole ongelma, heh.
Ja hei ehditte vielä osallistumaan Andiatan 200€:n lahjakortin arvontaan huomiseen asti, joten nopeasti kommentoimaan! Syksyn mallisto on tosiaan niin täydellinen, että on ilo arpoa lahjakortti teidän kesken. Ihanaa viikonloppua!
Fashion to me is about timeless pieces that you can cherish for years to come. It's not about fast fashion and items that you wear once and after get bored of. My goal is really to only have items in my closet that I can see myself wearing ten years from now and I try to stay away from all the seasonal trends. This really defines my style, as I really don't mind wearing the same things over and over again. For me perfect tailoring, luxurious materials and classic cuts are so much more interesting than the latest frill top that I would wear for one summer and then move onto the next trend. As cliché as it is, but my style philosophy is "less is more" and "quality over quantity".
Photos: Pinterest.
Save
Save
Save
Save
Save
Save
Save
Save
Save
Save
Save