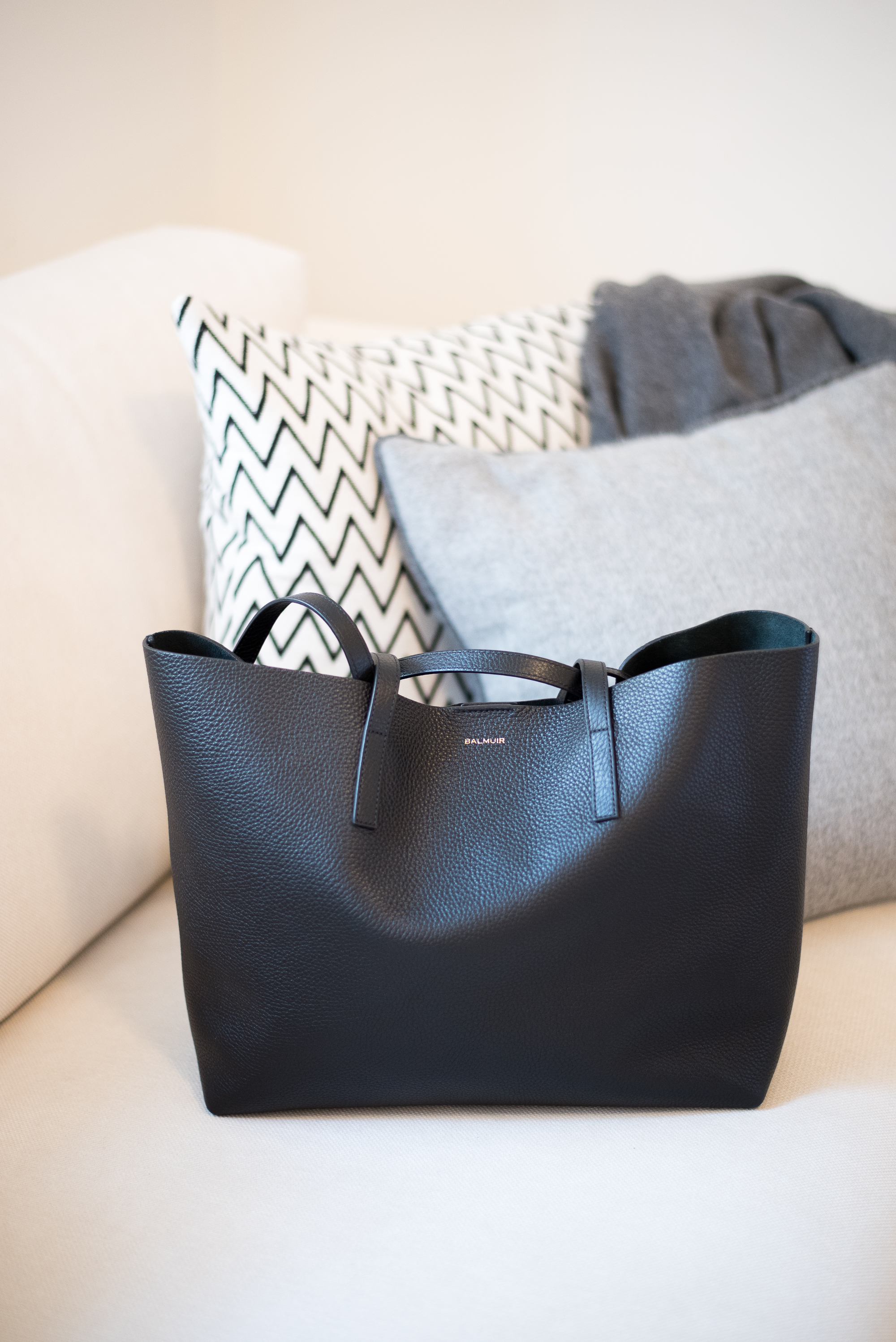 Pari viikko sitten olin Balmuirin laukkulanseeraustilaisuudessa ja viime viikolla oli vuorossa tämän hienon kotimaisen brändin 10-vuotis syntymäpäiväjuhlat Kämpissä. On ollut ilo tehdä koko tiimin kanssa yhteistyötä jo muutaman vuoden ajan ja innolla odotan mitä tulevaisuus tuo tälle merkille. Seuraava aluevaltaus on nyt julkista tietoa ja uusi upea laukkumallisto on myynnissä myymälässä, sekä verkkokaupassa. Kaikki upeat mallit näette täältä.
Oma suosikkini oli alusta asti selvä ja iskin silmäni tähän Estelle-nimiseen olkalaukkuun. Olen oikeastaan haaveillut tämän mallisesta rennosta laukusta jo jonkin aikaa. Se täydellinen arkilaukku, jonka voi vain heittää olalle ja jonne mahtuu puoli maailmaa. Tämä on juuri sellainen. Tieto siitä, että olalla kulkee laukku, joka on tehty norjalaisesta lehmännahasta – siitä samasta kuin Chanelin laukut – tekee siitä vielä aavistuksen spesiaalimman.
Laukussa ei ole vetoketjua, mutta sen saa nepparilla kiinni tuosta keskeltä. Sisältä löytyy pieni pussukka, johon saa sitten arvotavarat piiloon. Pussukka käy melkeinpä iltalaukusta ja se on helppo heittää toiseen laukkuun jos vaihtaa mallia ahkerasti. Silloin ainakin tärkeimmät tavarat siirtyy kätevästi laukusta toiseen. Nyt odotan, että pääsen koeajamaan tämän laukun ja pitäisi vaan raaskia viedä se ulkoilemaan. Sateeseen en uskalla tätä uutukaista viedä, mutta heti kuivalla ilmalla käyttöön! Mikä  laukku tästä Balmuirin uudesta mallistosta kolahti teihin?
One of my favorite Finnish brands, Balmuir, celebrated their 10 year anniversary last week. I am honored to have been part of this journey (even in the smallest way) and still think about our shoot in Paris with warmth. Besides the 10 year milestone, Balmuir had another big happening last week; the launch of their first bag collection. I was fortunate enough to be able to choose my favorite from the collection and I knew immediately that my choice was this simple Estelle shopper. It's made from the same Norwegian lamb leather that Chanel uses in their bags and it's quite obvious – the quality of this leather is just amazing. The model is also perfect for everyday use as it fits all the essentials and even more. The little pouch can be used as a clutch and it's the perfect place for valuables. All in all, I love this bag and can't wait to wear it. What is your favorite from Balmuir's new bag collection?
Save
Save
Save
Save
Save
Save
Save
Save
Save
Save
Save
Save
Save
Save
Save
Save