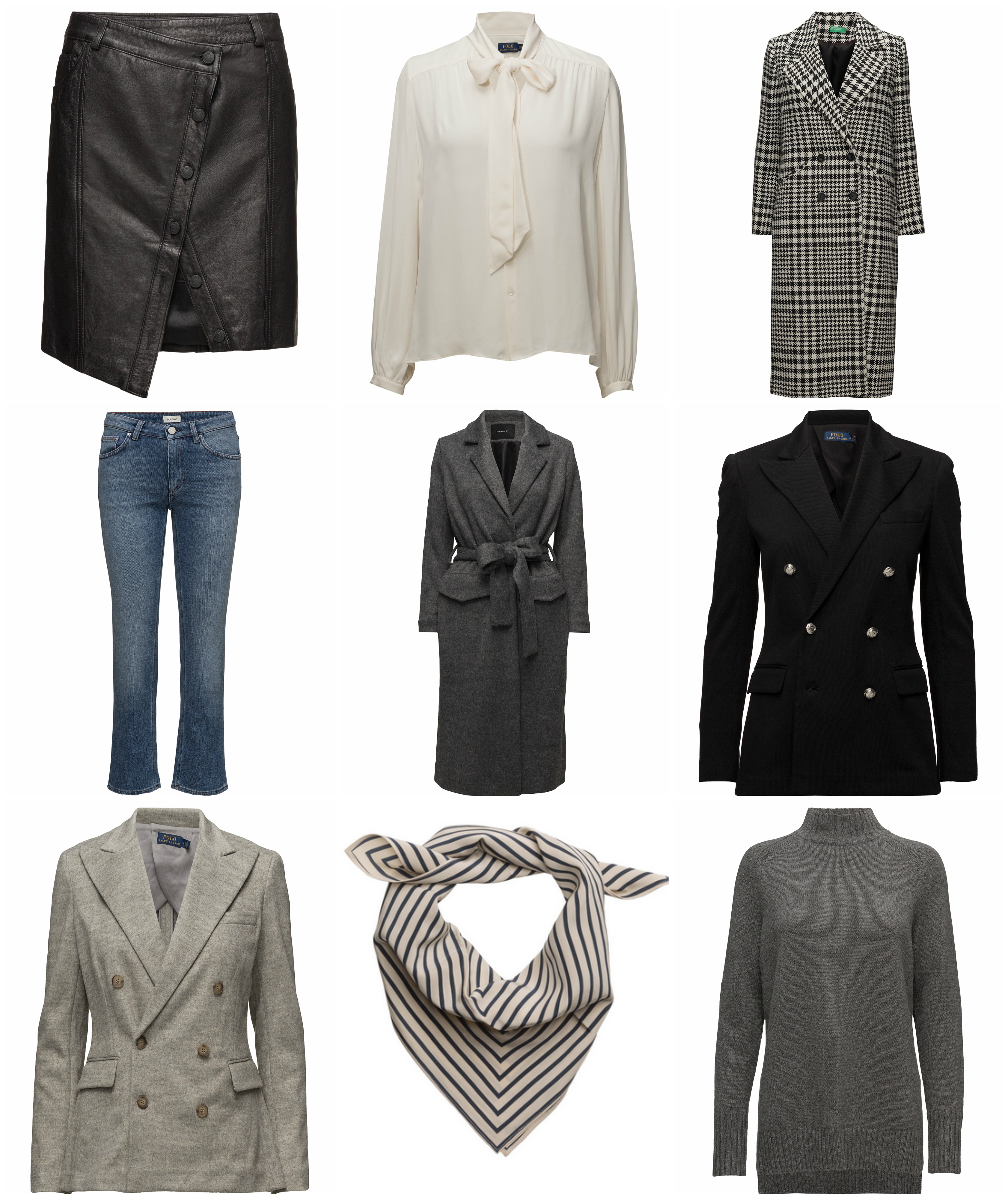 Leather skirt / Raiine   Silk shirt / Ralph Lauren   Coat / Benetton
Jeans / Toteme   Coat / Raiine  Blazer / Ralph Lauren
Blazer / Ralph Lauren   Scarf / Toteme   Polo knit / Ralph Lauren
Meillä on ollut suhteellisen rauhallinen viikonloppu takana. Suhteellisen rauhallinen sen takia, että Coco oli meillä hoidossa ja olin hänen kanssa pari tuntia yksin. Juuri sinä aikana oli ruokailu ja sen jälkeen ulkoilu. Voitte kuvitella mikä meininki, kun on tuskan alla saada pelkästään talutushihna kaulapantaan. Pentu juoksee ympäri asuntoa, vesiastia kaatuu, itse ulkoiluvaatteet päällä yritän saada koiraa kiinni ja kun onnistun siinä niin hän hyökkää kenkieni kimppuun joita yritän sitten toisella kädellä kiskoa, kun koira roikkuu toisessa. Kadulla ensimmäiseksi hän löytää purkan ja sitä sitten kaivelen suusta tovin (en ole muuten aikaisemmin huomannut kuinka paljon kadulla on purkkaa – ällöttävää). Lopulta siitä selvitiin ja jaksoin kantaa neidin vielä takaisin asuntoon (meidän portaita ei vielä osaa/halua kivuta). Poikaystäväni tuli sen jälkeen onneksi kotiin ja huokaisin helpotuksesta, heh. Loppuilta menikin sitten rauhassa ja neiti veti sikeitä vähän enemmänkin.
Tänään suunnitelmissa on tehdä töitä sekä valmistautua ensi viikkoon. Leppoisaa sunnuntaita kaikille!
P.S. Booztilla saa tänään koko alesta ja kaikista uutuuksista 20% alennusta koodilla ALL20.
This weekend has been very relaxing and it's exactly what I needed now. Yesterday we babysat Coco (a Labrador puppy) and even if she's a handful, it's very calming to have an animal next to you. The first hours she is always so excited to be in a new place, but after a while she gets used to it and calms down. Puppies are very funny, but hard work as well, since you have to monitor them so they don't eat/do anything stupid, heh.
Today my plan is to work and get ready for next week. Have a great Sunday everyone!
*Commercial links/Mainoslinkkejä.