Työt alkoivat vauhdilla ja paluu arkeen tuli ihan hyvään saumaan. Otin niin iisisti vanhemmillani, että en olisi varmaan ikinä saanut arjesta kiinni jos sama meininki olisi jatkunut yhtään pidempään. Innolla siis töihin ja tämä lyhyempi viikko on vielä aika armollinen aloitus! Poikaystäväni ja hänen ystävänsä tulevat tänään landelta takaisin kaupunkiin, joten menen vielä yhdeksi yöksi evakkoon vanhemmilleni. Olin ihan kauhuissani, että nyt on pakko käyttää metroa ja matkani pitenee, mutta huojennuin kun huomasin, että heidän alueelta kulkee vielä suora bussiyhteys Kamppiin ja pääsen jatkossakin reilussa kymmenessä minutissa keskustaan – halleluja! Saa siis nähdä tulenko ikinä käyttämään länsimetroa, heh. Olin niin pahasti sitä vastaan, että en astu siihen ennen kuin on ihan pakko. Kovapäinen mikä kovapäinen…
Kuvissa näkyy uudehko arkitoppikseni, jonka bongasin vanhalta kollegaltani. Se on niin kevyt päällä ja lämmin, että se on kyllä täydellinen talvitakki! Hupullinen olisi toki vielä käytännöllisempi, mutta tykkään tästä pukevasta kauluksesta. Uniqlo olisi vielä kiva saada stadiinkin, sillä sieltä löytyy niin kivoja perusjuttuja kohtuuhintaan. Ehkä vielä joku päivä!
Mukavaa loppuviikkoa kaikille!
This work week started out with a bang, but I'm glad I got back to a normal rhythm. My holidays were so chill and I took it super easy at my parents. If I had chilled another day more, I'm not sure I would have been able to get myself up from the couch and go back to work, heh.

Here I'm wearing my newish winter coat from Uniqlo and it's so light (feels like I have nothing on), but super warm. Perfect for this season! I wish we had Uniqlo in Helsinki, as I love their simple collections. Especially the outerwear is great quality for the price. Maybe one day it will open here as well!
Have a great end of the week everyone!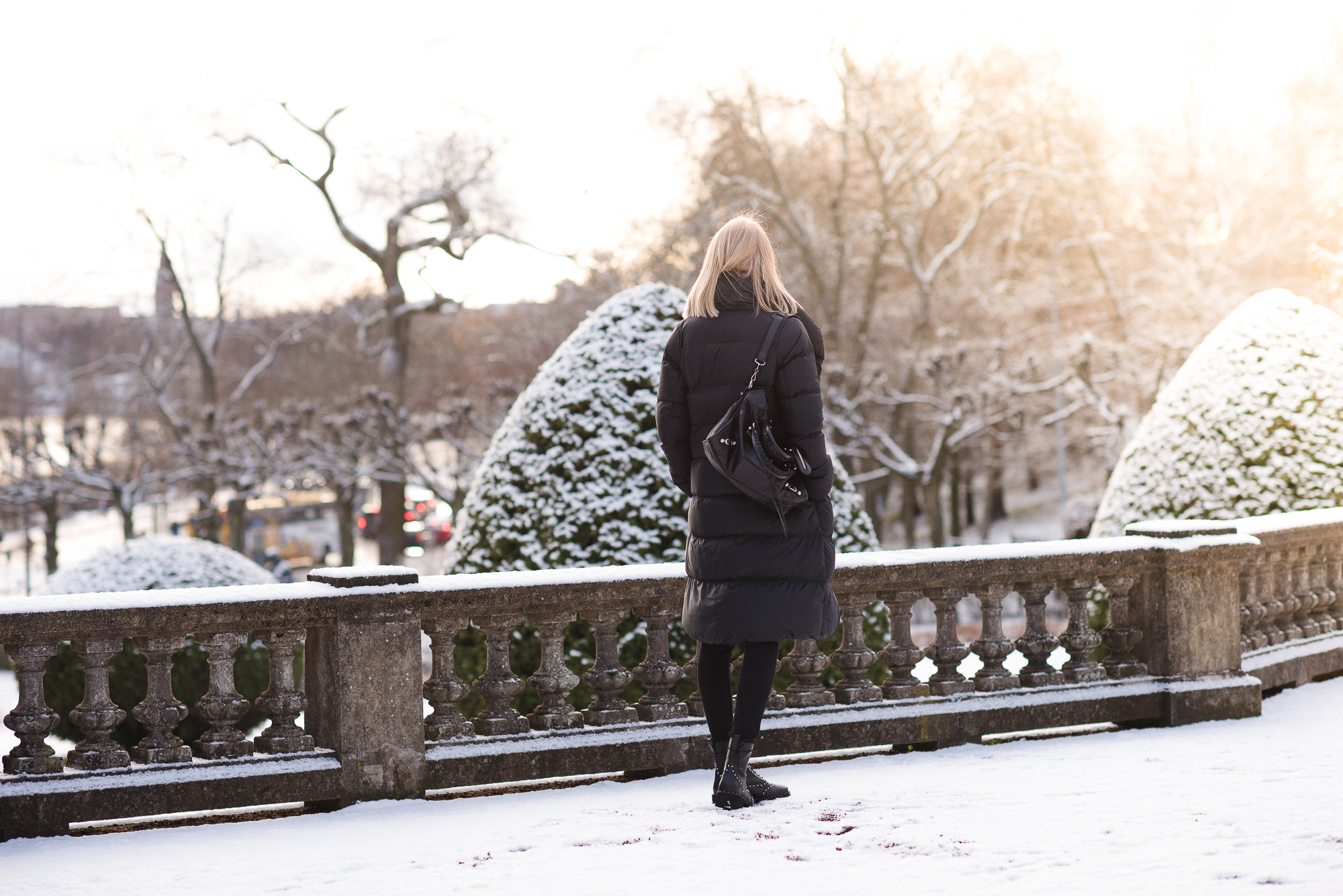 Photos/Thomas D.
Coat / Uniqlo (similar here*)
Jeans / Mango (similar here*)
Boots / H&M (similar here*)
Scarf / Balmuir*
Bag / Balenciaga
*Commercial links/Mainoslinkkejä