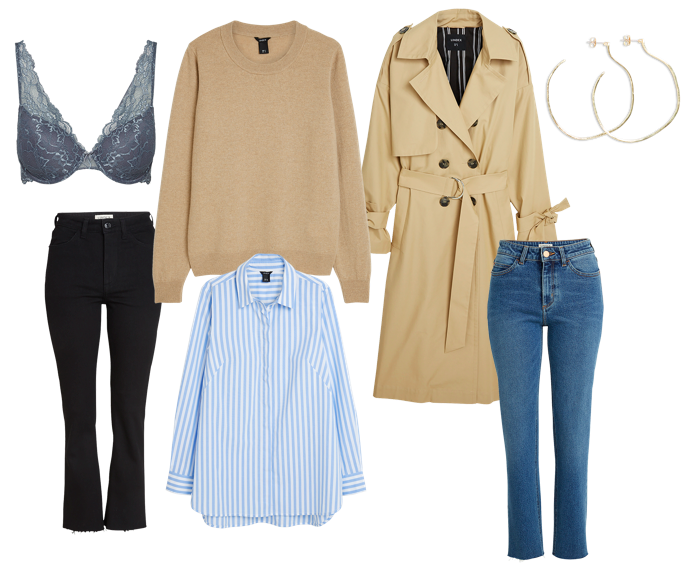 Bra / here   Cashmere knit / here   Trench / here
Earrings / here   Jeans / here   Shirt / here   Jeans / here
Lindex on jäänyt itselleni vieraammaksi brändiksi, vaikka olen muutama vuosi sitten löytänyt sieltä mitä täydellisimmät farkut, joita olen käyttänyt ihan luvattoman paljon. Nyt hiljattain olen käynyt merkin verkkokaupassa ja Aleksin myymälässä varmaan enemmän kuin ikinä. Syy siihen on yksinkertainen – mielestäni mallisto on nykyään hyvinkin raikas ja ajankohtainen klassisella twistillä. Kuulostaa ihan minulle sopivalta eikö? Löysin kahdet täydelliset farkut (nämä kollaasissa olevat) ja tuota trenssiä jäin vielä kuolaamaan. Huomasin myös, että merkille on tullut "premium quality"-mallisto ja toivon, että siihen tulee lisäyksiä tässä kevään aikana. Tuntuu siis, että Lindexin mallisto on käynyt läpi pienen muodonmuutoksen ja erittäin hyvän sellaisen!
Täällä ollaan yritetty levätä mahdollisimman paljon työntäyteisen viikon jälkeen. Tuntuu, että koko viime viikko meni toimistolla ja kotiin tulin lähinnä nukkumaan, mutta tällä viikolla yritän päästä normaaliin rytmiin kiinni. Tarkoittaen siis sitä, että vapaa-aikaa on tarpeeksi ja ystäville/perheelle muistaa jättää aikaa. Tasapaino kun on tärkeintä kaikessa tekemisessä!
Aurinkoista pakkaspäivää kaikille!
You know when there's a brand you've known for a long time, but haven't really thought much about? Maybe purchased a product or two over the years, but you don't really have strong feelings about the brand one way or the other? For me, Lindex has been a brand like that. Two years ago I found the perfect jeans from them, but after that I haven't really checked their selection. That's until now, because recently I have been visiting their website and store more times than I have in the last two years combined. Their newest collection is very current, but at the same time timeless with a nice twist. Last week I went to try their trousers and found two great jeans. I also fell for this beautiful trench coat. Would be perfect for spring, right?
*Commercial links/Mainoslinkkejä.