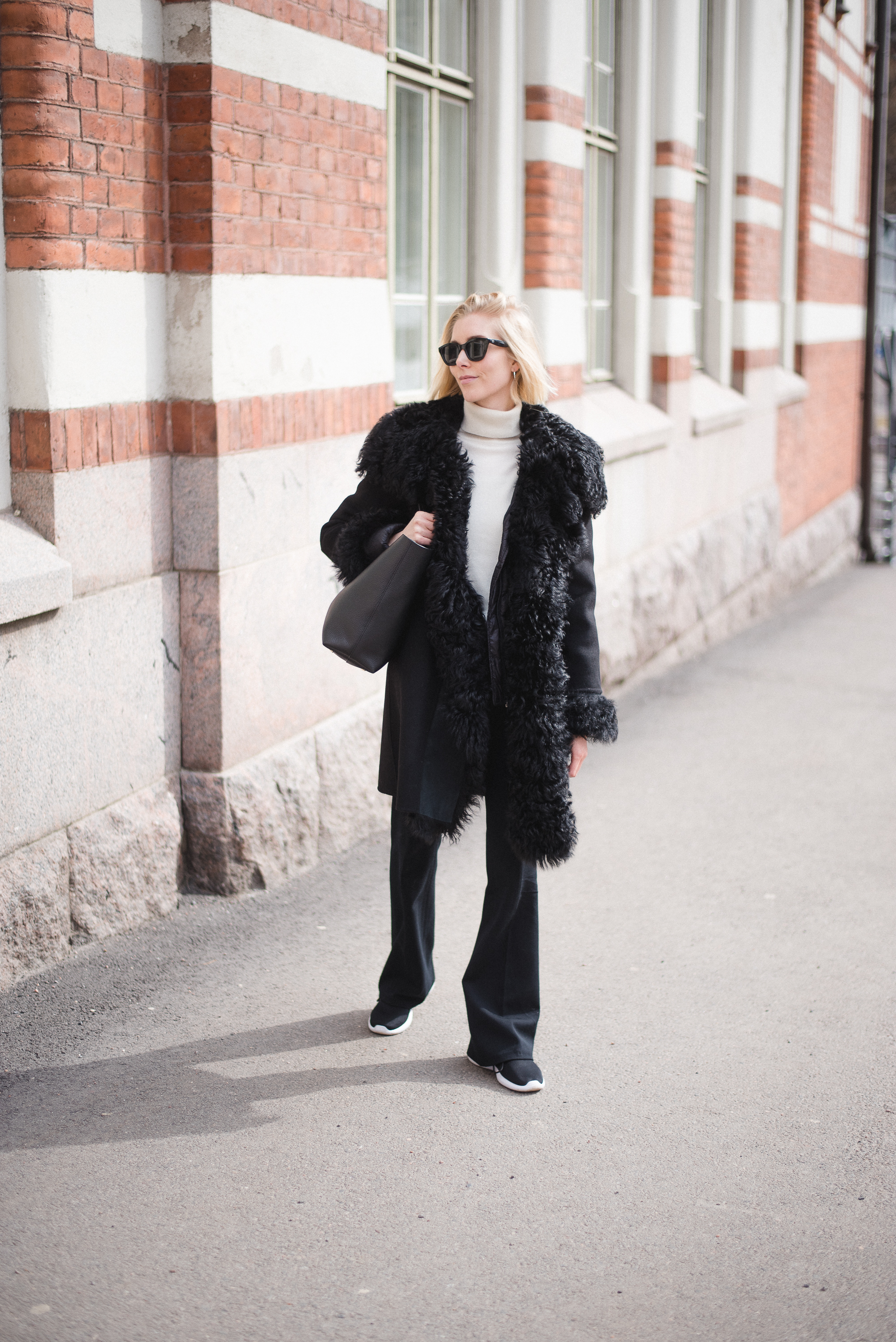 Keväällä kerrospukeutuminen on ihan pakollista, koska ilma voi muuttua hetkessä yhdestä ääripäästä toiseen. Eilen oli yksi näistä päivistä! Aurinko paistoi kirkkaalta taivaalta ja sekunnissa ilma muuttui täysin ja niskaan satoi rakeita. Tämä vaihtuva ilma on toisaalta varmin kevään merkki, joten ei siinä mitään! Yksi kerrospukeutumisen avain tuotteita on kevyt untuvatakki, joka on niin pieni, että se mahtuu laukkuun, mutta tarvittaessa sen voi vetää päälle ja se antaa tarvittavan lisälämmön. Itselläni on tässä alla musta untsikka ja se on ainakin tällaisen vilukissan pelastaja!
Tämä kulunut viikko on ollut todella vauhdikas ja lähes joka päivä on paiskittu täysipitkiä päiviä. Sen jälkeen kun yrittää sitten hoitaa kaikkia muita asioita iltamyöhään saakka, niin puolen yön aikaan on jo niin ylikierroksilla, että unikaan ei enää maistu. Tämä päivä pitäisi vielä jaksaa ja illalla lähdemme sitten landelle. Miten odotankaan sitä, että pääsemme perille ja voi oikeasti vaan olla! Ihanaa on myös se, että nyt on neljän päivän vapaa, eli eiköhän tässä ehdi rentoutua hyvin.
Ihanaa aurinkoista viikonloppua kaikille!
The only way to dress in the spring time is by layering. The weather can change in an instant and that's what happened yesterday. It was beautiful and sunny, but then the next second it's raining these ice balls and the street is basically flooding. Then a few minutes after the sun is shining again. Makes no sense, but don't they say that at spring time the weather can be very unpredictable? My "go to" piece when layering is a light coat you can wear under another coat. Here I'm wearing one, as this black lamb fur coat is not super warm. It works wonders!
This past week has been so hectic and I've been coming home very late and then trying to get everything done before going to bed. The level of sleep is never that good when my schedule is this packed, but this weekend I'm taking a short break, as we are headed to the countryside. Fresh air, sauna and forest walks will surely get rid of this feeling of being in a rush all the time. I hope so at least!
Have a great weekend ladies!
Outfit / Andiata*
Shoes / Nike
Bag / Balmuir*
Sunnies / Le Specs (Sofinah)
*Gifted.