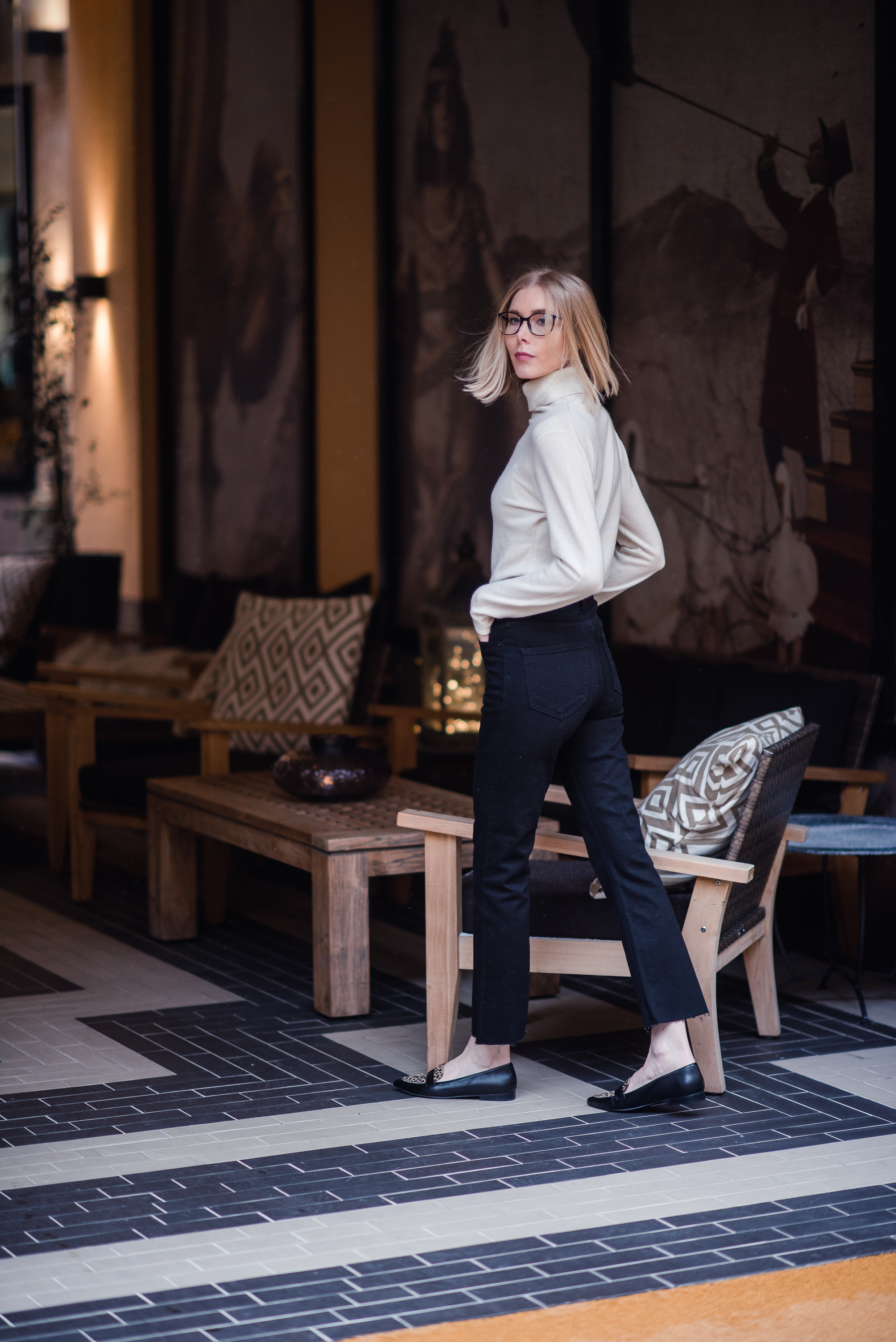 Taitaa olla ensimmäinen kerta, kun käytän silmälaseja asukuvissa. Normaalisti käytän arjessa vain ja ainoastaan piilarita ja ikivanhat lasini on ollut käytössä vain kotona. Nyt päätin hankkia uudet kehykset ja näillä kehtaa liikkua ihmisten ilmoillakin. Suosin kuitenkin piilareita, mutta silmälasit vaihdan heti kotiin tultuani. Hassua on se, että vaikka kotoa löytyy nyt nämä uudet pokat, niin käytän edelleen niitä vanhoja kotona, mutta jos lähden vaikka kauppaan niin vaihdan nämä  uudet päähän (vanhat on siinä kunnossa, ettei niillä kehtaa enää liikkua julkisilla paikoilla, heh).
Olen aikaisemminkin puhunut Lindexin housuista ja tässä taas mitä täydellisin farkkumalli. Kyseessä on tämä nilkkapituinen musta farkku, jonka isuvuus on loistava. Farkku on paksua ja tukevaa, mutta silti mukavat jalassa. Parasta on vielä se, että näitä farkkuja voi käytää jo melkeinpä paljain nilkoin. Huomenna voisi ainakin olla sellainen päivä, kun tänne etelään on luvattu melkein +20 astetta. Aika mieletöntä näin hutikuussa!
I think it's the first time I'm wearing my glasses in an outfit picture. Normally I wear my contacts all the time and then change to glasses at home. Now I finally changed my glasses (the old ones I go when I was 15, so you can only imagine how they looked), heh). Perhaps I'll wear these more often in the blog as well…
I have previously talked about Lindex's trousers and I found again a great model. These flared cropped jeans have the perfect fit and I love the high waist. Jeans are so hard to find, so I'm really happy about this pair! The only thing I'm still waiting for is the moment when I can wear them with bare ankles. Perhaps tomorrow is the day, as they have promised +20 degrees…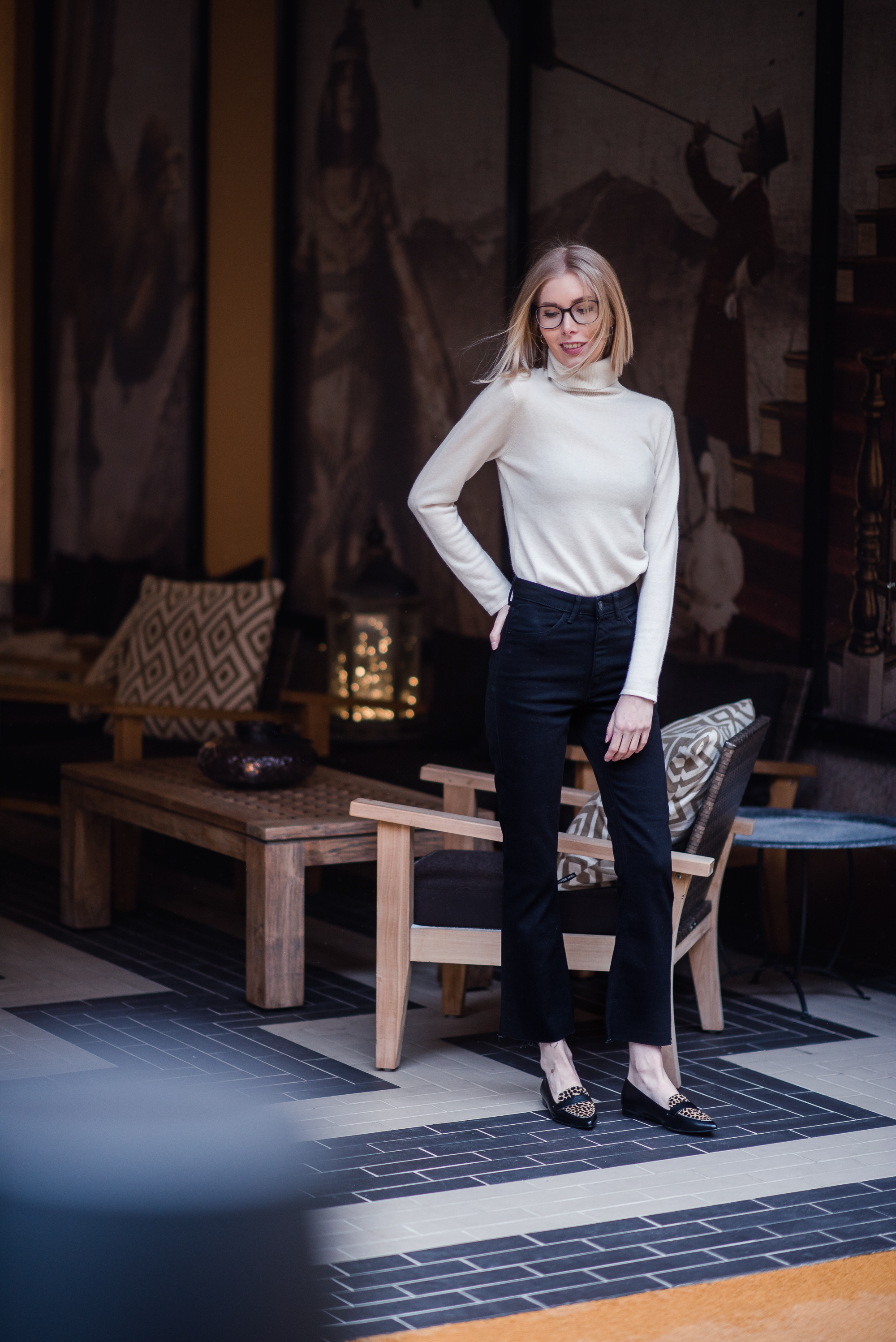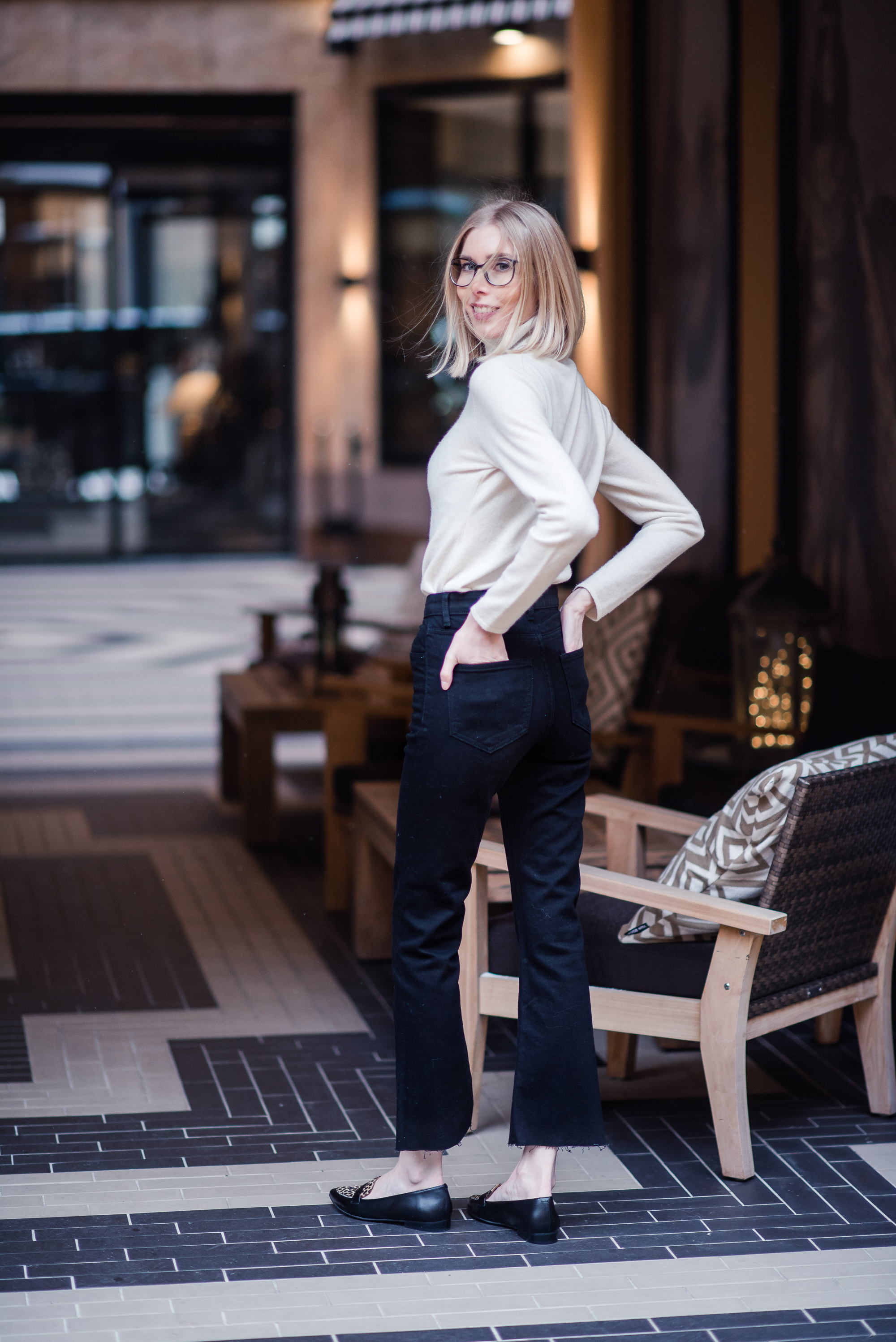 Photos/Thomas D.
Cashmere knit / Andiata*
Jeans / Lindex*
Shoes / Flattered
*Commercial links.