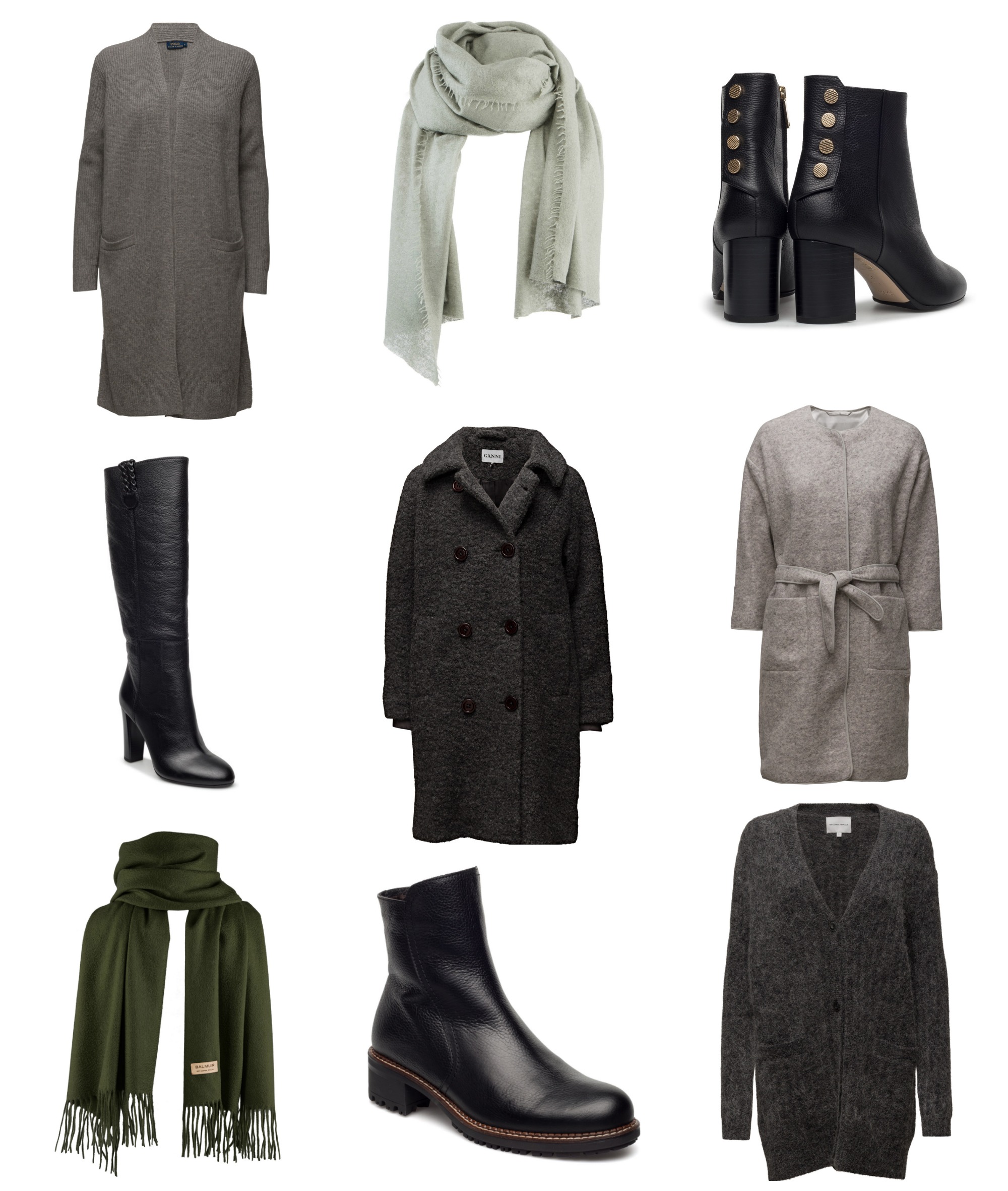 Cardigan / Polo Ralph Lauren   Scarf / Balmuir   Boots / Hugo
Boots / Hugo   Coat / Ganni   Coat / Peak Performance
Scarf / Balmuir   Boots / Wonders   Cardigan / Second Female
Meillä oli eilen suunnitelmissa käydä vain pikaisesti keskustassa hakemassa poikaystävälleni farkut, mutta jäimme sitten pyörimään ja tarkistamaan ale-tarjonnan. Ihmisiä oli paljon liikenteessä ja kauppa näytti käyvän erittäin hyvin. Mietin yhtä villakangastakkia Zarassa, mutta kun näin jonot, niin tajusin, että takki ei ollut niin mieluinen, että sen vuoksi olisi jaksanut jonottaa. Hyvä siis, että jätin sen kauppaan. Sen sijaan pyydystin pitkin keskustaa yhtä Acnen kollaria, jonka löysin alkujaan Stockalta maanantaina. Lopulta oma kokoni löytyi Beamhillistä ja täytyy taas kehua suomalaista asiakaspalvelua. Niin asiantuntevaa ja avuliasta porukkaa tuntuu löytyvän lähes jokaisesta myymälästä (ja etenkin Beamhillin farkkumyyjä oli huippu).
Itse tein yhden aleostoksen & Other Storiesin verkkokaupasta ja se saa riittää tältä vuodelta. Jos kaappini kuitenkin kaipaisi jotain muuta, niin keskittyisin laadukkaisiin neuleisiin ja kenkiin. Valitsin tähän suosikkini Booztin valikoimasta ja nuo Hugon upeat nilkkurit jäivät kummittelemaan… Booztin lisäksi kannattaa myös tarkistaa mm. Balmuirin, Elloksen, Nellyn, Andiatan ja NA-KD:n alet!
Aurinkoista keskiviikkoa kaikille!
Yesterday we went downtown to find my boyfriend some jeans and look around the sales. There was so many people doing shopping, that I'm sure the stores had great sales on this first "official" sales day. I tried on a navy blue wool coat at Zara, but after seeing the lines to pay, I decided to leave the coat in the store. So in any case the coat wouldn't have been a good purchase, so I'm glad I left it behind.
I actually made my only sales purchase from & Other Stories and it's my last purchase of this year. If I needed other things, I'd focus on high quality knits and shoes. Above you can see some of my favorites and if I needed black ankle boots, I'd get those ones from Hugo. They are super nice! Now I'll just try to retain myself…
Have a great Wednesday everyone!
*Commercial links/Mainoslinkkejä.