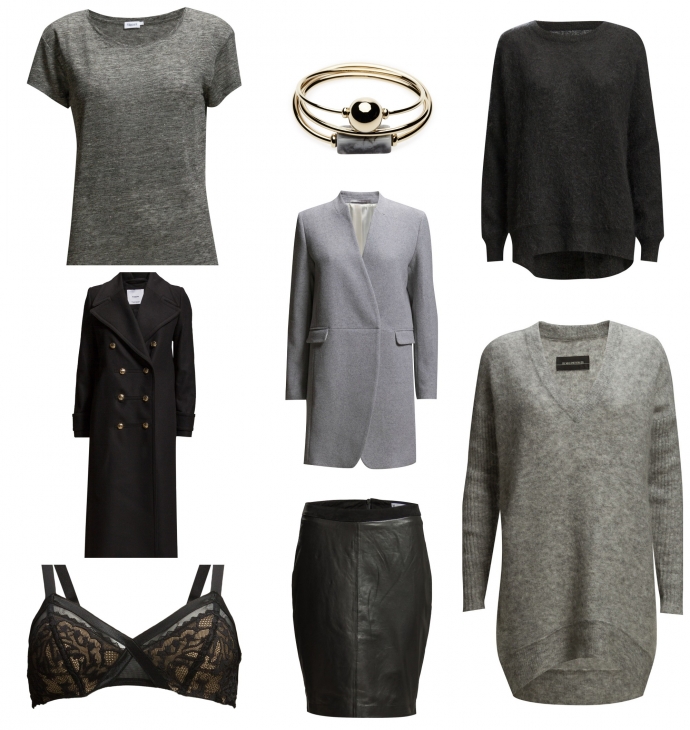 [spacer]
Linen T-shirt / Filippa K     Bracelet / By Malene Birger     Knit / By Malene Birger     Coat / Mango
Grey coat / Tiger of Sweden     Grey knit / By Malene Birger     Bra / Calvin Klein     Leather skirt / Mango
[dropcap custom_class="normal"]Kävimme tänään keskustassa kahvilla ystäväni kanssa ja katsastimme samalla muutaman liikkeen ale-valikoiman. Itse löysin NAP:in alesta kauan etsimäni korkonilkkurit (tukevalla korolla) ja muuta en halua edes löytää (koska tarvetta ei todellakaan ole). Kaupoissa tuli siis lähinnä ihasteltua ja autettua poikaystävääni muutaman jutun valitsemisessa.[/dropcap]
Kauneus ja Terveys-lehden verkkosivuilla on lyhyt haastattelu, josta löytyy myös omat vinkkini alennusmyynteihin. Mielestäni on hyvä kartoittaa vaatevarastoa ennen alennusmyynteihin lähtöä ja miettiä, että mitä sieltä kaapista puuttuu. Jos sieltä ei puutu mitään, niin silloin kauppoihin ei välttämättä kannata edes lähteä. Näin ei ainakaan tule ostettua mitään turhaa! Jos kaapissa on kuitenkin tarvetta laadukkaille ja klassisille jutuille, niin nyt on hyvä hetki sellaisia hankkia hieman huokeampaan hintaan. Oletteko te jo tehneet hyviä alelöytöjä?
Ihanaa illanjatkoa kaikille (tästä totaalisesta pimeydestä huolimatta)!
Today we had coffee with my friend in Helsinki and I also checked some of the sales. I found a pair of ankle boots from NAP a week ago, but other than that, I don't need anything (especially after all the Christmas gifts). I mainly admired all of the beautiful things and helped my boyfriend to pick out a few nice pieces.
Have you found any nice things on sale? Here are my favorites from Boozt.com and as you can probably guess, those two knits are above all!
Enjoy your evening everyone!
[spacer]
*Commercial links/Mainoslinkkejä.