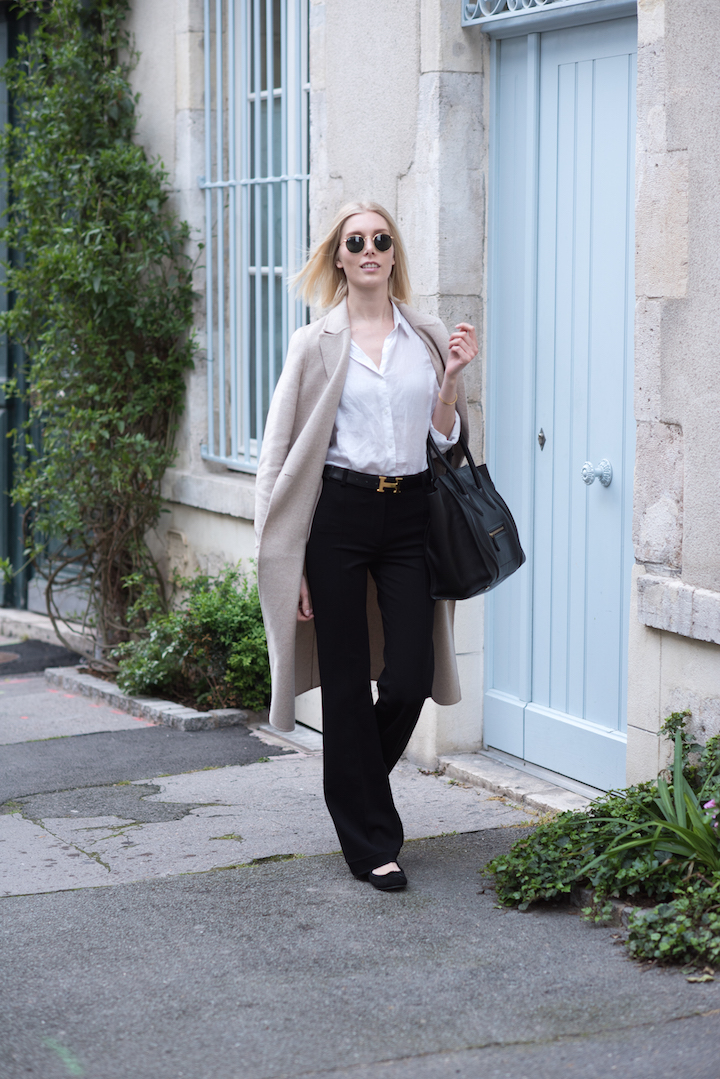 Olen iloinen, että ostin tämän Zaran kevyen villakangastakin hyvissä ajoin, sillä sille on tullut käyttöä kevään aikana hyvinkin paljon. Täällä on ollut harvinaisen viileä (ja sateinenkin) kevät, joten takki on ollut välttämätön monena päivänä. Hassua ajatella, että siellä Suomessa on tainnut olla paremmat ilmat kuin täällä Ranskassa. Olen kyllä enemmän syyspukeutumisen fani, joten tämä ilma on sopinut itselleni paremmin kuin hyvin, mutta ehkä kuitenkin kesäkuun kynnyksellä sitä toivoisi jo hieman lämpöä…Pitää ilmeisesti tulla aurinkolomalle Suomeen (en ajatellut ikinä kuulevani suustani tuota lausetta, heh)!
Edellisessä asupostauksessani sanoin, että paras oversized kauluspaita löytyy miehen vaatekaapista. Se on totta, mutta kannattaa myös tarkistaa asustepuoli. Poikaystäväni kaapista käyn usein pihistämässä tämän vyön, sekä yhden ihanan Balmuirin huivin. Kannattaa siis tarkistaa mitä aarteita sieltä miehen kaapista voikaan löytyä!
I'm glad I bought this light wool coat in the beginning of Spring, as I've been wearing it a lot since. This year the weather has been quite cold and rainy, which means I've been needing a coat almost everyday. It's crazy to think that in Helsinki the weather has been better many days compared  to here. I guess I'll need to go back home to the North to catch some sun, heh (never thought I'd say that).
In the previous outfit post I said that the best oversized shirt can be found in your boyfriends/husbands closet. In my case I can also find great accessories from my boyfriends wardrobe. I tend to steal this Hemès belt quite often, as well as his scarfs (isn't it convenient getting your boyfriend a present that you can also wear, heh). So ladies I recommend you to take a look into your boyfriends closets, as you never know what treasures you can find!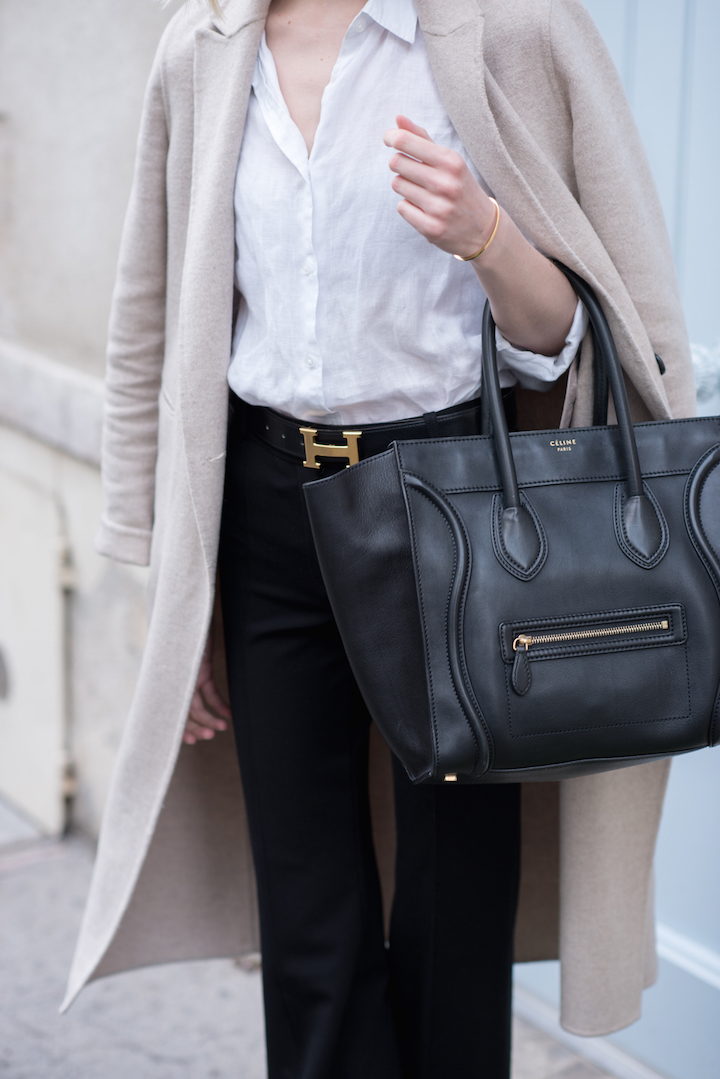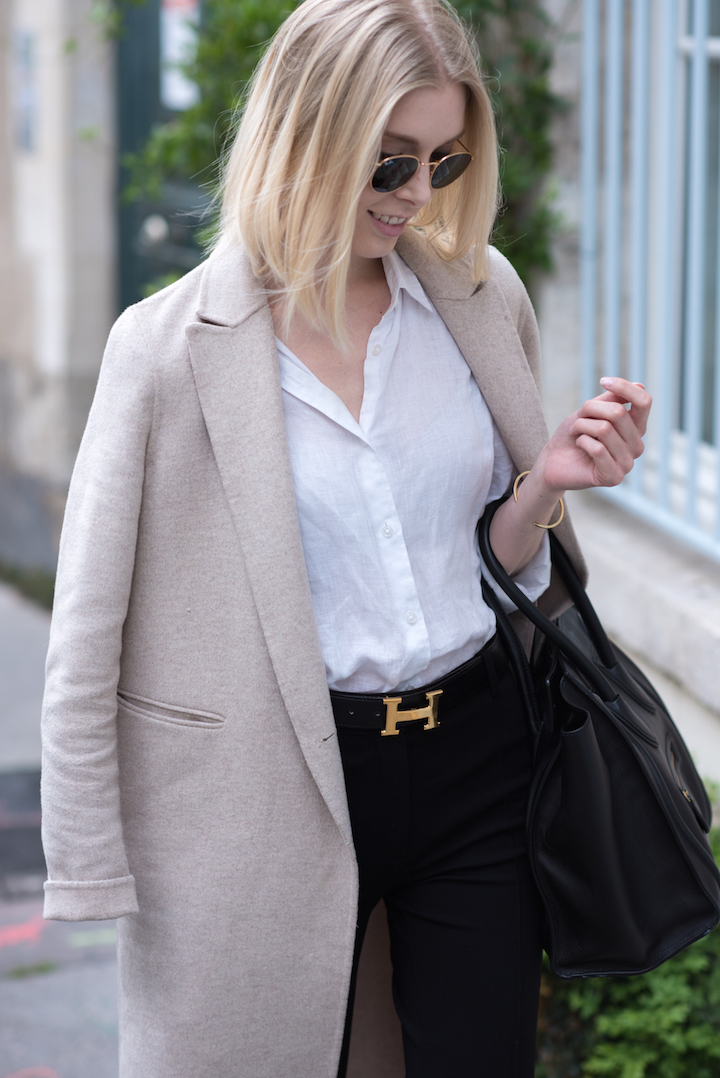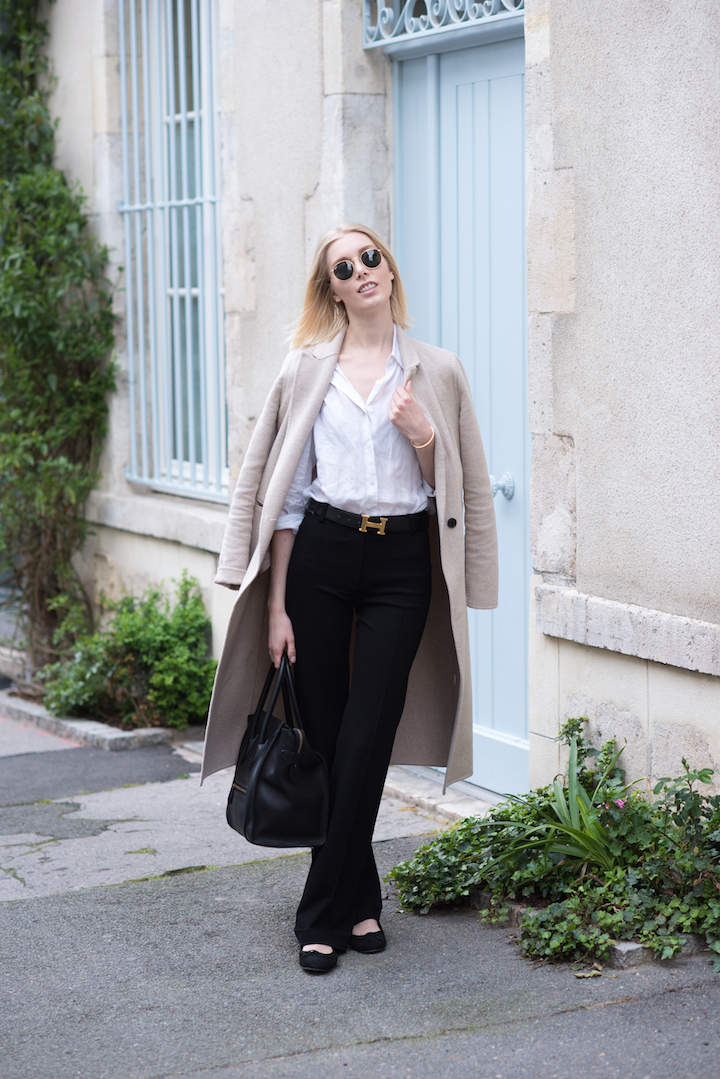 Coat / Zara (similar here*, here*)
Linen shirt / Uniqlo (similar here*)
Pants / Andiata* (similar here*)
Shoes / Flattered (similar here*)
Sunnies / Ray Ban (here*)
Bracelet / Saint Laurent
Belt / Hermès
Bag / Céline
*Commercial links/Gifted.