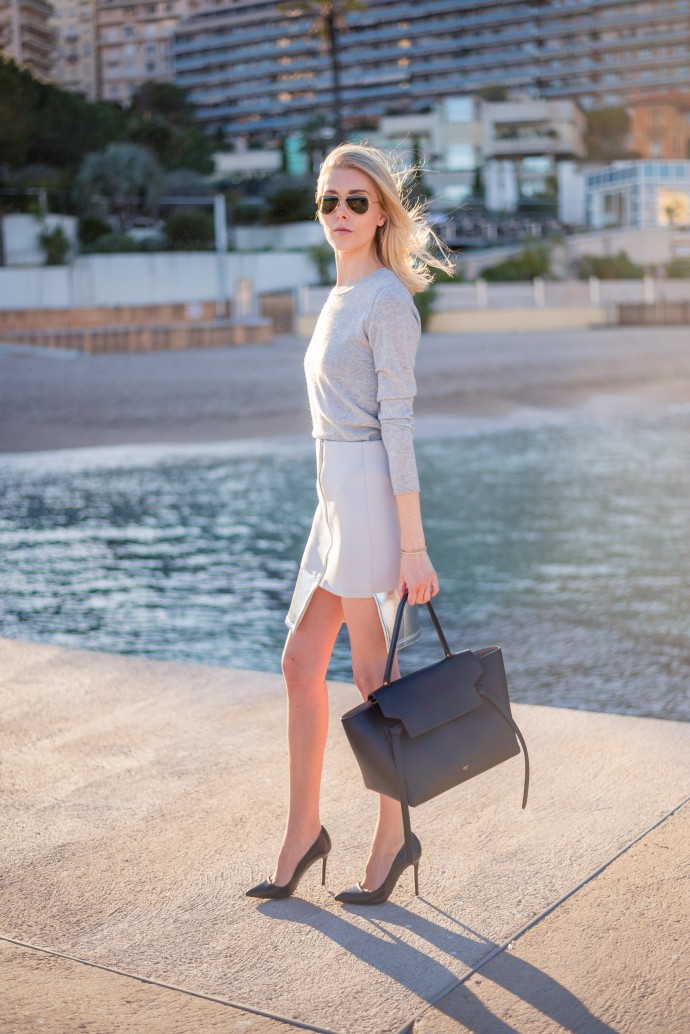 [dropcap custom_class="normal"]Nyt täytyy antaa kiitosta kuvaajalleni (aka poikaystävälleni), josta on kehittynyt ihan huikean hyvä kuvaaja. Hän hiljalleen innostui kuvaamisesta tämän blogin myötä (ilman pakkoa saanen mainita, heh) ja nykyään herran kuvat on kyllä sitä tasoa, että huh. Ylpeä tyttöystävä täällä ilmoittautuu! Ja miten kiitollinen olen siitä, että hän jaksaa kuvailla tätä samaa naamaa päivästä toiseen. Uskokaa tai älkää, mutta en edelleenkään varsinaisesti nauti kameran edessä olemisesta, joten läheisen ihmisen kanssa ei tarvitse onneksi jännittää jolloin kuvat saadaan nopeasti purkkiin. Kaduilla ei tarvitse sitten keikistellä yhtään sen enempää kuin on tarvis.[/dropcap]
Sitten päästään tähän Ivy Revelin hameeseen. En ole varmaan ikinä pitänyt mitään vaatekappaletta, joka imartelisi sääriä samalla tavalla kuin tämä. Hameen leikkaus on ihan nerokas. Sääret näyttää nimittäin ihan yliluonnollisen pitkiltä poikkileikkauksen ansiosta. Täytyyköhän nyt leikata kaikista hameista osa pois vai mitä, heh?
Näissä kuvissa Monaco on taustalla ja vieressä on rakennus missä vaihdettiin ensimmäiset katseet poikaystäväni kanssa. Nämä kuvat pitävät siis sisällään jotain paljon merkittävämpää meille kahdelle kuin tämän asun. Tuntui ihan absurdilta, että viiden vuoden jälkeen palattiin paikkaan jossa meillä on niin miljoonia muistoja ja silti tuntuu, että niistä muistoista on vasta hetki. Nämä kuvat tulee aina viemään meidät takaisin niihin hetkiin, eli ei ihme, että näistä tuli molempien lempikuvat.
Ihanaa viikonloppua kaikille!
I have to say a few words about my boyfriend. I don't usually discuss him here, but now I have to tell you some things about him. First of all, a few years ago he didn't know anything about photography and now he takes pictures like this. He never studied photography and he taught himself everything he knows about it. After I started my blog, he slowly started being interested in it (and I didn't even force him I swear heh). He was so passionate to learn that he improved in no time. From that moment on, he pushed himself to constantly improve. I'm so proud of the person he is and I admire his drive in anything he does and beyond that, I'm so grateful  for how he pushes me to become better. He is not only my rock in life, but also a huge help here on Style Plaza. I mean you'd think he would be tired of this face by now, but no. He still takes almost all my outfit pictures and knows exactly what to do when there's a problem on the site. In no time he will code a few things and the blog is up and running again. Okay, okay – enough with me going on about my boyfriend, but I just wanted to give him the credit he deserves! 
And now we can talk about this skirt. I mean I have never worn anything that flatters my legs this way. The cut of the skirt makes anyone's legs look a kilometer long! This skirt is pure genius I have to say. Well done IvyRevel! Now I think I'll have to cut half of my other skirts off as well heh. That's what I'll be doing this weekend I guess.
Enjoy yours babes!
Skirt / IvyRevel* (here)
Knit / H&M
Heels / Zara
Bag / Céline
Sunnies / Ray Ban
Bracelet / & Other Stories
*Saatu blogin kautta/Gifted.