Ihana Mii..heitti haasteen, jossa ideana on shoppailla sistustujuttuja virtuaalisesti noin 500€:lla. Rahat hupeni aika nopeasti, mutta muutamia ihania juttuja hankkisin. Mitä te hankisitte tuolla rahasummalla?
I got a challenge from my lovely fellow blogger Mii..to "shop" for interior products with 500€. Here are what I would choose if I really had the money to spend. What would you get for your apartments with that money?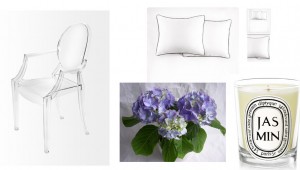 Ostoslistalta löytyy Kartellin Louis Ghost-tuoli, H&M pussilakanasetti (joka on muuten alennuksessa, joten tein tilauksen ihan oikeasti), sininen hortensia, sekä teidän ihanien lukijoiden suosittelema Diptyquen Jasmin kynttilä.