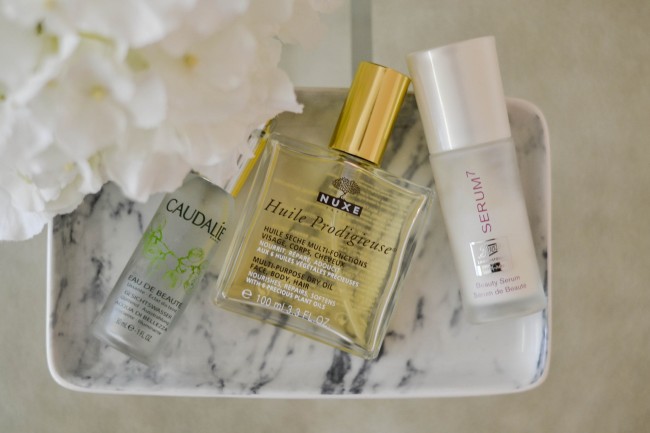 [dropcap custom_class="normal"]Multa löytyy muutama ihonhoitotuote, jotka kulkee kanssani kaikkialle. Nämä kolme tuotetta toimii ihan super hyvin ihollani, joka on pintakuiva ja suhteellisen herkkä.[/dropcap]
Caudalie – Eau de Beauté. Olen kertonut teille jo aikaisemmin tästä Caudalien suihkeesta. Käytän sitä edelleen lähes päivittäin ja se on täydellinen raikastamaan kasvoja esimerkiksi pitkän päivän jälkeen. Se myös kosteuttaa ja virkistää ihoa huomattavasti. Ihana tuote! Täydellinen myös esim. pitkille lentomatkoille.
Nuxe – Huile Prodigieuse. Tämä on varmasti monelle teille jo tuttu tuote. Se toimii niin kasvoille, vartalolle kuin hiuksillekin. Todellinen monitoimi tuote siis! Jos pitäisi valita ainoastaan yksi tuote jota saisin käyttää lopunelämäni niin se olisi varmasti tämä. Täydellisen kosteuttava ja ihanan touksuinen öljy joka ei kuitenkaan tahraa tai jätä ihoa tahmeaksi.
Boots – Beauty Serum. Paikallisen apteekin myyjätär Pariisisissa kehui tätä tuotetta kovin, joten päätin ostaa sen kokeiluun. Ostin samalla myös äidilleni saman sarjan kosteusvoiteet ja hän on ollut tosi tyytyväinen niihin. Käytän tätä seerumia kosteusvoiteen alla. Vuorottelen tämän ja jojobaöljyn välillä, eli viikossa tulee käytettyä molempia. Tämä seerumi jättää ihon pinnan sileäksi ja kirkastaa väsynyttä ihoa. Koostumus on ihanan samettinen ja pelkästään sen levittäminen tuo pienen luksushetken päivään. Tätä ei taida saada Suomesta, mutta Pariisin apteekeista sekä tietysti Englannista sitä löytyy.
Mitkä on teidän parhaat kosmetiikka tärpit?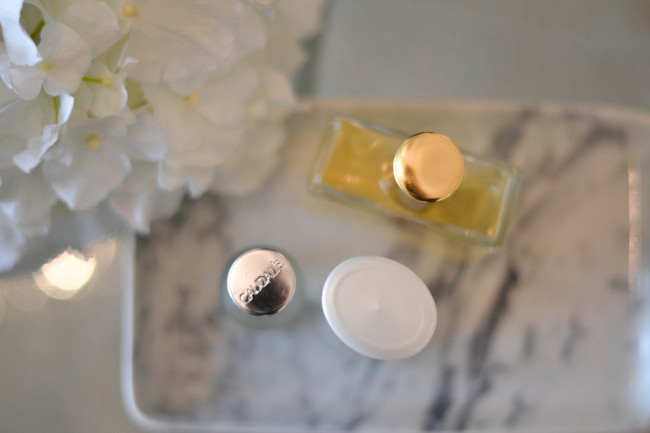 I have a few beauty favorites that go everywhere with me. These three are great products and work wonders on my dry and sensitive skin.
Caudalie – Eau de Beauté. This mist is great for reviving the skin after a long day. I usually spray it on top of my make-up and my skin feels instantly refreshed and hydrated. I always buy the smaller bottle, because it fits perfectly in my bag. This is also a must when traveling! You can find it at almost any French pharmacy and also on NAP.
Nuxe – Huile Prodigieuse.  I'm quite sure many of you are familiar with this multi-purpose dry oil. It can be used on the face, body or hair. If I had to choose only one beauty product for the rest of my life, it would probably be this one. It really moisturizes and softens my dry skin. Now that winter is coming up, this one is really going to be my skins savior.
Boots – Beauty Serum. I wear this serum under my moisturizing cream. I take turns between this and the jojoba oil I told you about a while back. This really makes the skin feel smoother and brighter, which is why it's great when my skin is looking tired.
What are your beauty essentials?