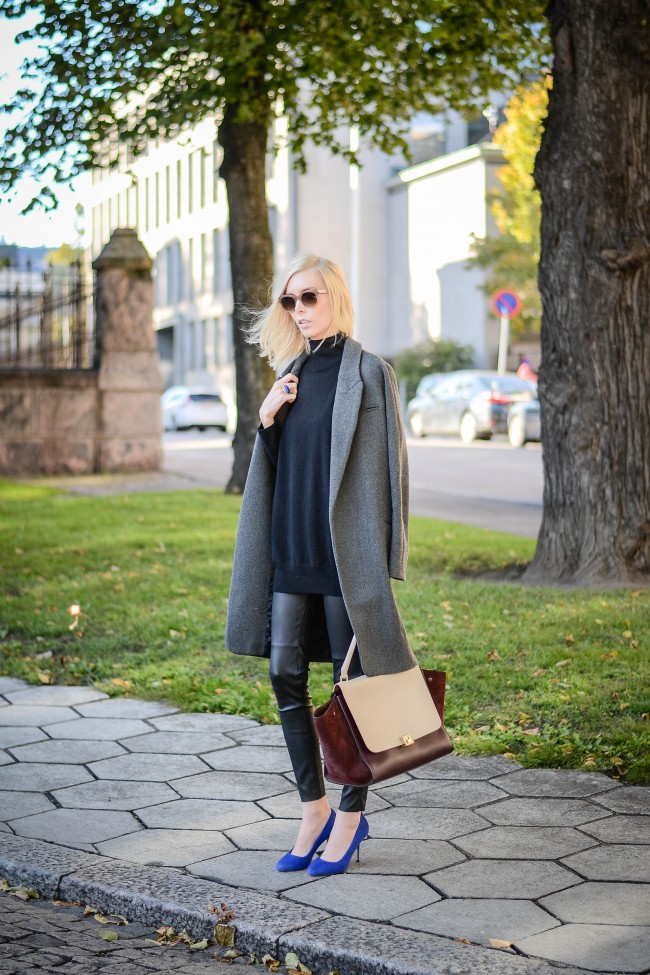 [dropcap custom_class="normal"]Syksyn alussa tein toivelistan siitä mitä "tarvitsisin" syksyksi. Jo parin vuoden ajan listalla on ollut musta pidempi kashmir neule ja mieluusti vielä kauluksellinen sellainen. Joskus niitä ihan perus juttuja on vaikein löytää, joten en millään meinannut bongata hyvää vaihtoehtoa (jonka hinta olisi ollut kohtuullinen). Lontoossa ollessani kävin kuitenkin & Other Storiesin myymälässä ja kokeilin siellä Lykke Li-malliston pooloneuletta. Se oli kaikinpuolin täydellinen ja täytti kaikki kriteerit. Ja mitä mä tein? Jätin sen kauppaan. Mietin, että tulee edullisemmaksi ostaa se netistä ja tilata kotiin. Muuten hyvä, mutta sehän oli jo loppuunmyyty netistä. Siitä alkoi sitten lähes jokapäiväinen tarkistelu jos nettiin olisi tullut lisää kokoja. Pari viikkoa sitten kävi tuuri ja sain tilattua neuleen kotiin. Se on kaikinpuolin täydellinen. Nyt toivon vaan, että se olisi laadultaan sellainen joka kestäisi hyvänä vuosia…saa nähdä! Te tiedätte, että käytän harvoin kirkkaita värejä, mutta näissä Célinen asusteissa kaikki toimii. Ne tuo mustanpuhuvaan värimaailmaan hyvin pientä piristettä, eikö?[/dropcap]
Ihanaa syksyistä viikonloppua kaikille!
Beginning of Fall I made a wish list of the things I might "need" for the new season. A black oversized cashmere knit was on it, but it seemed to be impossible to find the perfect one. I wanted it to be long enough, have a collar and be made 100% of cashmere. Luckily I found the Lykke Li & Other Stories – collection, because it had a beautiful knit that fit all my requirements. I received it a few weeks ago and it is everything I wanted from a black knit. I have found that sometimes it's actually harder to find the very basic items, but I got lucky on this one. My search has officially ended!
Have a great weekend everyone!
Coat / Zara
Cashmere knit / Lykke Li & Other Stories
Leather pants / Zara
Bag / Céline
Sunnies / Céline
Heels / Céline
Ring / Saint Laurent