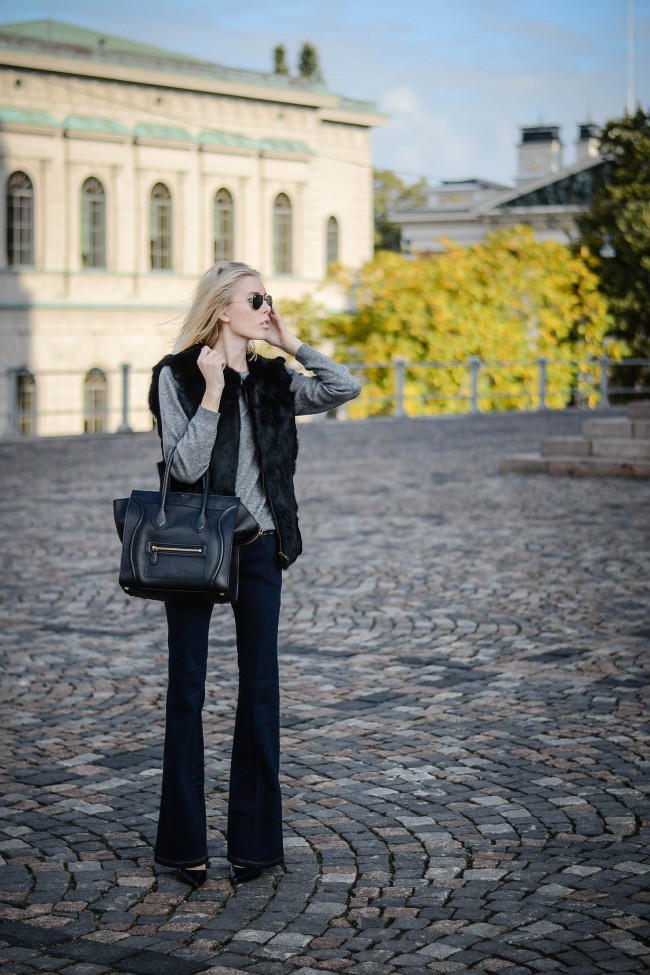 Syksyn yksi kivoimmista vaatteista on erilaiset liivit. Ne on sellainen vaatekappale jota voi aika harvoin käyttää ilmojen puolesta, mutta onneksi me ollaan saatu nauttia niin upeasta syksystä täällä Suomessa. Te varmasti tunnistatte missä nämä kuvat on otettu. Helsingin Tuomikirkko on yksi mun lempirakennuksista keskustassa. Se on vaan niin upea rakennus. Saatiin hyvää materiaalia kasaan, joten täytyy käyttää tätä kuvauskohteena useamminkin! Nyt hankintalistalla on uusi kamera, jotta blogin kuvien laatu olisi entistä parempaa. Täytyy kyllä sanoa, että ollaan oltu ihan super tyytyväisiä meidän tämänhetkiseen Nikonin D3100, joka on yksi niistä edullisimmista järjestelmäkameroista. Pientä omaisuutta ei siis tarvitse laittaa kameraan jos bloggaaminen ja kuvaaminen kiinnostaa jotakuta siellä ruudun toisella puolella!
Viikonloppuna olin taas landella ja kaiken kiireen keskellä siellä sai taas ladattua akkuja (mm. fiilistellessä Vain Elämää-ohjelmaa ja niitä mielettömiä vetoja!)Nyt on taas virtaa uuteen viikkon. Energistä alkuviikkoa myös teille!
I love vests, but the time to wear them is so limited (at least here in Finland). First they are too warm and then too cold. Now that Fall has been very warm and sunny, I have been able to wear my fur vest luckily quite often. These pictures were taken in Helsinki by one of my favorite churches; Helsinki Cathedral. The surrounding is so beautiful and a great spot for outfit pictures. I'll need to use it more often as the backdrop for my pictures! We are also planning to buy a new camera so that I can offer you better images. At the moment we have Nikon D3100 (which is one of the cheapest), but I have to say we have been very happy with it until now. It's time to upgrade, but nevertheless our current camera has served us very well for all these years.
On the weekend I went to our summerhouse again and got to relax and charge my batteries. Now I have new energy for the week, which is great as many exciting things are happening. Wishing you all a great and energetic week as well!
Vest / MJM (here)
Jeans / Mango
Cashmere knit / H&M
Heels / Zara
Bag / Céline
Sunnies / Ray Ban
*Commercial links/ Mainoslinkkejä.