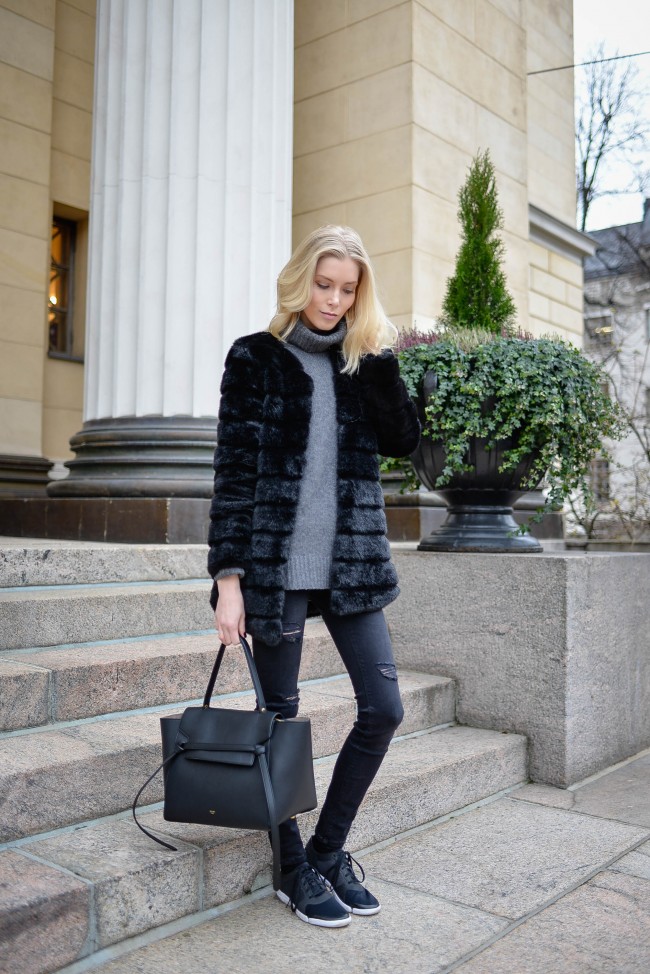 Päivän asuna hyvinkin simppeli kokonaisuus taas kerran ja kuten näette nämä tennarit löytyy vieläkin jalasta. Uhosin aikaisemmassa postauksessa, että ne jäävät pian talviteloille, mutta niin ei ole ainakaan vielä tapahtunut. Eikä niin varmaan tule tapahtumaankaan ennen kuin lumi on maassa. Mukavuus vie voiton!
Tämä viikko on todellinen pikkujoulu viikko, sillä eilen juhlittiin Suomen Blogimedian kanssa ja huomenna on vuorossa tyttöjenilta. Kilistellään joulun kunniaksi ja syödään hyvin. Pieni tuulettuminen tulee kyllä tarpeeseen! Sitten alankin jo suunnitella tulevaa Pariisin reissua. Ensi viikolla on muuten tulossa se kysymys postaus ja suunnitelmissa on vastata niihin sitten videon kautta. Kelasin alkuun jos poikaystäväni lukisi ne kysymykset siinä videolla ja mä vastaisin, mutta voi olla, että siitä tulisi vähän hankalaa kielien suhteen, heh. No eiköhän me jotain keksitä!
Ihanaa viikonloppua kaikille!
//
Outfit of the day – super simple as usual. And yes, I'm wearing still these super comfortable sneakers and I think I'll use them until the snow hits the ground. Sometimes comfort goes past style! But in my defense, I think these sneakers look very cool and they work with almost any outfit.
This week has been (and is) all about pre-Christmas parties. Last night we had Suomen Blogmedia's party and it was great seeing all the other bloggers and the SBM team. On Saturday I'm partying with the girls, which I'm super excited about. A little bit of champagne, good food and dancing is exactly what I need right now. Next week I can then start planning for my upcoming trip to Paris.  Can't wait!
Enjoy your weekend lovelies!
Faux fur coat / Storets
Jeans / Zara
Cashmere knit / Joseph
Bracelet / Saint Laurent
Love ring / Cartier
Bag / Céline
Sneakers / Adidas by Stella McCartney
*Thank you Marianna for the pictures!