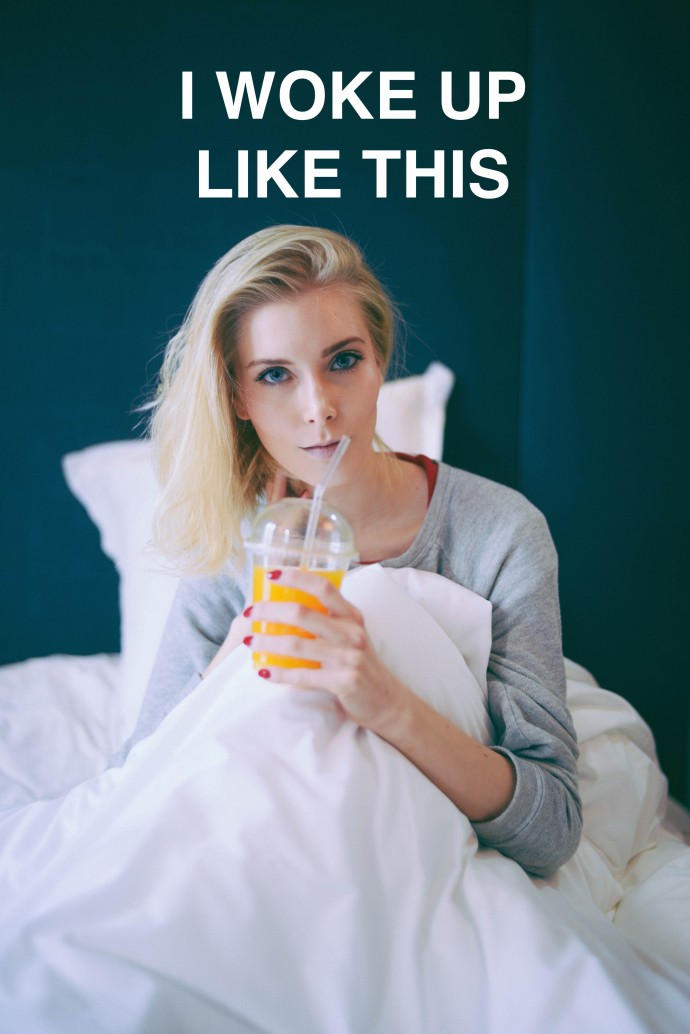 [dropcap custom_class="normal"]I woke up like this…NOT! Mä voin sanoa, että musta ei herättyä saa niitä sensuelleja sänkykuvia missä ollaan "juuri" herätty meikit täydellisesti naamassa ja hiukset viimeisen päälle kiharoilla. En siis todellakaan herää tämän näköisenä, heh! Ja harmi kun tuorepuristettu appelsiinimehukaan ei salamyhkäisesti löydä tietänsä mun sängyn viereen aina aamuisin…[/dropcap]
Täällä blogin puolella on nyt viikonloppuna ollut vähän hiljaisempaa sillä olen yrittänyt nukkua univelkoja pois ja järjestellä joulujuttuja. Sain jo muutamat paketit paketoitua (mun lempipuuhaa) ja toivottavasti ensi viikolla kaikki olisi valmista. Mä rakastan tätä aikaa ennen aattoa ja haluankin nauttia siitä ilman stressiä ja siksi haluankin saada kaikki valmiiksi pian niin voin vaan nauttia ja fiilistellä.
Tänään työstän ensi viikolle uusia postauksia ja hypätään takaisin Pariisin tunnelmiin. Rentouttavaa sunnuntaita kaikille!
I woke up like this…NOT! I find it amusing when bloggers post pictures of themselves "just woken up" with make-up and hair done perfectly. I can tell you that I don't wake up with my make-up done and a freshly squeezed orange juice in my hand…unfortunately, heh. My boyfriend sent me this picture after he added the tag line and I thought it was pretty funny.
This weekend has been very slow here in the blog, because I have tried to rest a bit and get some Christmas things done. I already wrapped some gifts (I love doing that) and hopefully everything will be set by next week. This time before Christmas Eve is actually my favorite, because I love the anticipation of what's to come. That's why I want to get everything done so I can fully enjoy this time!
Today I'll be working on some posts for next week and I'm taking you back to Paris. Hope you don't mind! Have a relaxing Sunday everyone!