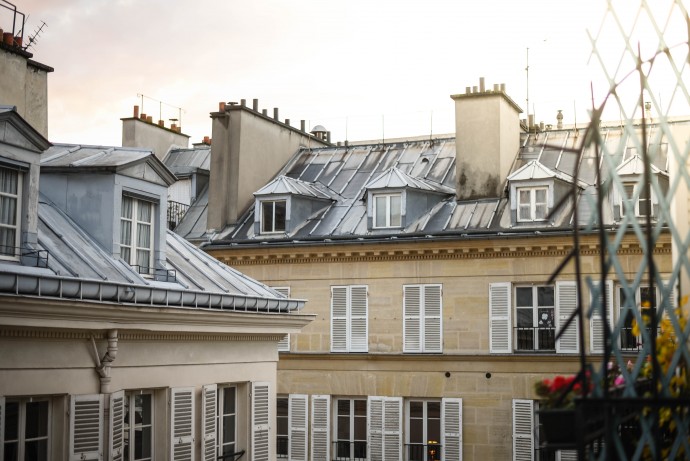 [dropcap custom_class="normal"]Olin Ranskassa lähes kaksi viikkoa ja koko sinä aikana oli ainoastaan kolme aurinkoista päivää. Näin suomalaisittain ihan hyvä saldo kylläkin! Yksi näistä aurinkoisista päivistä oli päivä ennen lähtöäni ja päästiin nauttimaan auringosta oikein kunnolla. Rakastan Pariisin puistoja ja niihin paikallisetkin suuntaavat rentoutumaan. Hyvä kirja mukaan, lämmintä juotavaa ja voilà![/dropcap]
Löysin muuten Place Vendomen läheltä todella suloisen tee-ja suklaapuodin nimeltä Nina's. Heidän suosituin tee on nimeltä Secrets de Marie-Antoinette ja pakkaukset on ihan viimeisen päälle kauniita. Nina's perustettiin jo vuonna 1672, joten se on huomattavasti vanhempi merkki kuin esimerkiksi Ladurée. Putiikin löydätte osoitteesta 29 rue Danielle Casanova. Kannattaa tarkistaa!
Tällä viikolla pysytään vielä visusti Pariisissa ja huomenna luvassa taas asukuvia. Hyvää alkanutta viikkoa kaikille!
I spent almost two weeks in France and during that time we only had three sunny days. I was hoping for more, but I guess in Helsinki the weather was even worse so I can't really complain that much. One of these sunny days was on Tuesday, one day before my departure. I wanted to enjoy the sun fully so we went to Jardin des Tuileries, which is a beautiful place to relax a bit.
I also found a pretty little tea store not far from Place Vendome. The boutique is called Nina's and they sell their own tea and chocolate. The brand was estbalished in 1672, so it's even older than Ladurée. I loved the packaging and their bestseller is the tea called Secrets de Marie-Antoinette. You can find their boutique on 29 rue Danielle Casanova. If you're a tea lover (like me) you should definitely visit this adorable store!
So this week is still all about Paris and tomorrow I'll post some outfit pictures. Have a great Monday everyone!