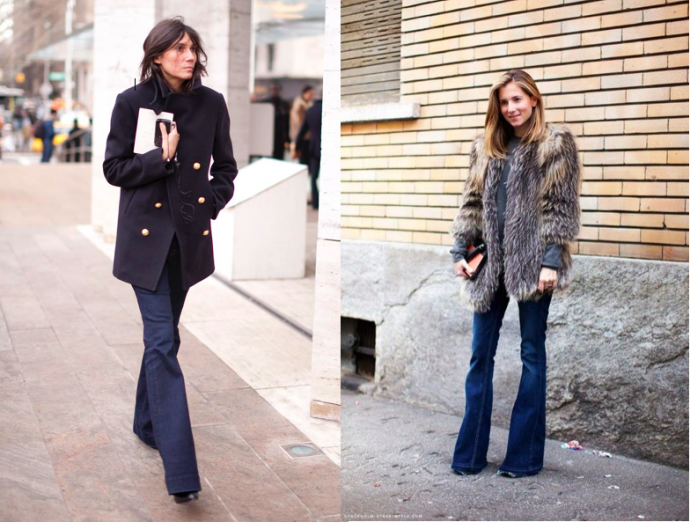 Ihanaa, että leveälahkeiset farkut tekevät taas paluuta! En ole ihan aina niitä fanittanut ja oikeastaan vasta muutaman vuoden sisällä olen lämmennyt kyseiselle mallille, mutta koen, että omalle hoikalle varrelleni ne sopivat mainiosti antamaan vähän enemmän volyymia ja tasapainoa asuihin. Leveälahkeiset farkut saavat myös jalat näyttämään huomattavasti pidemmiltä kunhan ne ulottuvat lähes maahan asti. Ainut ongelma näiden farkkujen kanssa onkin se pituus. Jos farkut lyhentää sopiviksi matalien kenkien kanssa niin silloin ne on aivan liian lyhyet korkojen kanssa käytettäviksi. Siksi suosittelenkin hankkimaan kaksi paria (jos löytää istuvan mallin) ja lyhentämään toisen niistä sopivaksi matalien kenkien kanssa käytettäväksi.
Olen kuitenkin sitä mieltä, että tämä malli näyttää vaan niin paljon paremmalta korkeiden korkojen kanssa. Leveälahkeisten farkkujen pariksi sopivat etenkin teräväkärkiset kengät, jotka vähän vilahtavat farkkujen alta. Silloin vaikutelma on paljon sirompi. Nämä alla olevat tyylitaiturit näyttävät mallia siitä miten leveälahkiset farkut sopivat kuin nenä päähän lähes minkä yläosan pariksi. Itse ihastelen tuota karvatakki asua, sekä tätä nahkatakki-tyyliä.
Uppoaako teihin leveälahkeiset farkut vai jätättekö ne suosiolla kaupan hyllylle?
P.S. Hain eilen postista ne tilaamani Mangon farkut ja ne oli kyllä malliltaan aivan täydelliset! Voin lämmöllä suositella niitä teille muillekin. Farkut löytyy täältä (mainoslinkki)!
This Spring is all about flared jeans. I haven't always been a fan of them, but in the last few years I have grown to love them. I think they fit my slim body very well as they give a little bit more volume and balance to my body. Skinny jeans are great, but sometimes they emphasize too much the skinny factor, which is not necessarily a good thing. I definitely wont give up on my skinny jeans, but it's always nice to have more options in the closet!
I think flared jeans look the best when worn with high pointy heels. This way the legs will look crazy long and flattering. Even if I think flared jeans look best with high heels, I think I need to buy one pair and shorten it to fit flats as well. Simply because I don't walk around in heels 24/7 (I wish I did though, heh).
These beautiful and stylish women in these pics show how good flared jeans actually look. I love the styling especially with the leather and fur jackets.
Are you into flared jeans or it's not your thing?
*All images; Pinterest.
Save