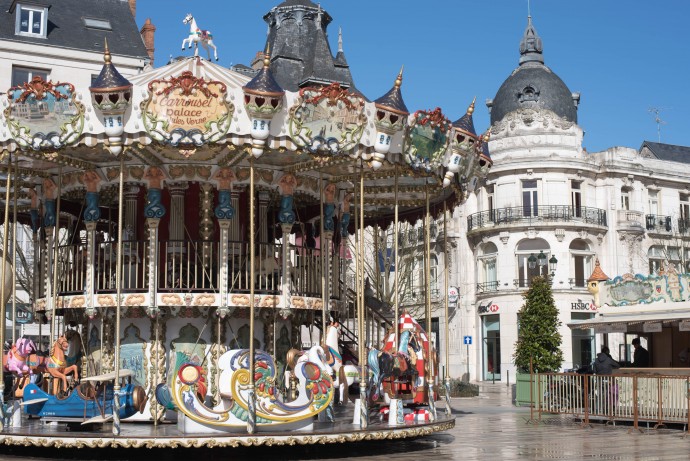 [dropcap custom_class="normal"]Orléans on vähän tuntemattomampi kaupunki Pariisin verrattuna, mutta Pariisin tavoin se on todella kaunis ja omaa pitkän historian. Jeanne d'Arc mm. "pelasti" kaupungin aikoinaan ja hänen kunniaksi on yksi museokin. Yksi paikka, joka on itsellänikin vielä näkemättä. Orléansin ydinkeskusta on upea ja vieressä virtaava Loiren-joki luo kivaa tunnelmaa.[/dropcap]
Orléans on kooltaan pieni, eli päiväreissu tähän kaupunkiin riittää hyvin. Pariisin keskustasta pääsee sinne junalla alle tunnissa, eli se on helpon etäisyyden päästä pääkaupungista.  Poikaystäväni on Orléansista kotoisin ja siksi tämä kaupunki on tullut itsellenikin hyvin tutuksi.  Alueella riittää muutenkin nähtävää, sillä kaupunkia ympäröi kauniit metsät sekä monet kuuluisat linnat. Niistä suosikkini on Chambrod. Näkemisen arvoinen paikka!
Nyt olen jo ihan eri maisemissa, eli terveisiä täältä Etelä-Ranskasta! Juttua luvassa niin Pariisissa kuin täältäkin heti kun maltan takaisin koneen ääreen…Hyvää viikonloppua kaikille!
Orléans is less known compared to Paris, but it's as beautiful and a bit more cozy as it's much smaller. The city has a lot of history in it's walls and Jeanne d'Arc was one of the key figures in liberating the city. Orléans is located only an hour train ride away from Paris, so you can easily make a  day trip there if you're staying in Paris for longer. Be sure to walk in the old town and by the Loire river.
Have a great weekend everyone!