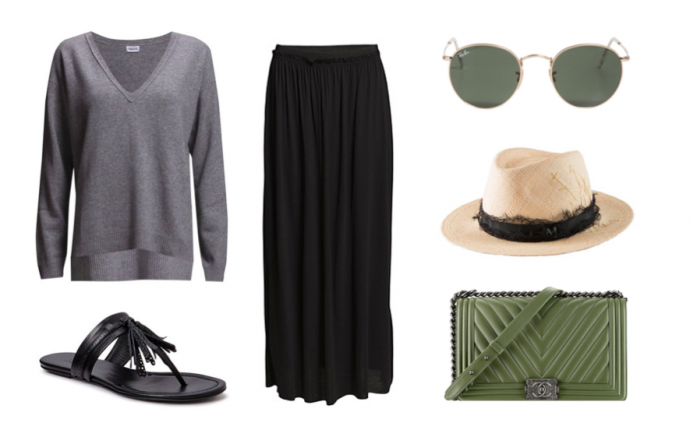 Knit / Filippa K     Skirt / By Malene Birger     Sunnies / Ray Ban
Sandals / Ralph Lauren     Hat / Maison Michel     Bag / Chanel
[dropcap custom_class="normal"]Tässä tämän viikon valinnat! Ehkä hieman optimistisia valintoja ottaen huomioon, että kevät tuntuu tällä hetkellä niin kaukaiselta, mutta talvivarusteista ei kukaan tuskin enää tähän aikaan vuodesta inspiroidu?[/dropcap]
Kokeilin Ranskassa ollessani maxihametta neuleen kanssa ja se kombo oli yllättävän kiva. Ainakin ihan hemmetin mukava ja kyllähän se maxihame näytti huomattavasti kepeämmältä vaihtoehdolta farkkujen sijaan. Loistava asu vaikka viileään kesäiltaan.
Olen täysin ihastunut näin Ray Banin Round-laseihin. Täytyy käydä sovittamassa niitä jossain pikapuoliin! Aviatorit ja Clubmasterit on niin nähnyt (vaikka molemmat kuuluvat omiin suosikkeihini), joten voisi olla raikasta saada omaan valikoimaan jotain vähän muutakin.
Rentouttavaa sunnuntaita ja ihanaa, että nyt on pääsiäisen takia monella pitkä viikonloppu! Viikonloppu siis jatkukoon.
Picks of the week! Rather optimistic choices considering the weather here in Finland is definitely not suitable for sandals, but you can always dream right?
I'm in love with combining a knit with a maxi skirt. I tried it in France when the weather was still suitable for it and loved the easiness of the combo. Maxi skirt is definitely a different choice, but it worked well. It's also a perfect way to wear a maxi skirt during Fall and colder Spring/Summer evenings.
I'm also completely sold for these Round Ray Ban's. Would be a nice change besides by Clubmaster's and Aviators.
Enjoy your day everyone and for those who are celebrating Easter, the weekend continues until tomorrow. High five to that!
*Commercial links/Mainoslinkkejä.