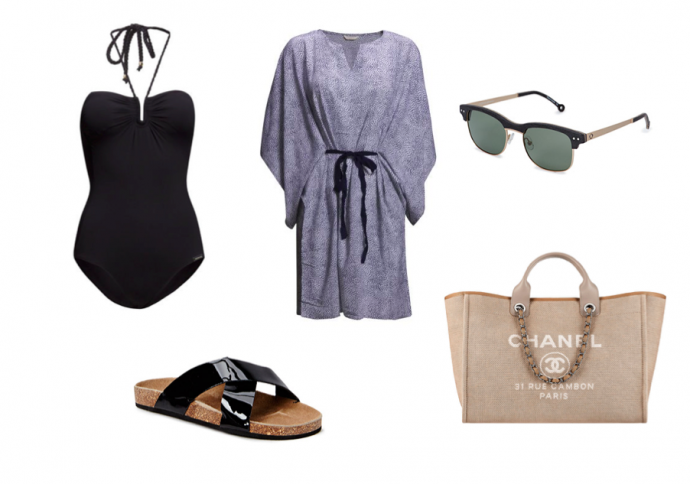 Swimsuit / Watercult     Beachtunic / Esprit     Sunnies / Monkeyglasses
Sandals / Selected Femme     Bag / Chanel
[spacer]
[dropcap custom_class="normal"]Huomenna suuntaan Italiaan ja vaikka en nyt ihan rantalomalle lähdekään niin tämän viikon valinnat on hyvinkin kesäisiä. Olisiko tällä ihanalla auringolla jotain osuutta asiaan? Nyt tuntuu taas, että kevät etenee vauhdilla ja pian koittaakin jo kesä. Katse siirtyy siis hitaasti keväästä kesälle. Tosin kesä ei ole lempivuodenaikani mitä tulee pukeutumiseen, mutta täytyy myöntää, että onhan se ihanaa kun balleriinat jalassa voi lähteä ulos. Sitten syksyllä voi taas fiilistellä pukeutumista enemmän.[/dropcap]
Tämä sunnuntai taitaa mennä omalta osaltani pakkaillessa. Yritän pakata niin fiksusti, että pärjäisin viikon pelkällä viikonloppulaukun sisällöllä – saa nähdä jos tämä onnistuu. Rentouttavaa sunnuntaita kaikille!
P.S. Koodilla SUMMER15 saa 15% alennusta kassalla kun ostokset ylittävät 108€. Tarjous on voimassa vaan tänään eikä koske ihan kaikkia merkkejä (kuten Ralph Lauren, Boss, Ecco, By Malene Birger…).
Tomorrow I'll fly off to Italy and even though I'm not going there to lay on the beach, this very summery outfit is on my mind. Perhaps it's the sun and warmth we finally got here in Helsinki? Now I feel that Spring is taking big steps forward and before we know it, it's summer. There's still many things to do before that so I'm hoping time doesn't go by too fast.
So as I'm leaving tomorrow, today is all about packing my bags for the trip. I'm desperately trying to fit everything I need over the week in a weekend bag. Not sure if it's going to work out. Wish me luck, heh! Enjoy your Sunday everyone!
*Mainoslinkkejä/Commercial links.