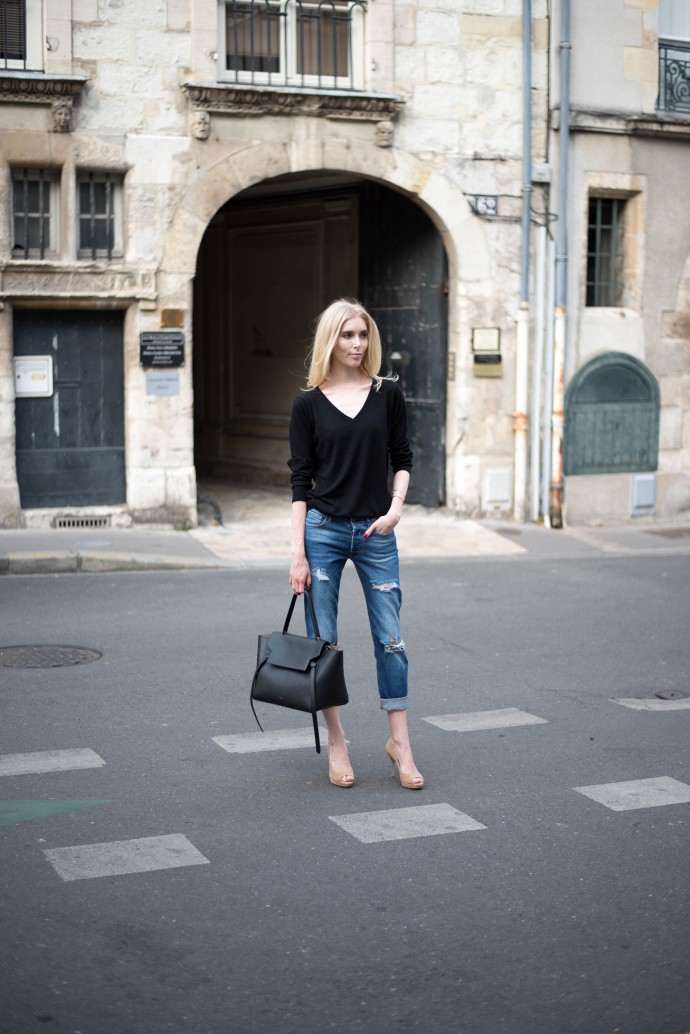 Kerroin teille aikaisemmin, että tein kaksi aleostosta, joista toinen oli tämä musta neule. Ei mikään hellevaate, mutta tarpeeksi kevyt käytettäväksi iltaisin. Syksyllä sitä pääsee käyttämään sitten huomattavasti enemmän. Ilmat täällä Ranskassa ovat nyt lähes täydelliset, sillä päivisin on ihanan lämmin, mutta yöksi viilenee sopivasti. Olen kuullut, että Suomessa kesä on edelleen kadoksissa, mutta pakkohan sen on vielä joskus ilmaantua…eikö?
Viime viikonloppuna saimme vihdoin kenkäkaapin eteiseen ja nyt sekin pieni tila alkaa näyttämään kodikkaammalta ja mikä tärkeintä, enemmän meiltä. Laitoin Instaan pienen kuvan tästä tilasta ja pääsette näkemään sen täältä. Nyt mietimme siihen vielä pientä mattoa, mutta ulko-ovi on sen verran matala (avautuu sisäänpäin), että en ole varma jos siihen mahtuu mattoa ollenkaan. Saimme myös tilaamamme My Guide To Paris – kartan ja se on tällä hetkellä kehystettävänä. Se tulee aina olemaan ihana muisto Pariisin vuosistamme asuimme sitten missä päin maailmaa tahansa!
This knit was one of my sales finds and even if it's not the most summery choice, it's great for summer evenings and for Fall. The weather in France is actually perfect right now, because it's nice and warm during the day (not too hot) and chilly in the evening. I'm hoping the same weather makes it's way to Finland as the weather there has not been very good all summer.
Last weekend we got a new shoe closet for the entrance. Now that space looks more inviting. I posted a little sneak peek on Instagram, which you can see here. How cool is that chess piece, heh? We also ordered this My Guide to Paris-poster, which is currently being framed. No matter where we will live in the future, it's going to be a nice memory for us from our years in Paris!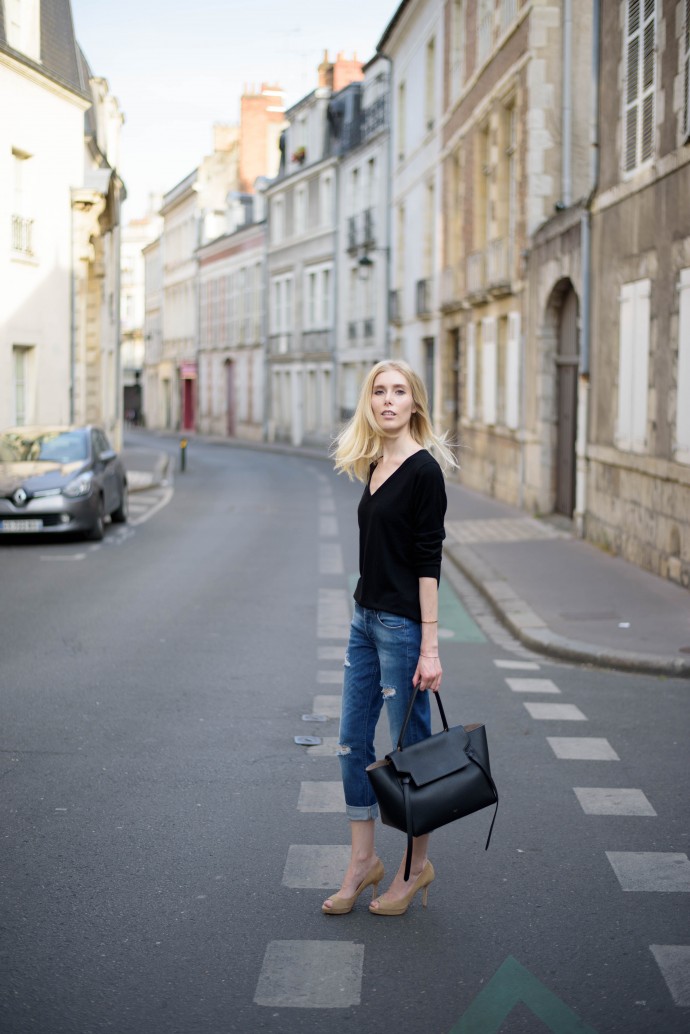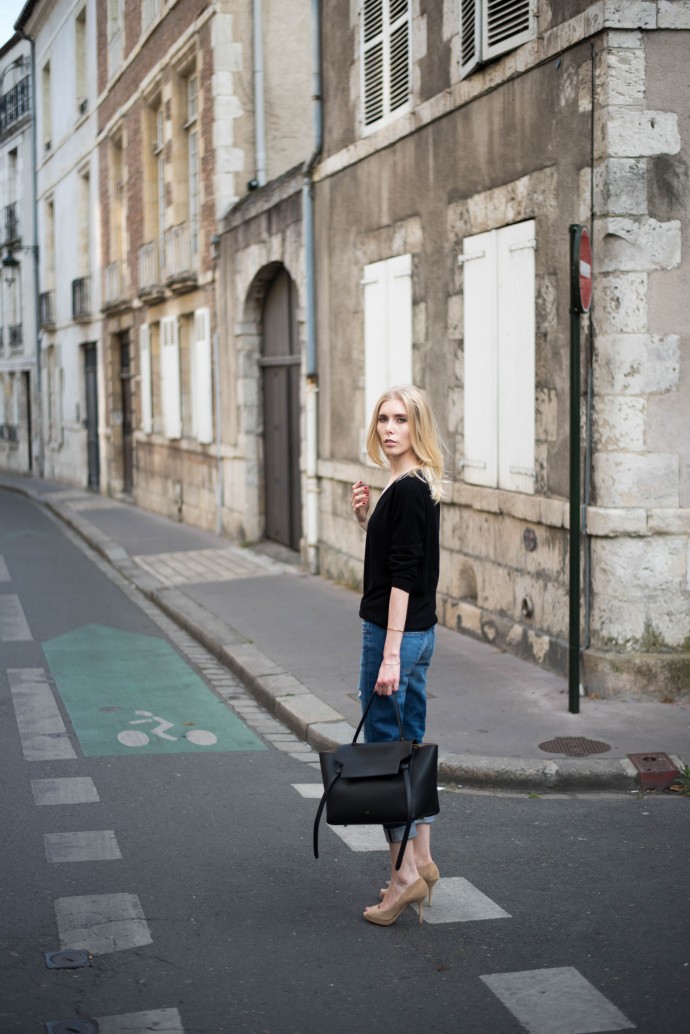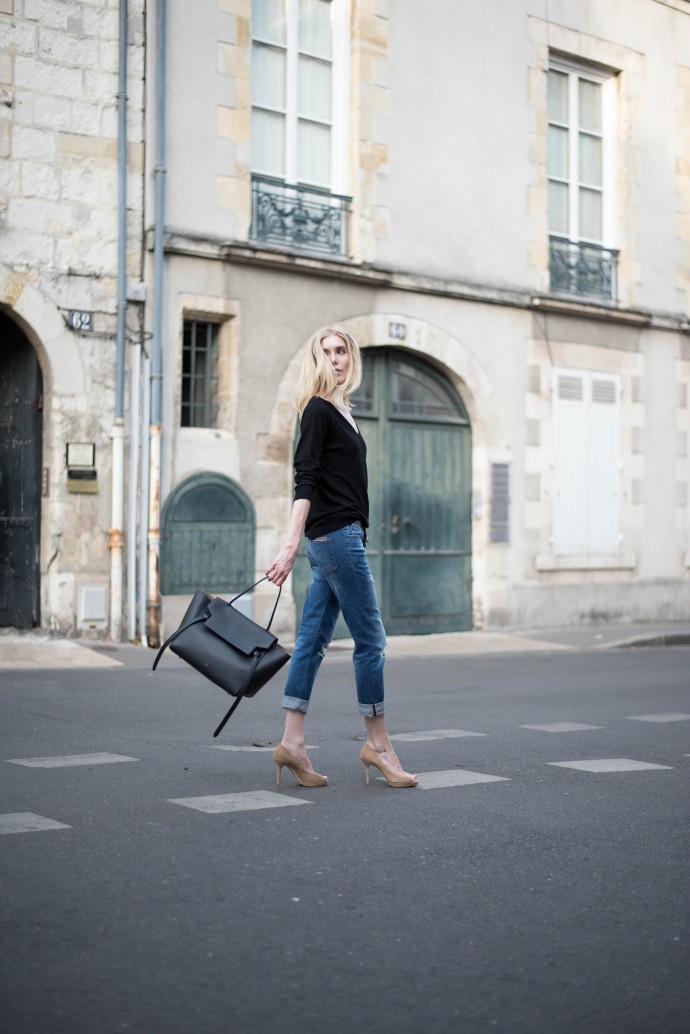 Knit / Galeries Lafayette
Jeans / Eleven Paris
Heels / Jimmy Choo
Bag / Céline