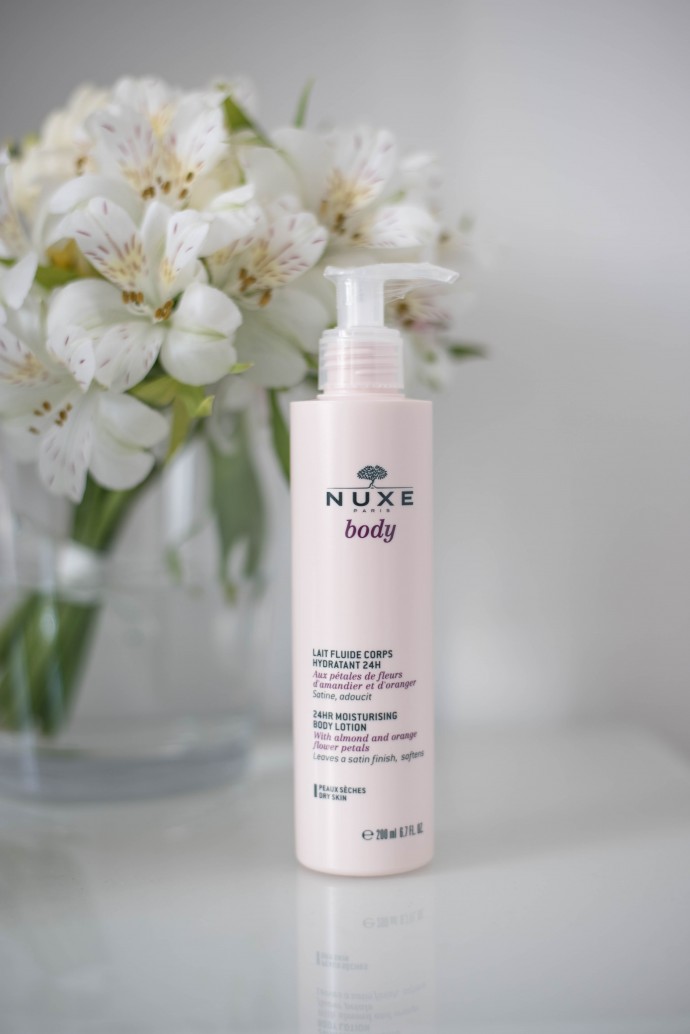 Olen kokeillut monia hyviä vartalovoiteita, mutta muutama viikko sitten löysin sen todellisen helmen. Tämä Nuxen 24h Moisturising Body Lotion on paras koskaan kokeilemani voide ja olen hamstrannut sitä jo monta pulloa kaappiin ihan siltä varalta, jos sitä ei yhtäkkiä enää saisi. Niin hyvä tuote, että tämä neurottinen hamstraaminen on ihan oikeutettua heh.
Parasta tässä voiteessa on sen kevyt koostumus, ihana tuoksu ja nopea  imeytyminen. Sen lisäksi voide jättää ihon silkinsileäksi (yhtään liioittelematta) ja kosteuttaa hyvin. Hyvää on myös se, että voide ei lähde rullaamaan laittoi sitä kuinka paksun kerroksen tahansa.
Tarkistin jos tuotetta saisi Easyparapharmacie.comista ja ilokseni huomasin, että sitä saa tilattua myös sieltä. Suomen hinnoista en valitettavasti osaa sanoa, mutta tästä verkkokaupasta sitä saa tilattua hintaan 12,50€ (200ml) ja 18,50€ (400ml).
Jos teillä on hakusessa loistava vartalovoide niin voin lämmöllä suositella tätä!
I have tried many good body lotions, but last week I found the best of them all. This 24h Moisturising Body Lotion by Nuxe is the best one I have ever tried! It's actually so good that I bought many bottles just in case they stop manufacturing it, heh. This level of craziness might sound a bit weird, but in all honesty this product is worth it.
The best things about this lotion is the fact that it moisturizes well, leaves your skin feeling so soft and is absorbed quickly. Besides this, I like the smell and light texture.
If you're looking for that perfect body lotion I suggest you try this one! Hope you'll love it as much as I do.