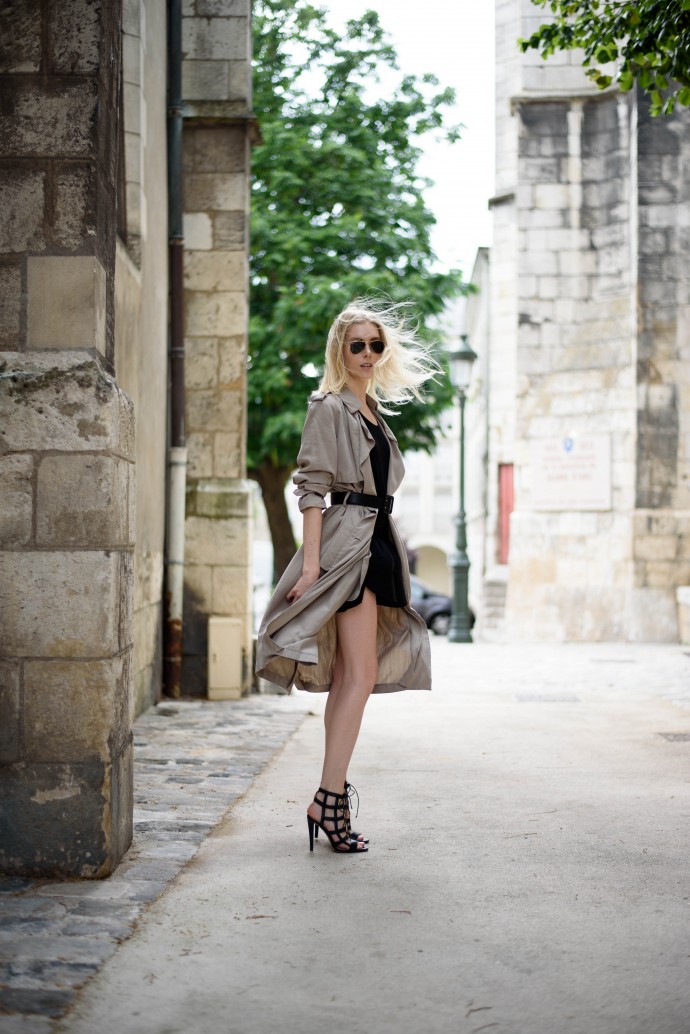 Kukkuu, onkohan täällä enää ketään? Lomani on nyt vietetty ja tekipä hyvää ottaa vähän omaa aikaa. Tämä lyhyt irtotto tuli hyvään saumaan, sillä olen nyt käymässä Suomessa ja viime viikolla sain vietettyä laatuaikaa niin ystävien kuin perheenikin kanssa. Olen muuten nauttinut näistä Suomen ilmoista vaikka se voikin kuullostaa hullulta teidän korvaanne. Raikas ilma tuntuu niin ihanalta niiden Ranskan helteiden jälkeen. Onneksi se pahin kuumuus kesti vain pari viikkoa, mutta sen jälkeen osaa kyllä arvostaa tätä viileämpääkin ilmaa. Ja olenko aivan sekaisin jos sanon, että itseäni ei haittaa ollenkaan pitää kevyttoppista päällä kesällä, heh? Vaikka viileä ilma ei itseäni haittaa niin sade ei kyllä nappaa sitten mitenkään. Toivotaan siis, että nyt elokuussa saisitte nauttia aurinkoisista päivistä vaikka lämpötilat eivät yltäisikään sinne hellelukemiin.
Tämä lomaltapaluuni sujuu onneksi hieman helpommin, sillä varastossa on asukuvia kotoa, eli Orléansista. Oli muuten ensimmäinen kerta viiteen vuoteen (eli siitä asti kun olen ulkomailla asunut) kun tuntui, että koti on oikeasti siellä ja Suomessa olen vain vierailemassa. Aikaisemmin kun olen puhunut kodista olen tarkoittanut Suomen-kotia, mutta nyt oma kotini on Orléansissa. Se on ihana oivallus.
Tämä trenssi on yksi vaatekaappini käytetyimmistä vaatteista ja vyötä vaihtamalla siihen saa ihan erilaisen ilmeen.Kiinni napitettuna tämä menisi takkimekostakin! Tuntuu hassulta ajatella, että yksi vaatekaappini käytetyimmistä vaatteista on sellainen minkä meinasin aluksi palauttaa. Tilasin sen netin välityksellä enkä ihan heti ihastunut siihen. Jostain kumman syystä pidin sen siitä huolimatta ja onneksi niin, sillä käyttöaikaa se on saanut niin roimasti.
Miten teidän kesä on sujunut?
Knock, knock…is anybody there? My week long vacation is over and it's time to get back to business! It was so relaxing not having to think about work and actually I didn't even update my social media at all, which was great as well. I timed this holiday so that I could enjoy my friends and familys company as I came to Finland last week. Felt so good to be 100% present. The Finnish weather has been everything but summery, but you know what, I really don't mind at all. After the heat in France, I'm actually enjoying the cooler weather. Call me crazy, but I don't mind wearing jackets even during summer!
Thankfully I have a few outfit pictures in store (taken in Orléans), which means I can ease back to blogging softly. I also had a revelation last week about how I'm actually thinking about our apartment in Orléans as my home and here I'm just visiting. That hasn't happened during the years I've been living in France. I guess it's a good sign? 
This trench coat is one of the most used items in my closet and just by changing the belt, I can spice it up a bit. I guess it would also work as a coat-dress if I button it up and keep the belt?
How are you guys? Hope you've enjoyed the summer!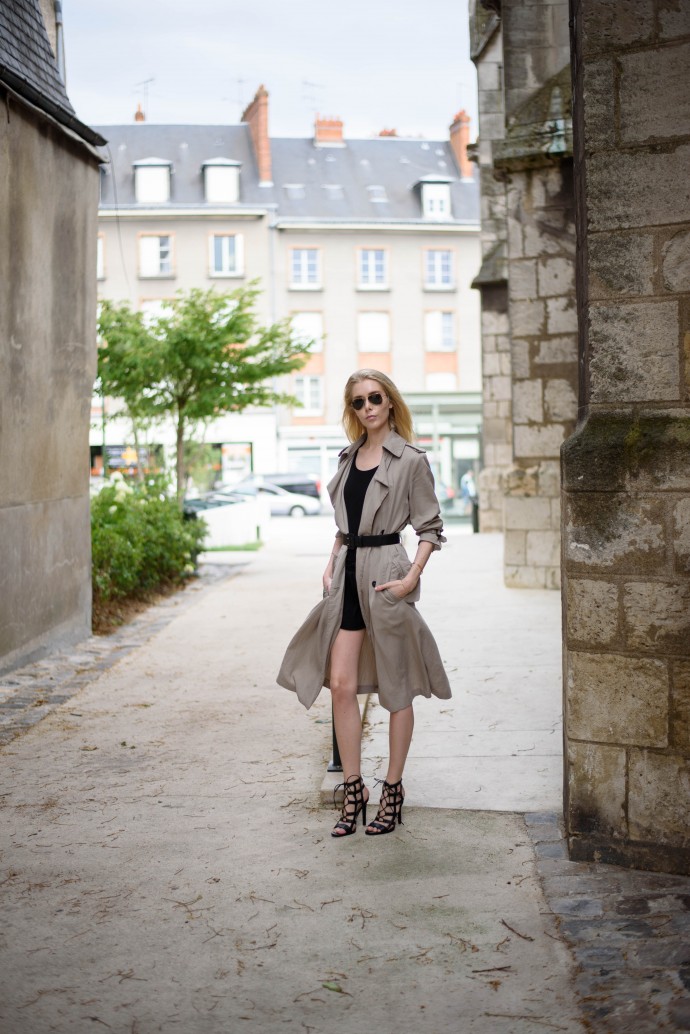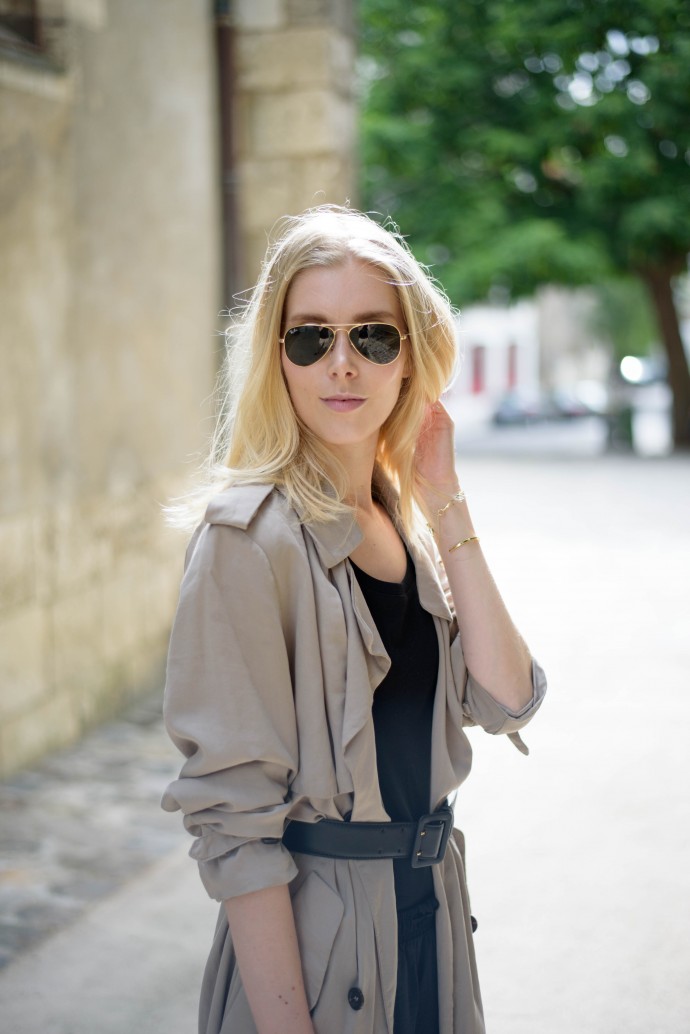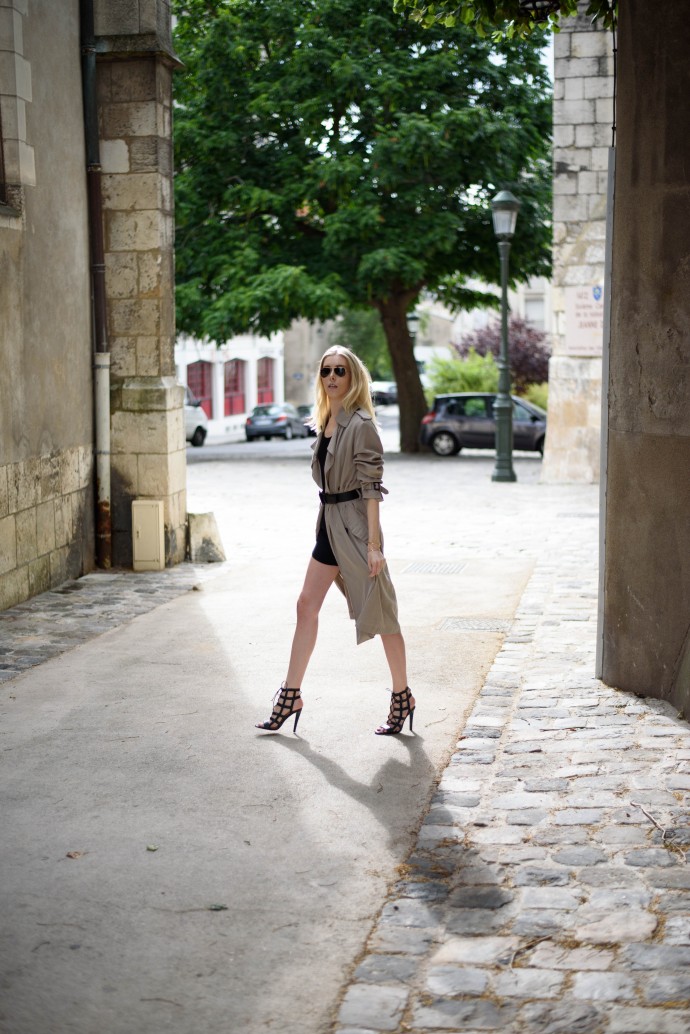 Trench / Zara
Tank top / Uniqlo
Shorts / H&M
Heels / Zara
Belt / & Other Stories
Bracelets / Saint Laurent and & Other Stories
Sunnies / Ray Ban